Background
African swine fever (ASF) is an infectious disease of swine that causes a great impact at different levels. As ASF is a notifiable disease to the World Organisation for Animal Health (OIE), its notification gives rise to immediate trade restrictions. Moreover, when ASF is notified on a pig farm, all pigs have to be slaughtered and strict sanitary measures have to be put in place. All these actions lead to direct and indirect economic losses and social consequences in affected regions.
During the last decade, ASF has spread along Eastern Europe. In the beginning, the disease spread along the Caucasus region and then, northward reaching the Russian Federation, Ukraine and Belarus. In 2014, four European Union countries became infected namely Estonia, Latvia, Poland and Lithuania. Since then, ASF has been notified in other European countries such as Moldova, Czech Republic, Romania, Hungary, and Bulgaria. Furthermore, China, reported the presence of the disease in August-2018 and eight different provinces have notified ASF up to now with more than 90,000 culled animals. In addition to this, Belgium has notified several cases in wild boar on 14th September 2018.
Therefore, the epidemiological situation of ASF could be classified as a serious threat to the swine industry all over the world. Thus, this article will focus on reviewing the main characteristics of the current epidemic and propose solutions to the identified challenges.
Main characteristics of the current epidemic
1. Different epidemiological scenarios have been observed in the current global situation.
In the Caucasus region, the Russian Federation, Ukraine, and Romania the disease is mainly affecting domestic pig with fewer cases in wild boar.
In the European Union (without considering Romania), over 90% of ASF notifications were attributed to wild boar with sporadic outbreaks on pig farms.
In China, recently infected, the disease is spreading quickly within the domestic pig population.
2. Wild boar populations and viral evolution are playing a key role in ASF spread and persistence. This is due to:
Wild boar density is higher than ever. During the last decades the number of wild boar has sharply increased, in some areas even 700%. This directly affects rates of contact and facilitates transmission of infectious diseases.
Wild boar that freely ranges along natural corridors, has been identified as primary source of infection to naïve areas. These wild boar movements have given rise to multiple and recurrent viral introductions, with subsequent infections of their congeners.
Different ASF isolates have been identified within these scenarios. These ASF viruses were isolated in infected animals with different clinical courses from acute to asymptomatic. This fact is not new, as it was described before in Spain, and also in Sardinia. When the affected territory is naïve, acute ASF is observed. However, as the infection circulates around the area, a percentage of the infected animals, between 2-6%, could survive, keeping the virus in different organs and lymph nodes, and with intermittent viraemia. These carrier animals constitute a potential source of infection for the environment and for healthy animals (wild boar and domestic pigs).
3. Human actions are still driving the spread of ASF in some of the affected areas.
When people are not aware of transmission mechanisms, ASF can spread long distances. Some of the human actions that lead to efficient ASF spread are swill feeding practices or emergency sales in which people attempt to sell their infected animals before ASF is detected.
Farm biosecurity is crucial to avoid ASF introduction and spread on pig farms. Backyard farms represent the weakest part of the pig production and so, most outbreaks have been notified on such farms.
Improper cleaning and disinfection of vehicles is one of the most important routes of disease spread.
Wild boar management including the supplementary feed of wild boar in hunting fields increase wild boar abundance and facilitate animal contacts. All these factors subsequently increase the virus spread.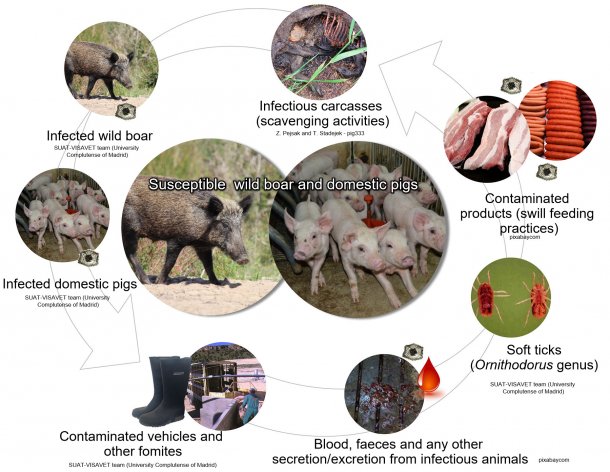 Recommendations to face this threat
Do not underestimate

this disease neither this virus. ASF is a complex disease from the virus structure to its epidemiology.

Get to know

the disease, its mechanisms of spread (aerosol is not important, although blood is terrible; contaminated vehicles and fomites are one of the greatest risks), clinical evolution (from acute to asymptomatic), disease presentation on farms (it is not usually explosive).

Early detection

programmes and contingency plans should be reviewed and updated. All the members of the chain that are fighting against ASF should be informed and should work together (farmers, veterinarians, private and official laboratories, forestry officials, researchers, politicians, etc.).

Diagnosis

. Clinical training for disease detection should be implemented to get a good early detection system. Antibodies (ELISA and/or immunoperoxidase test) and viral (real time PCR) detection should be performed in parallel. This is needed as there are animals with/without virus and/or antibody presence.

Control programme

(compartmentalisation and/or zoning) should be reviewed according to the characteristics of the epidemiological scenario. Compartmentalisation and/or zoning strategies could be mixed.

Stop importing

live pigs and swine products from areas at risk.
Reinforce

biosecurity measures

on pig farms, especially on backyard farms in which contact with wild boar is likely. If feasible, locate pig farms out or far from suitable wild boar areas. If not, biosecurity measures such as double fencing, changing rooms or placing net on windows, among others, become crucial to avoid ASF entrance.
Stablish

control measures

to reduce wild boar abundance. We need wild boar hunters on our side, their collaboration and compromise is needed to control and eradicate ASF.
Keep on

educating

people who may transmit the virus to susceptible animals including farmers but also, tourists and any other person in contact with susceptible animals.
Continue

researching

to get an ASF vaccine. At University Complutense of Madrid in collaboration with CISA-INIA, efforts are being made to get a safe and effective vaccine with promising results.
Conclusion
ASF virus is doing a great work despite efforts made to control it. Since 2014, nine European Union countries have notified the disease. Therefore, the system used to fight and control ASF has to be improved. If we do not turn around this situation, it is likely that the European wild boar will get endemically infected becoming a recurrent source of infection to other wild boar but also, to domestic pigs. Thus, the whole pig sector is at a great risk that we need to reduce as much as possible.