Daniel Beltrán-Alcrudo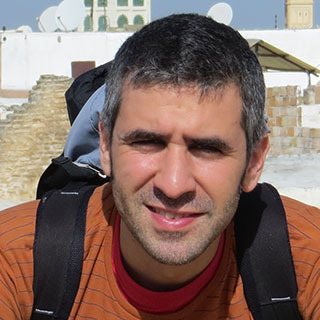 FAO. Spain
Daniel Beltrán-Alcrudo (DVM, MSc, MPVM) obtained his veterinary degree from the University of Zaragoza, Spain in 1999. Ever since, Daniel's academic evolution has taken many turns, touching very different aspects of the veterinary realm, including Masters degrees in Food Technology and Quality Assurance (Reading University, UK), Veterinary Aquaculture (Institute of Aquaculture in Stirling, UK) and in Preventive Veterinary Medicine as a Fulbright scholar (University of California Davis, US).
Professionally, apart from two years in technology transfer in animal genetics and genomics, most of his experience has focused on the different aspects of the epidemiology, prevention and control of transboundary animal diseases (TADs). He started his career with the foot-and-mouth disease crisis of 2001 in the UK, following which he spend some time in the control of bovine tuberculosis. Daniel has also been very involved in training activities in their different formats, including the development of a train-the-trainer programme on highly pathogenic avian influenza (Avian Flu School), undergraduate teaching of epidemiology at St. Matthew's School (Cayman Islands), and through international trainings in the US, Tanzania, Nepal, China and Spain.
Since 2007, Daniel works as a veterinary epidemiologist at the Food and Agriculture Organization (FAO) of the United Nations. Initially, he worked in the development of FAO's animal health information system (EMPRES-i ) and coordinating disease tracking and data entry activities. Since 2010, Daniel is the technical focal point for African swine fever (ASF), plus he coordinates FAO's participation in three EU-funded research consortiums on linking research between China and EU (LinkTADs), on ASF (ASFORCE) and Rift Valley fever (VMERGE).
Updated CV 15-Apr-2014
Articles
Article

In this second part the actions described are the ones needed when the disease is already in the country.
Recommendations for the prevention of ASF II
Article

ASF spreads mainly through the movement of infected pork and other animal products, as well as live animals, which includes wild boar.
Recommendations for the prevention and control of ASF I
Article

ASF is now firmly established in some areas of the Caucasus and Eastern Europe, where it is causing considerable trade disruptions, plus having a devastating impact on small-scale pig farmers.
African swine fever – Current status, epidemiology and clinical signs