As a part of the strategies that are being implemented in Chile for the prevention of the entry of diseases such as African swine fever, the Trade-Union Association of Pig Producers of Chile (ASPROCER), together with the Agricultural and Livestock Service (SAG), launched a campaign to avoid the entry of meat products.
The campaign, that started on Thursday, December 13th, and that ends in May 13th, includes, specifically, the placing of preventive warnings in two places in the International Airport Arturo Merino Benítez, a measure that expects to avoid that the passengers enter meat products from anywhere in the world.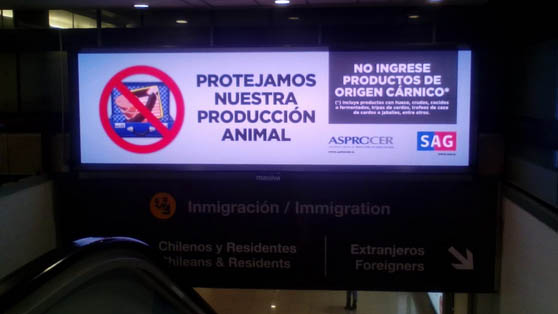 This initiative has also allowed to review and improve the contingency protocols to address a possible outbreak of this kind of diseases, therefore having strategies to effectively protect the national production.
Direct work is being carried out with the suppliers of consumable goods and the national producers, handing them recommendations so they implement precautionary measures.
Tuesday, January 18th, 2019/ ASPROCER/ Chile.
http://www.asprocer.cl