Not long ago we warned of the current risk posed by African swine fever (ASF) for the European Union (EU) and that the main measure we must take to prevent entry is to be forewarned and informed. To this end we have prepared the following summary which we hope will clarify some practical concepts about ASF, how to recognize it and what actions to take when in the field.
How does ASF present itself?
ASF is a multisystemic disease classified within the group of bleeding disorders due to bleeding symptoms present in acute and peracute forms of the disease.
Currently, ASF is only present in Africa, the Italian island of Sardinia, Russia and Caucasian countries. Sardinia, the only territory where the ASF remains endemic since its introduction in 1978, affecting European domestic pigs and wild boar, has not caused outbreaks in other territories, except for a single outbreak in northern Italy in the 80's. By contrast, Africa and Russia are considered a potential risk for the introduction of ASF in the EU. In recent years there has been an increase in viral movement of ASF in Africa, with more viruses than ever on the continent and therefore more contaminated animals and products. Meanwhile, in Russia and neighboring affected countries, the disease has been present since 2007 in its acute form, causing great economic losses in a situation which is out of control.
Given the outbreaks in regions currently affected by the disease, and the high susceptibility of the European pig to ASF, the most predictable onset of the disease in the EU would be an acute form of ASF by the introduction of the virus from fomites, illegal trade or consumption of contaminated waste from Africa or Eastern Europe.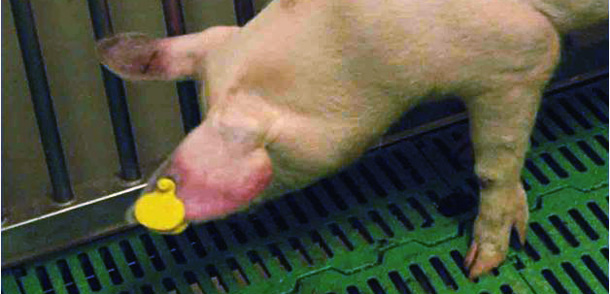 Figure 1: Pig affected by ASF with cyanosis on the ears.
Possible clinical forms of the disease
In a case of hyperacute ASF, the animals will die within a few days (less than a week) with no apparent symptoms beyond a fever and the consequent overcrowding characteristic of pigs in the pens.

Fig.2: Characteristic image of a hemorrhagic enlarged spleen in a pig affected by ASF.
In the acute form of the disease animals show the typical symptoms characteristic of ASF and other hemorrhages, with skin disorders (rashes on the extremities, abdomen, snout and ears), fever, prostration, possible hemorrhagic shock (nasal discharge, diarrhea) and breathing difficulties in the final stages due to pulmonary edema. Animals die between 5-9 days post-infection and when necropsied significant lesions can be seen as hemorrhages and congestion in the digestive and lymph nodes, and adjacent hemorrhages in the spleen, often enlarged, crossing the abdominal cavity presenting with a dark and fragile texture. In the kidneys we can observe petechiae in the renal cortex, bleeding of varying degrees in the lymph nodes, especially the gastrohepatic, renal and mandibular as well as pulmonary edema.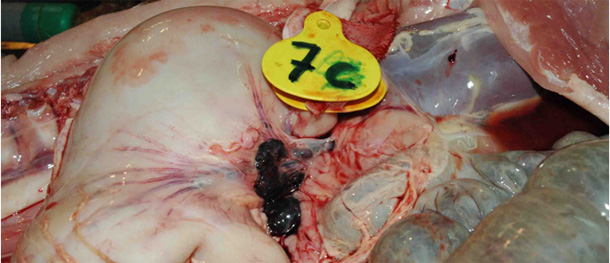 Fig.3: A totally hemorrhagic gastrohepatic lymph in the abdominal cavity of a pig affected by ASF.
In less severe courses of disease symptoms are less clear, leading to death after around day 20 pi, often due to complications of thrombocytopenia caused by the virus. In these animals the hemorrhagic lesions are more pronounced in lymph nodes, bleeding and changes being observed in other organs such as the lungs, kidneys, heart and stomach.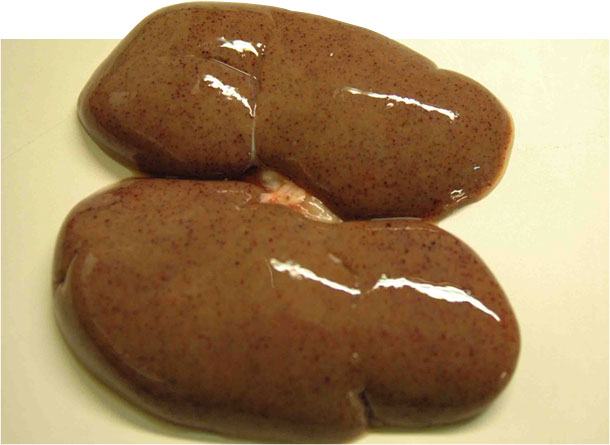 Figure 4: Presence of petechiae on the surface of a pig kidney affected with ASF.
How is it presenting itself in Russia?
The clinical profile seen to date of ASF in Russia and neighboring countries is a typical acute disease. The animals die between 7 and 15 days post-infection and the symptoms observed include fever, huddling together due to cold and injuries described above. If this same isolate belonging to genotype II, enter into any European country, the expected symptoms in pigs would be characteristic of the disease in its acute form, so rapid recognition in the field would be expected.
What to do if you suspect ASF?
In this sense, it is essential to make a correct differential diagnosis with other bleeding disorders that may present with similar symptoms such as CSF, swine erysipelas, acute salmonellosis, Aujeszky's disease (due to abortions) or porcine dermatitis and nephropathy syndrome. It is important to note the similarity of some of these diseases in the field with the first symptoms of ASF. Therefore in the case of suspicion of ASF, it is recommended to first perform a necropsy to study the lesions, with special attention to disinfection and proper disposal of equipment and footwear used, to avoid spreading the ASFV.
Samples to be taken to carry out the laboratory diagnosis should include blood and serum of the suspect animal, and if possible samples of affected spleen and lymph nodes. You can also submit samples of lungs, liver, kidneys or other organs if appropriate.
ASF is a serious disease that can cause great losses to the industry. However, if detected early, the negative impact can be greatly limited. It is essential to be aware of the clinical symptoms of the disease, especially in its acute form now present in Russia, and therefore the most likely to occur in case of introduction into the EU. Similarly, we should remember the importance of including ASF in the differential diagnosis of other bleeding disorders and their diagnosis confirmed by laboratory techniques.
See more articles related to this article
Article Comments
This area is not intended to be a place to consult authors about their articles, but rather a place for open discussion among pig333.com users.