Maternal immunity
In pigs, the development of immune system begins early during gestation: in fetus at 30-40 days, B and T cells appear in spleen and thymus respectively and then progressively increase until the end of gestation. The fetus is able to trigger an immune response when it is administered with antigens parenterally or by enteric way.
The epitheliochorial placenta does not allow the passage of both antibodies and immune cells from sow to fetus, so the newborn pig survival depends critically on the intake of MDA (Maternal Derived Antibodies), contained in colostrum and milk.
Colostrum and milk have several functions:
To confer

systemic and local protection

thanks to MDA from sow's blood by translocation through the breast epithelium into the mammary secretions
The

transfer of maternal immune

cells to the neonate
To influence the

development of systemic immunity and mucosal immunity

of the newborn

Presence

of hormones, antimicrobial proteins (AMP), growth factors
Colostrum confers to neonate nutritional components, maternal antibodies, immune cells (inflammatory phagocytic cells, lymphocytes), hormones (prolactin and cortisol with role in regulation of the growth of intestinal epithelial cells) growth factors (e.g. TGFb is implicated both in induction of immune-tolerance and antibody switch towards local IgA production), antimicrobial proteins (lactoferrin, defensins, serum amyloid A).
Once colostrum is ingested, maternal immunoglobulins (IgG, IgM, and IgA) pass through the enterocytes and thus into the bloodstream thanks to a complete bowel permeability. Within 24 hours, IgGs (main isotype in colostrum) pass from mammary secretions into neonate's blood and reach a serum concentration like in sow, while IgA, once passed through the blood, circulate and reach the respiratory epithelia by exudation and the intestinal epithelium as well.
The systemic and local passive protection conferred by colostrum is mainly due to MDA and the majority of colostral IgG and IgMs derive from sow serum.
Also T and B lymphocytes are present in colostrum and can pass into neonate's blood after colostrum intake. They are characterized as memory cells being able to proliferate and activate in response to viral and bacterial antigens and to produce cytokines. Colostrum B lymphocytes pass into the intestinal epithelium, into mesenteric lymph nodes and then from the blood into other tissues where they have an immune-stimulatory effect. Proliferative responses of colostral cells to "recalled" antigens have been demonstrated but the transfer of specific cell-mediated immunity by colostrum is still debated.
Up to weaning, the protection against local pathogens is mainly due to immunity conferred by milk (lactogenic immunity), that is dependent on the immune activation at induction sites of sow and on the transfer of activated B cells into mammary gland with local production of secretory IgA. In sows, immune activation occurs in the GALT (Gut-associated lymphoid tissue) with lymphocyte recirculation between intestine and mammary gland and in the BALT (Bronchus-associated lymphoid tissue) with B cell recirculation between respiratory system and mammary gland (Fig. 1).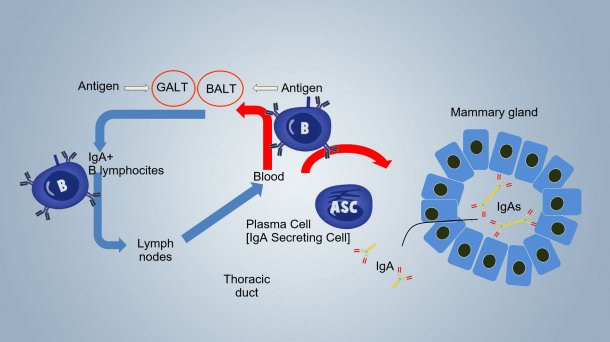 IgAs in milk derive from dimeric IgAs, secreted at the induction sites, which pass into the mammary secretions from translocation through the breast epithelium and from B IgA + lymphocytes, sensitized at induction sites, which pass from blood into the mammary gland where they transform into IgA secreting cells (ASCs IgA +), which locally secrete Ig transported into milk (Fig.1).
Neonatal immunity
The immunity of piglet until weaning depends on:
Maternal passive immunity
Congenital acquired immunity that develops progressively in pre- and post-weaning period
At birth, CD4 + "naive" T cells are maintained at higher levels than CD8 + T cells until weaning, while T helper CD4 + CD8 + (memory) lymphocytes and cytotoxic CD8 + lymphocytes increase only in post-weaning period. Conversely, high levels of T lymphocytes g/d are present in the pre-weaning period. B lymphocytes increase in number in the first 4 weeks of life but their diversity of antibody repertoire is already completed after 4 weeks of age.
A scheme of factors influencing neonatal immunity development can be seen in figure 2.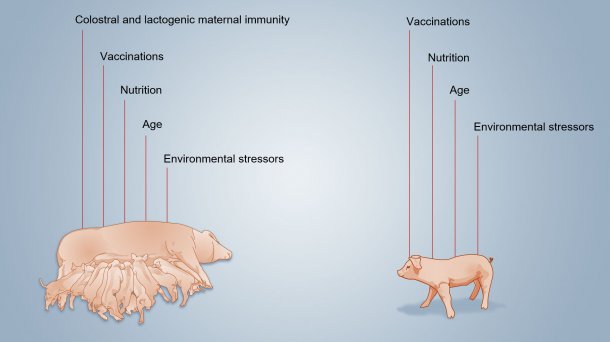 The development of acquired immunity is slow because antigenic stimulation is limited until weaning, partly due to the interfering effect of MDA that, as it blocks antigens, can influence the development ("priming") of antigen specific immunity. Furthermore, environmental stressors, vaccinations, microbiome can positively or negatively influence the quantitative and qualitative development of the piglet typical immune response.
Early-life exposure to appropriate microbial flora drives expansion and development of an efficient immune system.
Also, early weaning in piglet is critical for the development of acquired immunity because it represents a phase where physical and psychic stressors play an important role altering the production of immunomodulatory hormones (GH, cortisol, prolactin) and variously affecting the effectiveness of immune response at systemic and mucosal levels.