A specific humoral immune response starts when naïve B lymphocytes recognize their specific antigen in the secondary lymphoid organs and tissues (see pathogen recognition).
Each B lymphocyte has an antigen receptor (BCR: B Cell Receptor), a surface immunoglobulin (IgM or IgD), which binds to specific antigen domains called antigen determinants or epitopes.
The specificity of an antigen binding site depends on the genes encoding variable domains (VH and VL); in mammals, an enormous number of genes and, consequently, of different BCRs, can be generated by gene recombination and/or gene conversion, making an animal enable to recognize almost all foreign antigens.
After recognition, each specific B lymphocyte activates, undergoes clonal proliferation and differentiates into a Plasma cell (or Antibodies Secreting Cell, ASC) able to synthetize and secrete immunoglobulins (antibodies), each specific for its epitope.
The specific humoral immune response is optimized thanks to the help of T cells.
Initially, the B cell secretes IgM in a monomeric form and with identical antigenic specificity.
In relation to the type of antibody secretion, antigens are classified as T cell dependent or T cell independent, depending on whether T cell help is needed to prime an antibody response.
For certain antigens, so called T cell independent antigens, (for example bacterial lipopolysaccharide, flagellin, pneumococcus polysaccharide, etc.) can induce only IgM antibody with a modest affinity and no B cell memory.
Almost all foreign antigens are T cell dependent antigens, and require, for a complete activation of B lymphocytes, an additional signal (cytokine) by specific T helper cells recognizing the same antigen (T and B cell cooperation).
In this latter case, the B cell acts as an antigen presenting cell presenting the processed antigen to T helper cells and the cognate recognition allows Ig isotype switching (antibody class switching) from IgM to a different class of immunoglobulins, IgA, IgE or IgG, depending on the Th-cytokine secreted and involved in B cell stimulation (IL-4 or IFNγ respectively). Another crucial signal for the antibody switching is the engagement of the CD40 receptor on B cells by CD154 (CD40L).
Under this "help", proliferating B cells undergo somatic hypermutation of surface immunoglobulin and will then be endowed with a specific isotype. These B lymphocytes are further selected on the basis of an optimal Ig affinity to the antigen by entering in tight contact with the follicular dendritic cells presenting them the antigen itself. Only B lymphocytes possessing high antibody affinity for the antigen and able to process and present it, will be positively selected. Thus, only these latter B lymphocytes survive, proliferate and differentiate into plasma cells synthetizing and secreting antibodies of a single isotype class, with a single specificity and high affinity, improving the ability to bind the antigen and therefore to neutralize and destroy the pathogens.
When the primary immune response ends, some of these B cells and plasma cells primed and selected in this first contact, will survive as long-lived memory cells, ready to be activated at subsequent exposures to the same antigen (secondary immune response) producing the same antibody class with a higher titre and increased affinity.
In conclusion, in the primary humoral immune response, a single class IgM in monomeric form and with identical antigenic specificity is initially secreted, then, after few days, consequent to isotype switching, a secretion of a different Ig class, for exemple, IgG, occurs. The secondary humoral immune response induced by a subsequent exposure to the same antigen will be mainly characterized by the production of IgG isotype but at higher titre and affinity (Figure 1).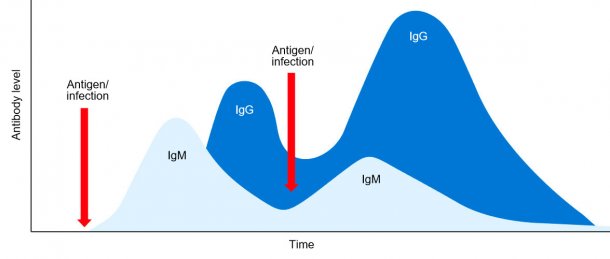 Antibodies can act against pathogens with different defensive mechanisms:
Inhibition of infectivity of pathogens by direct binding to them (neutralization, attachment blocking, immune exclusion).
Activation of alternative (opsonization) or classical complement pathways with pathogen lysis.
When coating the pathogen (or infected cells), antibodies enable accessory cells, that recognize the cristallizable fragment (Fc) portions, to ingest and kill the pathogen by opsonization and phagocytosis or to kill infected cells by ADCC ("Antibody-dependent Cellular Cytotoxicity").
Regulation of immune responses through interacting with Fc receptors (FcRs).
FcRs are expressed by many innate immune effector cells such as mast cells, neutrophils, monocytes, macrophages and dendritic cells. Particularly, the FcγRs (Fc receptor for IgG) when bound to immune complexes, trigger the activation of innate cells and their effector responses (phagocytosis, oxidative burst, cytotoxicity, release of vasoactive peptides and chemoattractans). FcRs on dentritic cells promote antigen capture, processing and presentation to cytotoxic T and Thelper subsets.
Conversely, the inhibitory FcR for IgG, expressed on B cells, is involved in the regulation of B-cell activation and development and in plasma-cell survival.