Since its first outbreak in Romania, back in July 31st 2017, the spread of ASF along the country has been remarkable. At present the disease has been declared in 10 out of the 41 counties of the country. However, the major progression of the disease has taken place during last 2 months (see image 1).

According to country's health authority, ANSVSA, to date 781 outbreaks have been declared in domestic pigs, 12 of which have occurred in comercial farms and 1 in a slaughterhouse, and 40 outbreaks happened in wild pigs. To date 123,411 animals have been killed.
Special reference should be made to the impact of the largest operation in the country, in Tufesti, county of Braila, that has affected 3 farms with almost 140,000 animals being killed at present.
Image 2 shows the regionalisation of the disease in Romania and neighbouring countries declared by the European Commission on August 28th.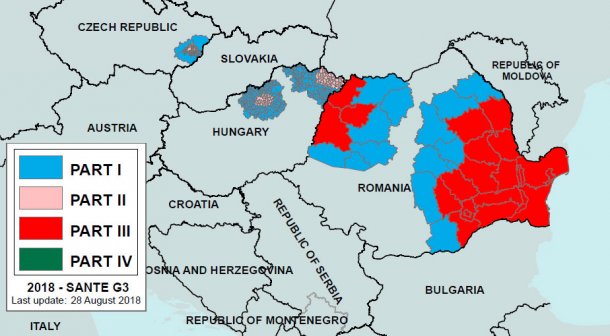 Thursday, 30 August 2018
ANSVSA / Romania/ www.ansvsa.ro
OIE/ www.oie.int
European Commission / ec.europa.eu