PEDv Introduction
PEDv is not a listed disease of the World Organization for Animal Health (OIE);
PEDv is not considered a foreign animal disease in the United States, but a transboundary disease
PEDv is not a zoonotic disease, which means it does not affect people
PEDv is not a food safety concern
PEDv clinically appears like TGEv
PED in a sow farm
The case occurred in a 6000 sow farm in Indiana (part of a 15,000 sow system) with internal multiplication, the production manager called me on Sunday afternoon, May 5, 2013 and said that they had an increased amount of scouring in piglets in the farrowing house especially late (10 to 18 days of age). He also said in one of the eight – 650 head gestation barns they had sows with vomiting and diarrhea. None of the employees on this farm had ever seen TGEv before, but were concerned that is what they were seeing.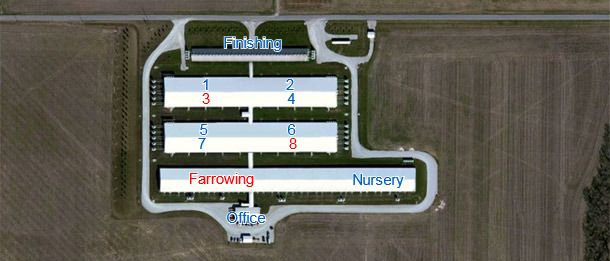 I encouraged them to have the production supervisor call the wean pig buyer, inform them of our concerns and let them decide what they wanted to do with the pigs scheduled to be weaned that week. To see if they wanted to push back weaning a day, take them to a different site, etc.
On Monday, May 6, 2013 when I got to the farm, everything still looked good through six of the eight 650 sow gestation rooms. In gestation room 3, one sow was vomiting. But in the 8th room, where I thought I was going to spoon up some feces to submit, there was nothing to spoon. It was watery diarrhea everywhere. We end up using paper towels to blot up some samples.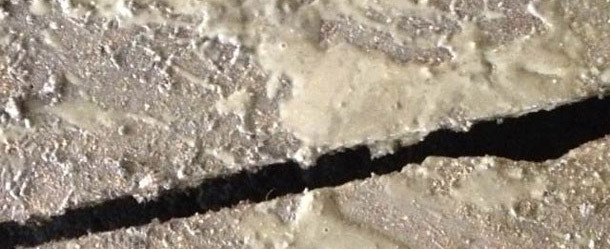 In the farrowing, I was still trying to convince myself that this was just a PRRS / Salmonella blip or an E. coli endemic scour. The piglets up to 3 days of age presented with a "normal" endemic E.coli / Clostridium scour with about 10% of litters affected. However, by 7 to 14 days of age, 50% of the pigs were scouring. Pigs were lying on top of the sow and the piglets were covered with brown blotches of dried scour material all over them.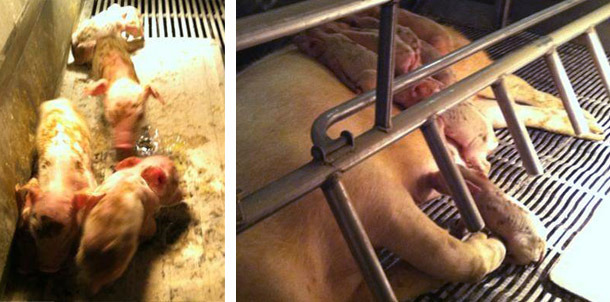 At this point, I was convinced it was TGEv and recommended feedback be implemented immediately at this unit.
Feedback process
Despite my recommendation of standard feedback of 1 pig's intestine to 10 sows, the farm fed back 1 pig's intestine to 100 sows. Instead of feeding back intestines for 3 days in a row, they fed back one day then observed the farm closely to see if any sows or areas of the farm didn't get sick. These "non-responding" animals were then fed back 3 days later.
I bring this up because, despite my initial concerns with the farm's much lesser approach than published recommendations, on retrospect, they appear to have been successful in producing PEDv negative pigs.
Alerting the neighbors
On Monday afternoon, May 6th we contacted the other farms in a 5 mile radius and informed them and their veterinarians that we potentially had TGEv and we were planning to feed back. We wanted them to be aware so they could protect themselves by increasing awareness of biosecurity with their crews.
Second farm break
Tuesday, May 7, 2013, the 3,600 sow unit in the same 15,000 sow flow had clinical signs of TGEv in two of the smaller farrowing rooms in pigs that were about to be weaned. We had the same clinical signs to a lesser degree, move through the farm.
We weaned as many pigs as we could down to 10 days of age, then fed back to all the sows on the farm other than those with piglets less than 10 days of age. Once those piglets were 10 days of age, we weaned them and fed back frozen material to their sows.
In the 15,000 sow system, they have a third farm which still has not broken with TGE like scours. That farm is 2 hours away from the others. Feed for all three farms is ground out of the central mill. We stopped all personnel, equipment and supply movements between the 3 farms; other than, feed continued to be ground and delivered out of the central mill.
Diagnostic dilemma
On Wednesday afternoon, May 8th the diagnostic results from the 6,000 sow came back negative on PCR for TGEv. On Thursday afternoon, May 9th the IHC results came back TGEv negative on the 6000 sow and the TGEv PCR results came back negative on the 3600 sow unit, despite histopath reporting "…consistent severe atrophy of villi with attenuation, swelling and loss of epithelium on tips of villi, with a villus to crypt ratio as severe as 1:1. No coccidial organisms are observed. No bacterial colonization is observed. Lesions suggest acute severe enteric viral infection".
I called and let the lab know that I was concerned about the test results. The lab repeated all the tests and at the same time forwarded samples to National Veterinary Services to run further tests including electron microscopy (EM).
On Friday afternoon May 10th, the samples were confirmed as a Coronavirus on EM, but further testing was occurring at NVSL to determine whether or not it was indeed PEDv. At this point the disease was labeled a "non-TGE Coronavirus".
Alerting the neighbors - again
On that Friday afternoon, May 10, 2013, after finding out the virus was not TGEv and was potentially PEDv I spoke with my client and we decided to re-alert the neighbors and their veterinarians updating them about the situation. I also called and alerted our State Veterinarian of the "non-TGE Coronavirus" diagnosis.
On Thursday May 16th, NSVL confirmed the diagnosis of PEDv.
Clinical aftermath
The 6000 sow farm performed feedback Monday afternoon May 6th. All of the sows throughout the unit got ill (vomiting and or diarrhea). The pigs weaned off the unit for the first week, reportedly recovered nicely in the nursery within 5 days to a week. The next week, weaned pigs averaged 10.5 pounds versus our 13.5 pound average and these pigs struggled in the nursery.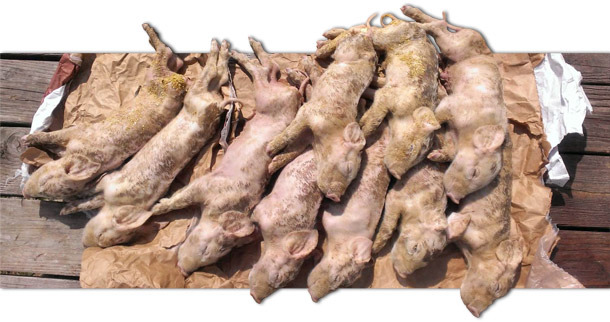 After the sows got infected, all of the piglets got infected. 100% of the pigs under 7 days of age died and continued to die for 2 weeks. Three weeks later things were getting better with 15% of the pigs surviving to 4 days of age. Recovery proceeded from there with production back to 100% by 8 weeks post infection.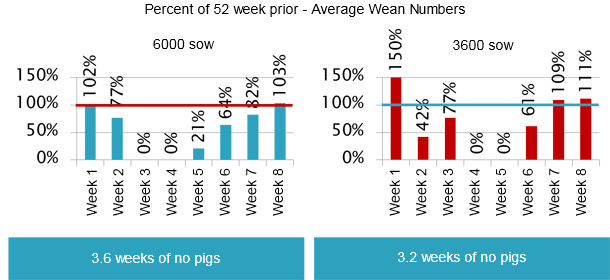 Two weeks after feedback, the sows seemed fine. A few aborts, a few more stillborns, but they were all eating and seemed to be feeling fine.
Follow-up testing
In an attempt to prove that the virus was gone, once clinical scours had disappeared around 90 to 100 days post feedback , weekly we collected and submitted rectal swabs from 30 piglets in farrowing at 7 to 14 days of age and pooled them in groups of 5 for PEDv PCR testing. We intend to perform this testing until we have achieved 4 consecutive weeks of negative test results. We intend to monitor the herd for clinical signs from there and retest if there are any concerns. In this way we hope to achieve PEDv positive but stable status as proposed by Morrison, et al.
PED in a nursery
In the PED case in a nursery, we didn't really see a whole lot of clinical signs. We had been purchasing 2,000 head a week in out of a sow center. The sow center had been leaking PRRS and so the pigs were a bit rough to start. Each week they continued to come in better and better, but we noticed a grey scour like rotavirus. We submitted samples to the lab confirming rotavirus. We did this several times, sometimes it was Rota A, sometimes A & B, and sometimes an oddball Salmonella.

We just put them on Neomycin in the water for 5 days for the Salmonella and they did just fine. When I saw the diagnosis "Severe atrophic enteritis groups A/B rotavirus" I called and asked our local vet to have the samples run for PEDv. They came back confirming PEDv, otherwise we would still be convinced that we just had a severe Rotavirus problem with some secondary Salmonella.
Take Home Points
From these cases of PEDv I have learned and share with my clients:
Always send in diagnostics samples with a new outbreak, even when you think you know what the problem is
Be Aware of PEDv Clinical signs, it looks like TGEv and in the finisher it can be mild
Don't be a vector / Don't track it around
Trailers - Wash, clean, disinfect, dry and bake trailers – best medicine is prevention
Communicate with your neighbors, their veterinarians and all suppliers
Watch biosecurity:

Pigs.
Manure.
Trucks.
People.
Supplies.
Truck washing and disinfecting.
County & State Fairs.
Conclusion
While PEDv hit 2 of my client's sow farms fast and hard, it leveled off in 8 weeks and production has returned to normal. Piglets have tested negative 100 days post infection for 3 weeks in a row. We will continue to monitor the population clinically to see whether or not the virus is truly gone or if it goes endemic.