Operation, maintenance and design of the hoppers. J. Carr estimated that 10% of feed delivered to a farm is wasted (The Pig Journal Proceedings, 2008). Places that contribute most to this are the circuit and the hoppers. Adjusting and settling the hoppers should be a daily task for the farmer because it can mean big savings by optimizing feed ADG and FCR, Table 1.
Table 1. Effects of trough opening on the productivity of fattening pigs.
Trough opening

b

1

3

5

ADG, kg

0,945
0,932
0,882

FCR

2,4
2,34
2,37

End weight, kg

101,4
100,5
96,8

Feed cost, $

63,23
61,78
62,57
aAdapted from Goodband et al., 2009. b Being 1 the minimum opening and 5 the maximum.
There are many different designs of hoppers and feeders. Some studies show that wet hoppers improve animal growth compared to dry hoppers (Bergstrom et al., 2008) but only under certain conditions that do not always coincide with those of our farm.
It is important that the feeder or hopper be sized for the number of animals in the pen. The FCR will be directly affected if there are too many animals per hopper / feeder. Morrison et al., 2003, observed an improvement of 2.64 to 2.46 in the FCR when going from 15 to 9 pigs per feeding space.

Modeling. We know the importance of fully adjusting to the requirements of our pigs but in order to do this we must be familiar with their needs. Although genetics can supply this data companies, the best way to get it is by modeling our animals in commercial situations, Figure 1 and 2.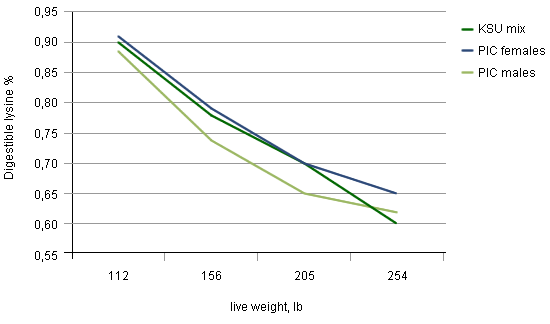 Figure 1. Digestible lysine requirements for PIC pigs on experimental KSU farmsa.
aAdapted from Bergstrom et al., 2009.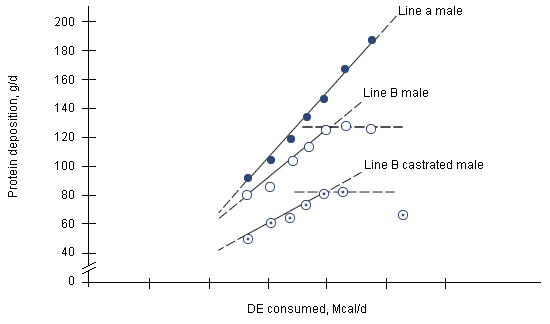 Figure 2. Relation between consumption of energy and protein deposition for two lines of male and castrated pigs of 45 to 90 kg of LWa.
aAdapted from Campbell et al., 1988
Phase feeding. The nutritional requirements of pigs are not static nor do they vary by only 2 or 3 times (as we change the feed) for fattening, Figure 3. If we are able to adjust to their needs we will be saving money while ensuring the ADG and the FCR.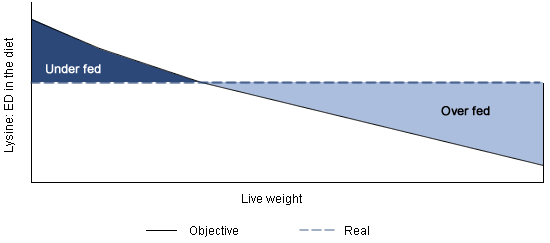 Figure 3. Objective of lysine in the diet for phase feeding versus a fixed level for a single diet a.
aAdapted from Agriculture and Horticulture Development Board.
When g / day of lysine is not sufficient we undermine the ADG and the FCR. The same is true when we overfeed as well, increasing the cost cost of feed.
Separate by sex. The separation of the sexes should be considered at this time. The growth curve of males and females is not equal and therefore nor are their needs. When mixed, we either overfeed the females or do a disservice to potential male growth.
Adjustment of the feed phases. The nutritional characteristics of feed may change over time. Periodically, you should contact the provider to review the proper supply of feed in different phases of production. We should be especially careful with the feed of piglets. Do not give them more than necessary. Recall that the goal in weaning the piglet is to be able to get them on a "cheap" diet as soon as possible.
Figure 4. Kg of feed types recommended by the KSU at weaning a.
Weaning weight, kg

Diets

4,5
5,0
5,5
5,9
6,4
6,8
7,3

SEW

0,91
0,45
0,45
0,23
0,23
0,23
0,23

Nursery

2,27
1,82
1,36
0,91
0,45

Phase 2

5,4 to 6,8 kg

Phase 3

20,4 to 22,7 kg
aAdapted from Swine Day 2007
Do not overfeed. This is no time to overfeed animals. On the contrary! The conversion rate is worse at the end of the fattening stage, therefore, genetics with a hearty appetite can have a restricted diet at the end without penalizing the ADG and improving the FCR. Myers et al., 2011, showed that of 40 to 70 kg pigs must have 58% of the trough surface covered in feed while those over 70 kg have enough with 28%.
Feed in pregnancy. There is a widespread tendency to overfeed gestating sows. That will not only be detrimental to production level (agalactia, lack of consumption in lactation, etc...) but will also mean a significant cost in feed, Figure 5.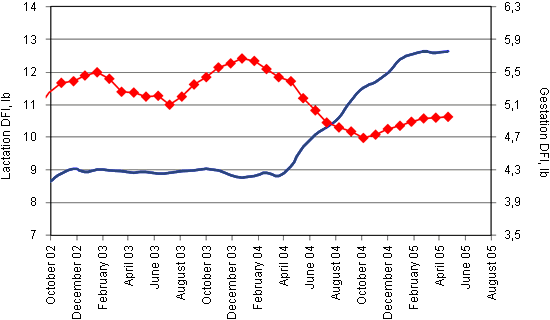 Figure 5. Monitoring feed intake in pregnancy and lactation for 6 monthsa.
aAdapted from Swine Day 2005.
It's time to check for quantities, such as nutrients, as well as the feed curve. Sows may be eating the correct amount of feed, just poorly distributed over the gestation period, jeopardizing birth weight or implantation of embryos, among others.
Simplify diets to reduce manufacturing costs. Making a specific diet for each farm has a high cost at the manufacturing level and isn't always offset by the results. Sometimes, the same diet with different management can function the same as a specific one. You have to assess the nutritional costs and benefits before making the decision.
There is no doubt there are many other things other than feed that could help us be more competitive. Some with as much or more influence than feed, such as improving the productivity of sows, general health, managing our operations and genetics.