The goal is to record the sows' feeding level when fed manually by wrapping a feeding chart around the sow's water drainpipe.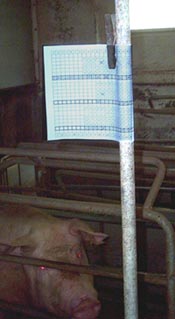 In the farrowing room, the sow's feeding level must follow a certain curve. If the sows eat too much close to their farrowing, they will have problems with their milk let-down. If they eat little later on, they will lose too much weight. In order to get the sow to eat as much as possible, we will need to increase her amount of feed gradually, so we will need to know how much she ate in her previous meal.
It is also important to control if each specific sow eats well or if we always have to clean her trough and give her less feed than it should receive.
For all this, it is of great help to have a feeding chart with the ideal amount of feed to be given each day during the lactation. This chart may have the option of writing down, after each meal, the real amount of feed consumed by each sow.
In the case of the feeding with dispensers, we can see the amount eaten in the previous meal. The feeders normally have a system to attach the sow's card or, in this case, the feeding chart.
If we feed manually, a way of having the chart at eyesight is to wrap it around the water pipe with the help of a clothes peg. We may roll it up depending on the lactation day so we see the section contaning the current day well and we are able to write down the amount given with a marker.