According to the OIE, four and two new outbreaks of African and Classical swine fever (ASF, CSF) have been detected in pigs and wild boars.
Classical swine fever
Two affected wild boars have been destroyed in the parishes of Baltinavas and Salnavas (Baltinavas and Karsavas counties, respectively).
Since May 2013 wild boar oral vaccination against CSF virus is on-going in a CSF infected area.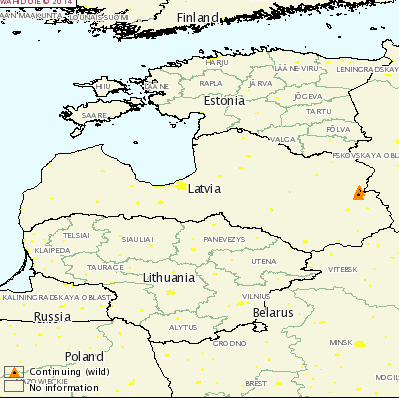 African swine fever
The Latvian veterinary authorities have confirmed four outbreaks of the disease, one of them affecting domestic pigs.
On 2 July 2014, a backyard holding owner notified to the veterinarian about one ill fattening pig. Blood samples were taken and sent to the laboratory. On 3 July, the laboratory confirmed African swine fever in domestic pig. Protection and surveillance zones are established for African swine fever and all measures according the Directive 2002/60/EC are in place. The backyard holding is located in Piedrujas parish, Kraslavas county, very close to the Belarus border.
Regarding the affected boars, 3 of them were found in Indra parish (Kraslavas) and the other two in Piedrujas parish (Kraslavas county) and Kepovas parish (Dadgas county).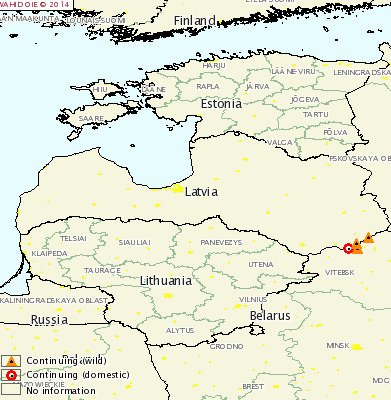 Wednesday July 9, 2014/ OIE.
http://www.oie.int