The OIE has reported two outbreaks of classical swine fever in Latvia, one with an affected wild boar that was hunted in the infected zone, about 3 km from the border with Belarus, in the district of Baltinavas, and another in Dagdas affecting domestic pigs.
On 21 June 2014, a veterinarian notified to the local competent authority about a CSF suspicion in one backyard farm. On 22 June, CSF was confirmed in domestic pigs by the National Reference Laboratory and all suspected animals were destroyed the same day. Protection and surveillance zones were established. The backyard holding is located within the current CSF-infected area, about 15 km from Belarus border.
Hunting and sampling of wild boar is still on-going.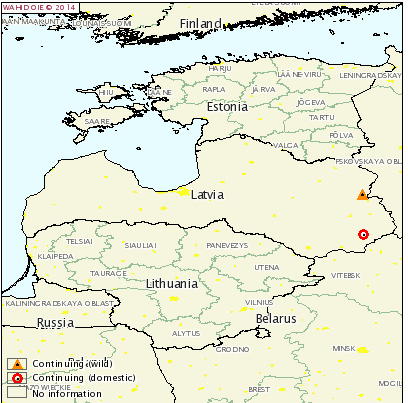 Thursday June 26, 2014/ OIE.
http://www.oie.int