As a result of the surveillance and control measures against foot-and-mouth disease carried out by the Agricultural Institute of Colombia (Instituto Colombiano Agropecuario, ICA), an outbreak of the disease was detected on a pig farm in Carraipia, in the municipality of Maicao (La Guajira), 10 km away from the border with the Republic of Venezuela.
The farm had 27 susceptible animals and 23 cases. The farm also had 82 bovines and 80 ovines.
The ICA's National Veterinary Diagnostic Laboratory carried out tests by PCR that yielded positive results, and carried out the isolation of the foot-and-mouth disease virus, that was identified as pertaining to serotype O.
The ICA pointed out that the new outbreak is directly related to the virus that has been circulating in the department of Cesar.
The government has also made a call to the organisations in charge of the control of the disease and to the local and departmental governments to fight the illegal entry of animals from Venezuela.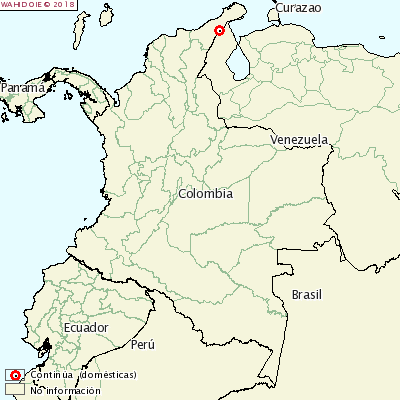 Friday, October 26th, 2018.
ICA/ Colombia. https://www.ica.gov.co/
OIE. http://www.oie.int