The outbreak, with 260 susceptible animals and 30 cases, was detected in a slaughterhouse located in Economic Development Zone, Zhengzhou (Henan).
Infected pigs had been legally transported from a live swine market in Heli town, Tangyuan county, Jiamusi city, Heilongjiang Province.
Strict blockade, disinfection, and movement control measures were conducted at the slaughterhouse. The local government launched the African swine fever contingency plan and emergency response according to the Standard & Protocol for African swine fever. All live pigs and animal products were prohibited to enter and exit the area. Epidemiological survey and screening have been initiated in the Heilongjiang province.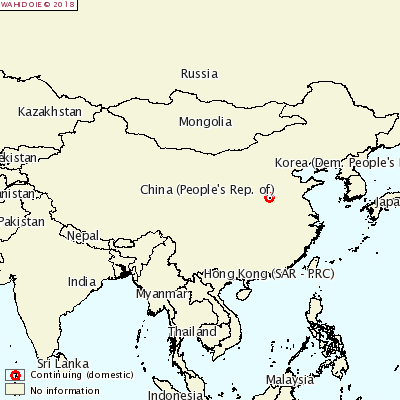 On the other hand, regarding the first outbreak confirmed on 3 August, the Chinese veterinary authorities informed the OIE that after all susceptible animals at the infected point and infected zone were culled and disposed of in an appropriate biosecure way, the Ministry of Agriculture and Rural Affairs has organized and guided veterinary services of the whole country to conduct an epidemiological survey and emergency surveillance for African swine fever (ASF). Up to 09 August 2018, a total of 261,900 sites were investigated and a total of 18,094,300 pigs were screened in the country. Sites included pig farms, markets, slaughterhouses, factories or sites for disposal of animals and animal products. Epidemiological survey and emergency surveillance plan has been issued by the Ministry of Agriculture and Rural Affairs. In the key provinces including Beijing, Tianjin, Hebei, Inner Mongolia, Liaoning, Jilin, Heilongjiang, Guangdong, Gansu, Xinjiang, Xinjiang Production and Construction Corps, an epidemiological survey and emergency surveillance for ASF have been conducted according to the plan.
Regarding the source of outbreak and traceability, the origin of infected pigs has been traced in the outbreak site (Wuwu community). The pigs came from two privately owned farms, belonging to the same owner. The farms have been emptied and pig house emptied. The environmental samples were tested positive for African swine fever (ASF) nucleic acid. A total of 676 live pigs were stamped out on the periphery of the two pig farms. Local veterinary authorities and institutions have conducted an emergency screening investigation on the whole province, up to August 14, a total of 35.54 million live pigs had been screened; 10,226 samples were collected and 7 samples were tested positive for ASF nucleic acid. The epidemiological survey showed that the positive samples came from the two villages in the threatened area, and all of the live pigs in the two villages were stamped out.
Thursday August 16, 2018.
MoA/ China. http://www.moa.gov.cn
OIE. http://www.oie.int