The Chinese Ministry of Agriculture and Rural Affairs (MARA) released its China Agricultural Outlook (2019 –2028) on 20 April 2019. This report provides projections for agricultural markets that incorporate the effects of the ASF outbreak and the Environment Protection Act, which aims to improve the sustainability of production, on the country's pigmeat market.
It is expected that production capacity will decline substantially in the first two years of the outlook period. Import volumes are projected to to reach 2.1 Mt by 2020, an increase of more than 75 % over 2018, in order to make up for the shortfall. This would increase China's share of world imports from 17% in 2018 to about 23% in 2020. Most of the additional pigmeat importsare expected tooriginate from Brazil, Canada, and the European Union.
Production volumes, however, are assumed to recover from 2021and by 2024 reach the same production quantities as in 2018. ASF will lead Chinese consumers toturn towards alternative sources of animal proteinand, in particular, poultry meat, for which increased production is projected to supply the additional domestic demand. The growth in overall feed stock demand, however, is projected to slow down in the early years of the outlook perioddespite the increase in poultry production and, in the case of corn, decline in the first two years of the projection period, when Chinese pigmeat production is expected to be declining. This is principally because of the greater amount of feed required to produce a given volume of pigmeat than of poultry. Towards 2028, both the OECD FAO Agricultural Outlookand the China Agricultural Outlook project that pigmeat production will reach similar levels.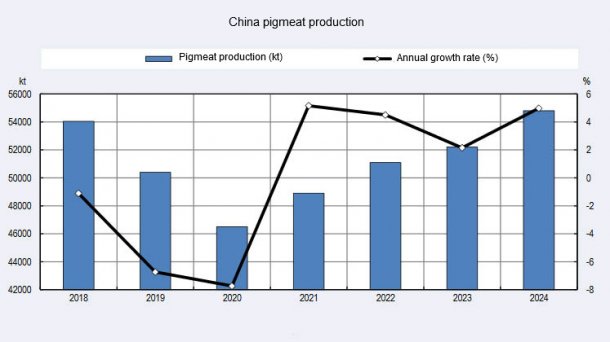 July 2019/ OECD-FAO Agricultural Outlook 2019-28.
http://www.fao.org