Introduction
In May 2014 we got a call to visit a fattening farm where 7-week-old piglets presented meningitis and diarrhoea after weaning, with a mortality rate of 5% three weeks after weaning.
It was a wean-to-finish farm, in a high pig density area. This farm followed an all-in-all-out system, receiving 4-week-old piglets (7kg) and growing them to slaughter weight (at 105 kg.) The farm consisted of a single barn, with room for 1200 pigs approx., divided into pens with solid floor and straw bedding. 80-100 small pigs were initially housed in each pen, and subsequently split into other pens.
They had just received a batch of piglets form a breeding unit where pigs had consistently shown poor performance after weaning for the last six months. Digestive problems appeared between 4 and 7 weeks of age (frequently caused by Salmonella typhimurium) and meningitis (usually caused by Streptococcus suis) in 5 to 10 weeks old pigs. Six months ago they had had an outbreak of clinical PCV2 that, apparently, had not recurred.
The breeding farm was positive for Mycoplasma hyopneumoniae and Streptococcus suis (they had frequent problems with this disease) and negative for PRRS.
Description of the batch weaned in May 2014
The breeding unit was an outdoor farm: the weaned piglets, overnighted in the lairage, and hauled the very next day. The average age was about 28 days old and the average weight 6.5 kg (while the average weight usually exceeded 7 kg).
Weaners were vaccinated against PCV2, M. hyo and PRRS on arrival at the growing farm of destination. In this systems, vaccinations were done in weaners due to the risk and complications to catch and vaccinate piglets before weaning in outdoor units.
Some weaners began to show meningitis signs in the first week after weaning and were treated with amoxicillin in water; the response was not very good and new meningitis cases continued emerging in the second week so a new treatment of lincomycin-spectinomycin in water was administered for 5 days and meningitis cases were quickly reduced. However, new cases of watery, mustard-coloured diarrhoea —with fever in some cases—, and casualties came up at the end of the second week (42 days old approx.) Animals were treated with colistin for 5 days and the clinical signs subsided. Necropsy findings were consistent with salmonellosis, and Salmonella typhimurium was isolated from faecal samples.
At the end of the third week after weaning, mortality rate reached 5% and, at the beginning of the fourth week, an increase in the incidence of diarrhoea was reported, moment in which we were invited to visit the farm.
Visit to the farm
The animals had stunted growth and uneven weights. Some were thin, with sunken flanks, pale and furry, with reduced vitality. A small percentage (<3%) were wasted. 5% had creamy/watery, mustard-coloured diarrhoea. Respiratory problems were more evident than the digestive ones, and at least 20-30% of the pigs were coughing.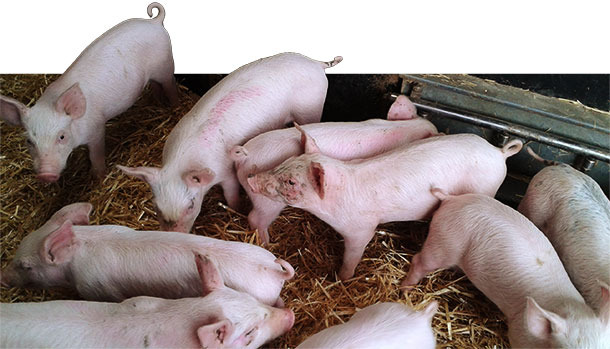 Figure 1: 52-day-old pigs. Stunted growth and loss of condition.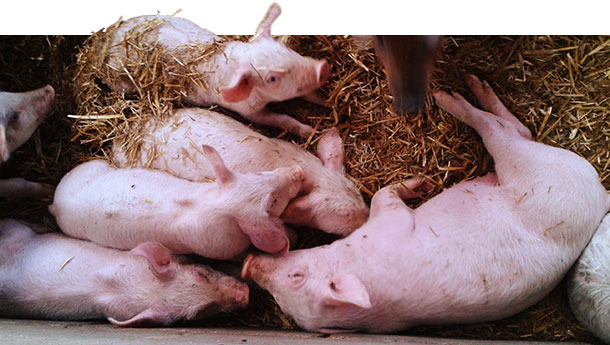 Figure 2: 52-day-old pigs. Uneven weights.

Figure 3: 52-day-old piglets. Loss of body condition and paleness.
Several necropsies were performed and systemic disease PCV2 (PCV2-SD) compatible lesions were found: enlarged inguinal lymph nodes, ascites, jaundice, interstitial lung oedema. Lesions related to digestive disorders were also found.
Diagnostic investigation
Samples were sent to the laboratory; Pasteurella multocida was isolated from lung lesions. PCR analysis resulted negative for PRRS and SIV. Immunohistochemistry (IHC) was also negative for PRRS. An immunohistochemical study was also conducted for PCV2. PCV2 viral loads in oral fluids (qPCR) samples ranged between 5×107 and 1×108 genomic copies per mL.

Figure 4: Inguinal lymph node with PCV2-labelling in macrophages.

Figure 5: Lung alveolar septum with PCV2 labelling in macrophages.

Figure 6: Lung slide with PCV2 labelling in the peribronchiolar area.

Images Crown Copyright APHA
Case development
After two weeks of medication, there was a decrease of respiratory problems and pigs began to recover a good body condition. PCV2 viral load in oral fluids decreased to ranges between 106 and 107 copies / mL. The number of casualties dropped, but mortality reached 9% at finishing.
However, this was not the end of the story but rather the beginning of a much longer problem. In the previous 6 months, successive pig batches from that breeding unit have had a very poor performance, and wean-to-finish mortality rates ranged between 5 and 7%. Undoubtedly, further investigation needed to be set.
Implemented actions
It was impossible to initiate an investigation to determine the exact PCV2 re-circulation timing, but based on previously described findings and results, it was happening before the third week after weaning. PCV2 vaccination did not offer the expected protection and provided the short lapse of time until re-circulation, perhaps, vaccination was too late. The breeding unit was asked to vaccinate piglets at a younger age, but they dismiss the option to vaccinate before weaning due to the added technical complications. So they vaccinated at weaning, which brought vaccination forward by 1-4 days compared to the previous program.
Assessment of implemented measures
Successive batches frequently had problems of salmonellosis since the first week after weaning.. Despite of antimicrobial treatment with colistin in water which was quite effective, 5% of the weaners could die in just 2 weeks.
In several batches PCV2-SD episodes were diagnosed as early as the second week after weaning. Mortality reached 9% in the period 7-105 kg in several batches, and antibiotic costs were significantly higher due to additional respiratory and meningitis problems. PCV2 viral load in oral fluids reached levels of up to 108 copies/mL in affected batches, whereas virus levels range between 102 and 104 copies / mL in pigs that were housed in the same barn, and same age but from different breeding unit. Besides generally didn't show signs of digestive or systemic disease.

Figure 7: Diarrhoea caused by Salmonella typhimurium in 5-week-old pigs.
It usually affected a large percentage.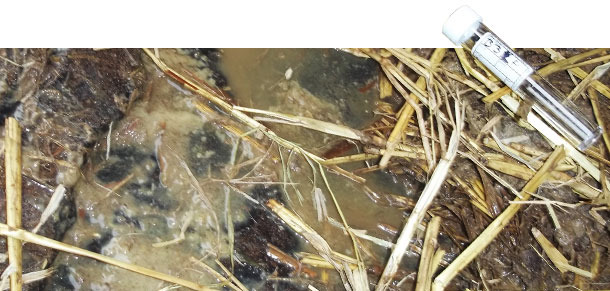 Figure 8. Diarrhoea caused by Salmonella typhimurium.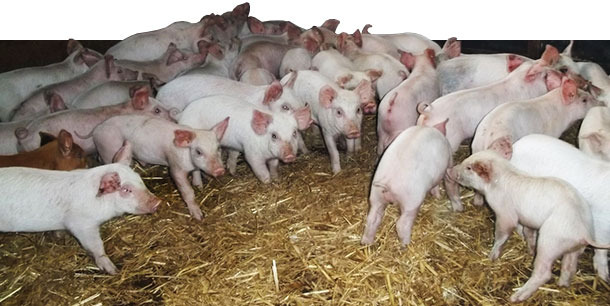 Figure 9: Paleness and body condition loss were frequent in recently weaned pigs.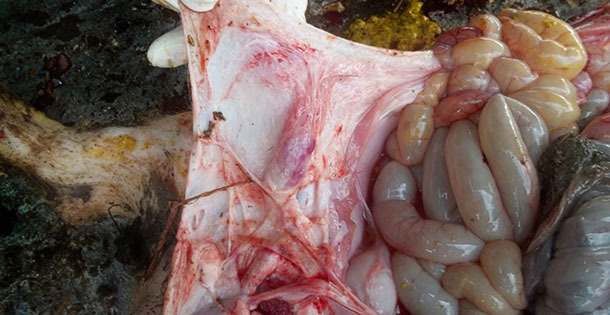 Figure 10: 5-week-old weaner. Enlarged inguinal lymph nodes.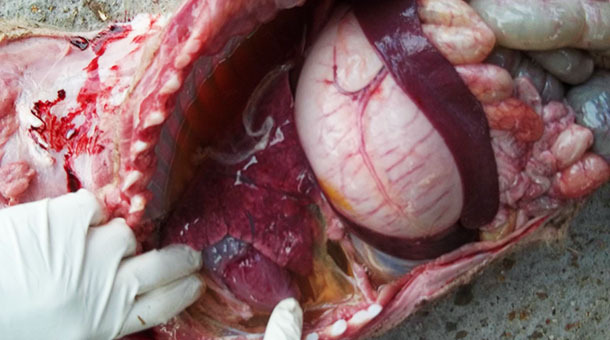 Figure 11: 5-week-old pig. Interstitial pneumonia and excess fluid in the thoracic cavity.
PCV2 compatible findings were frequent.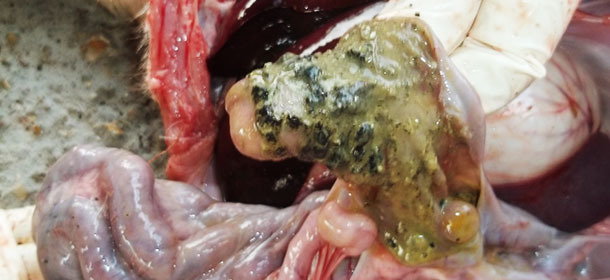 Figure 12: Necrotising enterocolitis caused by Salmonella typhymurium in a 5-week-old pig.
All batches showed serious problems, with high mortality and high antimicrobial consumption. These batches were causing remarkable economic losses and breeding unit was urged to take further actions.
Resolution
The breeding farm started to move to fresh land in October 2014, after more than three years in the same field.
The lairage pen was cleaned and partially renewed. Hygiene in the lairage is a key point; both producers and veterinarians are very aware of it and rarely make use of the lairage for more than 3 batches before cleaning and disinfecting.
Risk of diseases transmission (such as salmonellosis) to piglets is increased by the presence of rodents and birds, as well as the continuous presence of weaners that are not dispatched and, so they stay on the lairage and join the next batch of weaners, 1 to 3 weeks younger...
In this case, the lairage management were being negligent, and as soon as both the lairage and its management improved, problems immediately disappeared. Subsequent batches did not present similar problems of salmonellosis. Several subsequent batches were monitored for PCV2, and PCV2 viral load in oral fluids was found to remain below 5 × 104 copies/ml, and there were not clinical or histopathologic evidence of PCV2 associated disease.
Discussion. What we learned from this case
Weaners quality and their health status are key factors in what happens after weaning. Good hygiene and proper management at weaning and during transport can avoid problems in the next stages.
In order to get prepared for forthcoming challenges as the antibiotic use reduction, pig producers may ensure the optimization of piglets management and quality in order to prevent avoidable situations like in this case. In which situations, is it acceptable to use antibiotics to resolve problems that can be avoided with proper management and hygiene?