Trick
We move a plastic ring along the water drainpipe, leaving it at a series of pre-established marks.
Explanation
This trick is used to know the amount of feed eaten by each sow in her farrowing pen.
In order for the sows in the farrowing quarters to have an optimal performance, a good nutrition is essential. The goal is to make them eat as much as possible, so their milk production is maximal, without endangering their body condition.
Before the farrowing, it is common practice to restrict feed and to increase it later. Too sharp increases may fill up the sows, making them refuse feed. The best is to regulate, individually, the amount consumed by each sow. A sow that eats her ration well will have her feed amount increased, a sow that has difficulty finishing it up will be left with the same amount, and in the case that the sow is unable to eat it all, the amount will be reduced.
On farms with automatic feeding systems and dispensers, it is very easy to know the amount eaten by each sow, because we have a reference of the amount provided.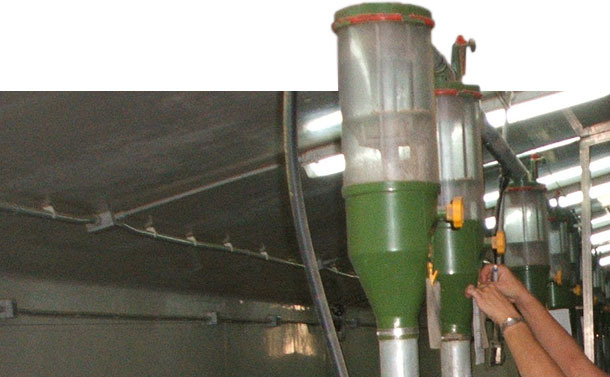 When we evaluate how well the sows have eaten, we can readjust the levels of the dispensers.
The problem appears on the farms with manual feeding, because once supplied there is no reference of the amount given. Matters get worse when there is more than one worker. When the person in charge of feeding the sows in the farrowing rooms is free, many times, the person that replaces them has no idea about how well the sows are aeating.
By moving a ring obtained from a PVC pipe along the water drainpipe, it is very easy to know the amount eaten by each sow if we have made some reference marks on the drainpipe.