Objective
objective
The obtention of a long-lasting comfortable-to use feed scoop.
Description
The feed scoops available on the market are made of plastic or metal. Here, we show a very economical feed scope, made from an empty can.
Nearly all farms have feed scoops to distribute feed. Some farms have more of them (manual feeding), some farms have less (automatic feeding), but they always have some. Plastic scoops are comfortable to use because they are very light and large, but they break easily, especially near the handle, probably because of the weight they have to bear. Metal scoops hardly ever break, so they are used (and cost) much more than plastic scoops.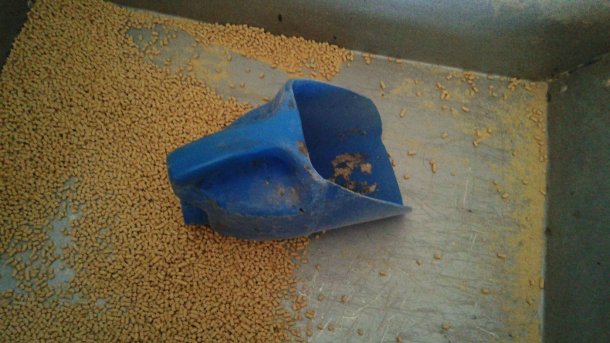 This article offers a new alternative to plastic feed scoops, the use of a 5/10-liter can made of strong plastic and with a built-in handle, preferably of agricultural use, as they are more robust than the ones for domestic use. The handle must not be horizontal with respect to the container, but in an oblique position.
Once the can is well washed, a diagonal cut is made, starting at the insertion point of the handle, on the side opposite the screw cap, and ending at the other end. In this way, we have created a very resistant scoop, practically unbreakable, with an easy grip and optimal capacity, since it can contain more than 1,5 kg of feed. Another positive feature is that not having open sides, like normal scoops, it keeps the feed inside better, avoiding waste.
Cost... zero.