Several skin defects have been reported which are under genetic control – the most important are epitheliogenesis imperfecta, pitryisis rosea and malignant melanoma and each is considered below.

Epitheliogenesis imperfecta
This problem is characterized by congenital absence of epidermis or mucosal epithelium, most frequently on the distal limbs and in the oral cavity. Sometimes the condition is referred to as 'aplasia cutis'. Affected pigs may die depending on the severity and/or location of skin-loss.




(Source: Benoit-Biancamano, M. O.; Drolet, R.; D'Allaire, S. (2006). J. Veterinary Diagnostic Investigation 18: 573-579)

Data presented in the recent 333 article 'What is the economic loss due to genetic defects?' suggested that the incidence of the defect was rare (0.001%). However, recent unpublished data from a breeding company nucleus suggests that typical levels are much higher at 0.067%. The condition has been reported across genotypes and it is thought to be under the control of a single-locus autosomal recessive gene (an autosome is a chromosome that is not an X or Y sex chromosome). However, recent work from Canada suggests that it may be sex-related as it occurs mainly in male piglets.

Pityriasis rosea
This condition is one of the more common genetic defects in the pig, ranging typically between about 0.10 and 0.40%. The incidence is significantly higher in the Landrace breed and is probably due to an autosomal dominant factor with incomplete penetrance (meaning that some pigs fail to express the trait, even though they carry the allele or gene).

The condition results in skin lesions that look similar to ringworm. The initial skin lesions are characterized by small erythematous papules which expand to form a ring with distinct red and raised borders, creating a mosaic pattern. The centre of the lesion is usually flat and covered with brown scales overlaying normal skin. The lesions are found predominantly on the ventral abdomen and inner thighs but occasionally may be seen over other areas. It is usually seen in pigs of two to three months of age. Occasionally it is seen in suckling pigs and very rarely in pigs up to one year old. Recovery is normally spontaneous in 4 to 8 weeks.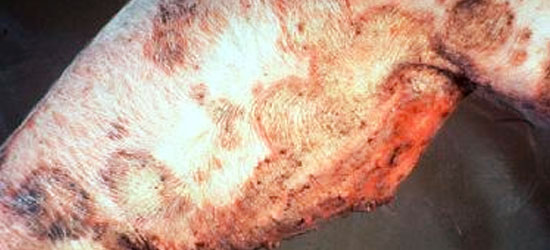 (Source: R. D. A. Cameron from Merck Veterinary Manual)

Malignant melanoma
Melanomas are recognisable visually as black-pigmented lesions on the skin. Their size, shape, number and progression vary widely. Metastases usually spread into lymph nodes and the lungs, but the liver and spleen are also affected.

Melanoma is extremely rare in most breeds but has a high incidence in certain miniature breeds developed for medical research (such as the MiLiM, Munich and Sinclair). Melanoma has been reported in some Iberian strains and anecdotal reports suggest that there is an increase in incidence in the purebred Duroc.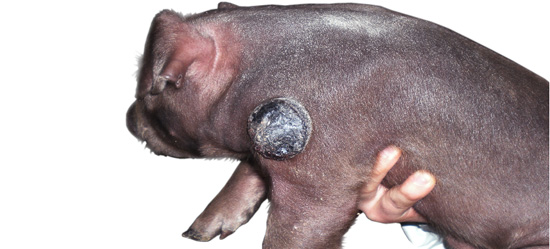 Unpublished data are presented here from two different Duroc nucleus herds which validate the anecdotal evidence.

In the first study, data were collected for twenty months from May 2009 to December 2010 and all pigs were inspected at birth or in the first three days post-partum. The average incidence of melanoma was 0.43%. In addition, minute 'pin-head' lesions were identified in 0.19% of pigs – the majority of these progressed to significant lesions in the growing period. Taken together, these data suggest an incidence of 0.62% in this herd.





In the second study, data were collated for sixteen months from January 2010 to April 2011 and pigs were inspected regularly in the farrowing house up to an average weaning age of 27.9 days. The incidence of melanomas was 1.04%. In this study, pigs post-weaning were also regularly inspected throughout the grower/finisher period and an additional 1.56% of pigs were identified with lesions. Currently DNA samples are being taken from all affected pigs and litter-mates for further evaluation.

It is interesting to note that the frequency of malignant melanoma in humans has grown in recent decades - it is a highly lethal form of cancer due to common metastatic spreading and poor response to radio or chemotherapy. The pig is now used as a major model to unravel the genetic control of the disease. To date, these studies have suggested a complex inheritance, involving several loci with different penetrance and possibly different modes of gene action. At least one locus has been shown to be associated with the swine major histocompatibility complex (SLA).