The ESA (Epidémiosurveillance Santé Animale, Animal Health Epidemiologic Surveillance) has just published a report on the spreading speed of ASF in Belgium. The goal of this study was to estimate the spreading rate of the disease since its detection in Belgium in September 2018 using a model previously used for bovine contagious nodular dermatitis (lumpy skin disease) that affected the Balkans in 2015-2016.
The Figure shows the spatial distribution of the ASF cases in Belgium according to the month in which they appeared. We can see a spreading of the first notified cases in September towards the west (border with France) and the east (border with Luxembourg).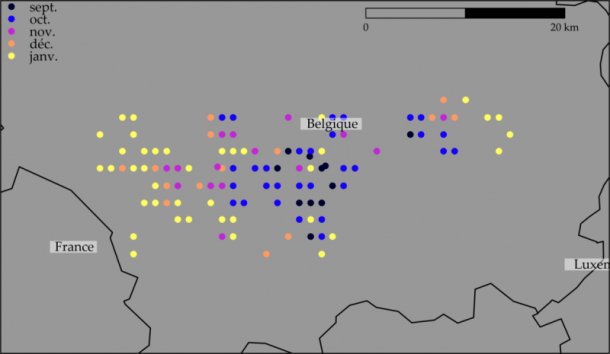 It was estimated that the average speed was 1.6 km/week (minimum: 0.5 km; maximum: 12.7 km). The analysis of the evolution of the speed with time shows that the average speed has remained constant (1-2 km/week) from September 2018 to January 2019.
Thursday, January 31st, 2019/ Plateforme ESA/ France.
https://www.plateforme-esa.fr