India's Department of Animal Husbandry & Dairying, Ministry of Fisheries, Animal Husbandry and Dairying has released the country's 20th Livestock Census report providing producers and others in the livestock industry important information. The census has been conducted periodically since 1919. Over 80,000 personnel - mainly veterinarians and para-veterinarians conducted the census digitally for the first time using tablets.
India's total livestock population was found to be 535.78 million, showing an increase of 4.6% from the previous 2012 livestock census. However, the pig population experienced an over 12.0% decrease, putting the total head of pigs at 9.06 million. Hogs make up just 1.7% of the total livestock population in India.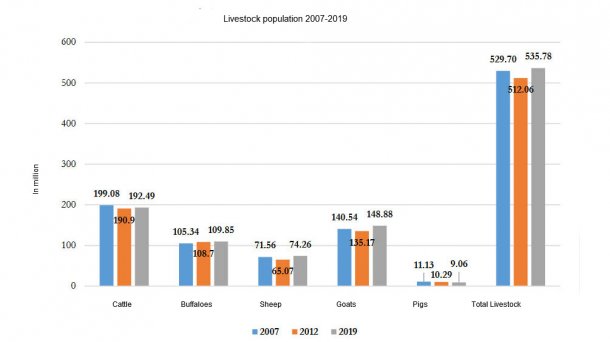 The states with greatest pig production are Assam and Jharkhand with a census of 2.1 million and 1.28 million respectively. Both states increased their pig population by approximately 30% from the 2012 census.
The census even distinguishes between exotic and indigenous breed pigs. The exotic/crossbred herd totaled 1.90 million, a 22.76% decrease from 2012 and the indigenous/non-descript pigs totaled 7.16 million, a decrease of 8.66%.
October 16, 2019 / 333 Editorial with data from the Ministry of Fisheries, Animal Husbandry & Dairying