According to OECD-FAO Agricultural Outlook 2015-2024, sparked by relatively low feed cost and rising prices, pigmeat production in Brazil is expected to grow to 4.3 Mt (carcass weight equivalent) in 2024, 24% higher than the base period (Figure 1). The growing Brazilian pigmeat production mainly supplies the increasing domestic demand which increases to 3.7 Mt in 2024, 26% higher than the base period even with domestic consumer prices rising 5% per annum.
Pigmeat continues as the least favoured meat for Brazilian consumers, but even with rising population, per capita consumption grows by 2 kg/p to 13.5 kg/p in 2024. The take-up by domestic consumers absorbs most of the additional supply, nonetheless, pigmeat exports rebound during the projection period from their recent lows.
Brazilian meat exports will benefit from a stronger international demand, the ongoing depreciation of the Brazilian currency and the lower projected feed costs (with the expected abundant soybean and corn crops) improving Brazil's competitiveness in the numerous destinations it currently supplies. In the short term, Brazil is expected to increase its pigmeat exports to the Russian Federation, due to import ban Russia imposed on the United States, Australia, Norway, Canada and the European Union to counter their economic sanctions. Part of Brazil increased share of pigmeat exports to the Russian market is expected to remain for the medium term.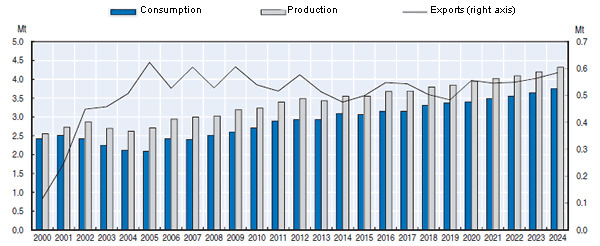 Fig. 1 Production, consumption and exports of pigmeat in Brazil
Source: OECD/FAO (2015), "OECD-FAO Agricultural Outlook", OECD Agriculture Statistics (database), http://dx.doi.org/10.1787/agr-outl-data-en.
July 2015/ OECD-FAO Agricultural Outlook 2015-2024/ FAO.
http://www.fao.org