According to the ESA Platform (France), from data provided by the Government of Wallonie (Belgium), from September 13th, 2018 to July 8th, 2019, 824 wild boars out of a total of 3,278 sampled wild boars were positive for the African swine fever (ASF) virus. There have been no new cases in the last two weeks, according to the data provided by the ADNS.
On June 25th, 2019, a new positive case was confirmed in the northern area of the buffer zone.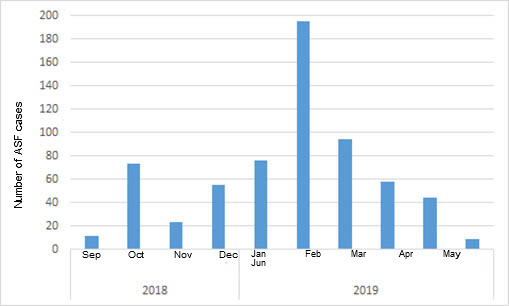 The chart shows a drop in the number of positive wild boars found dead or culled by the health authorities since February 2019. Nevertheless, it is advisable to keep being cautious regarding this drop. It must be interpreted in light of other informations that are not available: number of wild boars found/culled monthly, size of the remaining susceptible population, etc.
Monday, July 15th, 2019/ ESA Platform/ France.
https://www.plateforme-esa.fr