Pig production in Ukraine is developing owing to domestic as well as commercial production. Commercial producers accumulate 50% of pig stock (figure 1).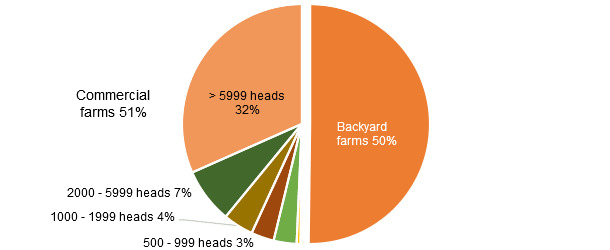 Figure 1. Structure of breeding stock in accordance with categories of farms and their size in 2015.

On June 1, 2015 total Ukraine's pig inventory was 7,606 thousand heads (in comparison – 7.8 million heads yesteryear). About 1.88 million heads or half of commercial pig stock is kept by 40 companies that lead the industry. Most sows are of Large White (Yorkshire) and Landrace breeds (figure 2), the main terminal breeds are Pietrain and Duroc.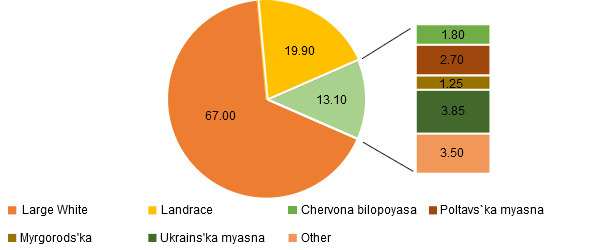 Figure 2. Sows distribution (%) according to breed in Ukraine.
Until 2014 pork and poultry meat consumption in Ukraine was continually growing whereas beef and veal meat stagnated (figure 3). Last year pork consumption had quite a decrease due to economic, political and social difficulties. Nevertheless, domestic production remained almost the same at the level of 763 thousand tones (2 thousand tones less than in 2013). 51% or 377 thousand tons of them was produced by commercial farms. Overall pork consumption reached the level of 860 thousand tons or 20 kg per capita.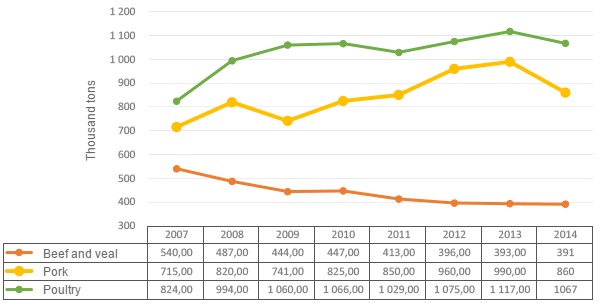 Figure 3. Evolution of meat consumption in Ukraine.
Nowadays production cannot satisfy the growing domestic demand (figure 4). Consequently the increase of domestic pork production up to 1.3 million tons is the major target for the next 3–5 years.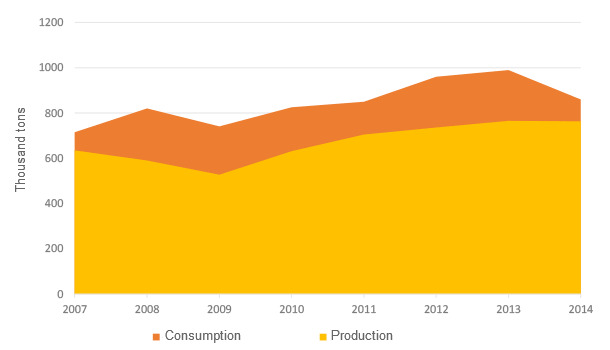 Figure 4. Evolution of production and pork consumption dynamics in Ukraine.
Pork market deficit is compensated by imports measuring up to 234 thousand tons in 2013 (157 thousand tons out of which are meat and meat products, the rest - byproducts; 11% - chilled pork and 89% - frozen pork). Traditionally main import position for Ukrainian market are frozen swine cuts (other than hams and shoulders), frozen livers and edible offals of pigs. However, in 2013 both fresh and chilled and frozen swine carcasses and half carcasses were quite popular among Ukrainian traders, taking 5.3% and 6.8% of edible swine products' import. On the other hand, yesteryear imports of frozen swine livers and other frozen edible offals, as well as salted, brine, dried or smoked rose compared to amounts in 2013 by 8%, 18.6% and 58.6% correspondingly. This kind of change can be explained with increased demand of Ukrainian meat processors for swine offals. It should be also pointed out, that last year the total amount of import decreased by 42.55% due to devaluation of national currency.
Brazil remained to be the leading supplier (figure 5) in 2013, Germany was second vast importer of pork. As for neighbouring countries, Poland took the 5th place in 2013, however, last year it finished third.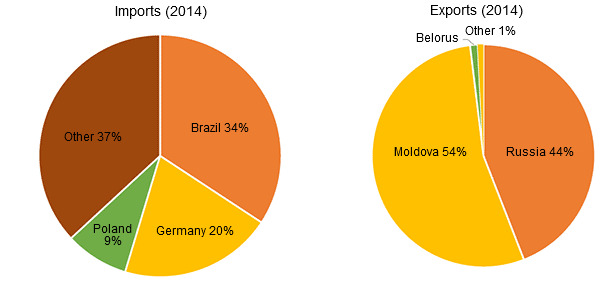 Figure 5. International trade structure (2014).
In 2013 Ukraine exported a little more than 6 thousand tons of pig meat (4.6 thousand tons) and offal, last year the amount doubled equaling 12.4 thousand tons (9.4 thousand tons of pork) and recent data shows that throughout seven months of 2015 pig meat exports amounted 18.6 thousand tons.
Exports geography was less diverse in 2014: about 54% was exported to Moldova and and 44% goes to Russian Federation.
This year has brought many changes in pork trade as Ukraine has exported almost 10 times more than imported. In the first quarter week rate of national currency kept outer suppliers away and several Ukrainian processors got Rosselkhoznadzor's permission to bring pork and swine by-products in.
As for the current market situation, the first quarter was indicated with low price level, however, in the second one it advanced and stays rather stable for over two months (figure 6). The mentioned tendency is related to the cyclic development of the industry (every cycle lasts about 4–5 years). The price hike on live pigs market is anticipated to continue in the second half of 2015.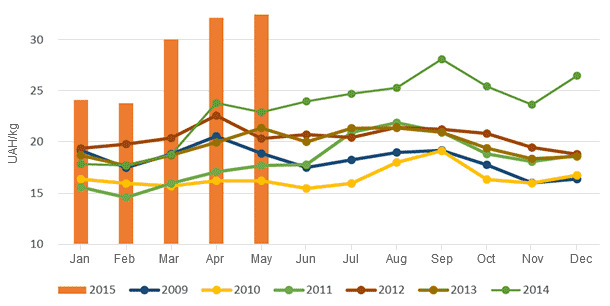 Figure 6. Price of kg live weight (I category), UAH/kg.
Optimal size of breeding stock of commercial farm is estimated between 1.2 and 2.5 thousand sows (or up to 5 thousand sows in case of a sow unit) in accordance to high level of biosecurity and controllability. The investment volume vastly varies depending on technical factors and the choice between construction and reconstruction. However, the average investments fluctuate within the range of 4-8 thousand USD.
At the moment the production cost of a kg live weight gain is about 19-28 UAH (0.73-1.08 €), which mostly depends on level of intensification.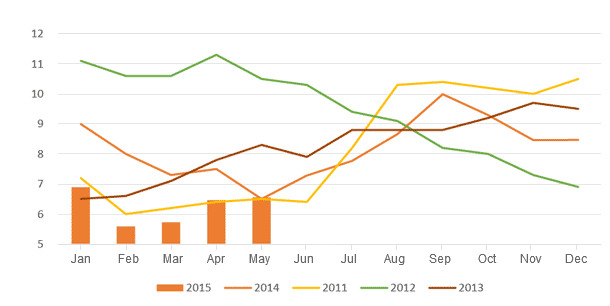 Figure 7. Dynamics of pork market attractiveness index in 2011-2015.
Return depends not only on the cost of funds, but to a greater extent on the chosen market-entry strategy.
Generally, market entry is conducted by the following stages:
The research of market and legislative aspects of its operation.
Choosing an organisational and management form of enterprise and resolving of legal issues.
Choosing a development strategy: the size, market segment, target group, genetics.
Choosing a location and grounds.
Investment in construction or renovation.
Technical methods of entry.
Involving of a specialist (a potential director of the enterprise) or a consulting firm to manage the project.
Present-day swine market in Ukraine adapts to global trends, actively increasing production and slightly displacing other types of meat (particularly beef). Prosperous development is aimed at import substitution, diversification of product range and export orientation.