Let us assume that the expected farrowing rate and live-born litter sizes are 90% and 12.5, respectively, but that current performance is 82% and 11.3, respectively. This means that too many sows are bred but failing to farrow and those that farrow are having fewer pigs. Although disease may be an issue, we will focus on management issues. First, list those sow groups likely to be less fertile, which will include:
Sows receiving too few or too many inseminations during estrus
Sows returning to estrus after a previous breeding
Primiparous sows
Sows having a wean-to-estrus interval of 6 to 14 days
Sows receiving too few or too many inseminations during estrus
Timing of insemination relative to ovulation is critical for optimal fertility. We usually state that sperm need to be deposited in a period of 24 h before ovulation, although this is affected by sperm age. Even with longer term extenders, it is prudent to inseminate sperm before 72 h after collection. Use computer records to determine the proportion of the sow population having a single insemination or inseminated over 3 days. As shown in Figure 1, it is usual for about 10% of sows to ovulate at or soon after detection of estrus, and these sows should receive only one insemination since a second insemination will likely be after ovulation and will reduce fertility. However, if (eg.) 25% of sows receive a single insemination there is likely an estrus detection problem. Similarly, about 20% of sows will have a long interval from estrus detection to ovulation and can be inseminated on day 3. However, if (eg.) 30% or more of sows are being bred on day 3, likely many will be inseminated after ovulation, which will reduce fertility.
Figure 1. Estrus to ovulation interval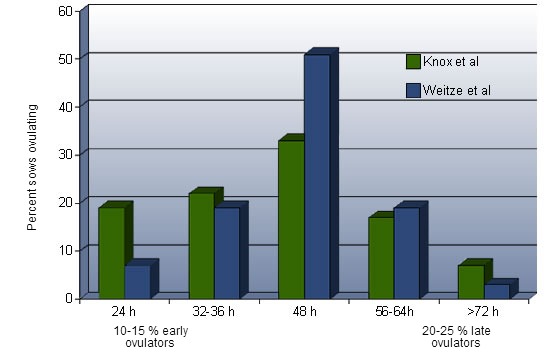 From RN Kirkwood, Swine Health and Production 2000; 8:191, with permission

Sows returning to estrus after a previous breeding
Degree of fertility follows a normal distribution and, usually, bred sows that return to estrus are less fertile than those that conceive. If rebred and they again return to estrus, they are even less fertile. If not culled after the second return these less fertile sows accumulate and the overall herd fertility will be lower.

As an aside, if there is a dramatic drop in farrowing rate when re-bred at the first return (eg. 90% to 30% rather than 90% to 75%), look for vulva discharges as a urogenital disease is more likely, usually due to poor mating technique (Figure 2).
Figure 2. Effect of disease on farrowing rates at successive returns-to-estrus. Yellow is normal, blue is diseased herd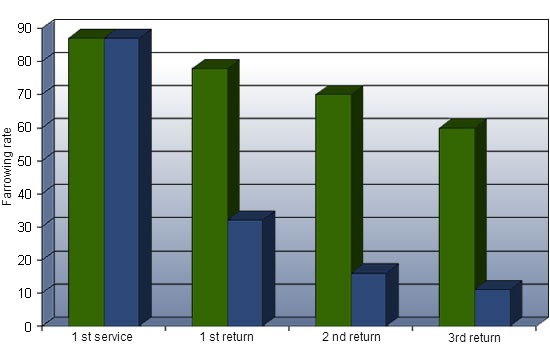 A reasonable target is 10% returns to estrus of which 80% should be regular 21-d or 42-d returns (ie. 18-24 and 38-45 days) and of the regular returns, 80% should be detected at the 21-d return. If the ratio of 21-d to 42-d returns is <3:1 a problem with estrus detection likely exists. An acute onset of poor conception rates may also indicate a semen problem and stud management should be examined. If the ratio of regular to irregular (25-37 days) is <3:1, disease status and/or stress levels need to be assessed as irregular returns imply a failure of pregnancy.
Primiparous sows
What is the proportion of primiparous sows in the herd?. Ideally, it should be about 15% (Figure 3) and a parity distribution of farrowing rate and liter size may reveal that the problem is limited to these young sows. If there are too many young sows (eg. 25%), overall herd performance may be adversely affected. The problem is that these young sows have relatively low lactation feed intakes and this predisposes them to fertility problems. If you know the average daily feed intake during lactation, you can determine lysine status. Sows daily requirement is 26 g total lysine per kg litter ADG (about 60 g/d). If sows are deficient (eg. 45 g/d), she is at greater risk of infertility. Use feed delivery records to determine sow feed intake, although individual sow feed cards may be necessary to separate the feed intakes of the young sows. Formulate the lactation ration with at least 1% lysine, or more if feed intake depression indicates a greater need.
Figure 3. An ideal (green) and poor (blue) parity distribution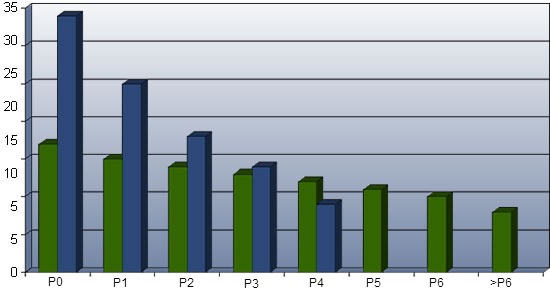 Sows having a wean-to-estrus interval of 6 to 14 days
One aspect of infertility associated with low lactation nutrient intakes is a longer wean-to-estrus interval. It is known that any sow returning to estrus between 6 and 12 days after weaning is at higher risk of lower fertility. One reason for this is that long wean-to-estrus intervals are associated with a short estrus-to-ovulation interval. It is likely that some of these sows will have already ovulated when initially detected as estrous and so their fertility will be reduced. To combat this, perform once daily estrus detection on days 2, 3, and 4. Then, for those few sows not bred by day the morning of day 5, institute twice daily estrus detection and breed immediately once detected.
Computer records
Computer records will also allow you to determine whether breeding on certain days of the week are a problem. If this is the case, what is different about these days? One possibility is that the semen is too old (>2 days) when inseminations are performed on these days? Respond by inseminating am and pm. Also, if the data are recorded, the performance of sows when inseminated by different breeding technicians can be evaluated. It is possible that a technician performing many of the breedings requires additional training.

As can be seen, records can provide much useful information. They allow you to measure the performance of your herd. Remember the adage, if you do not measure it, you cannot manage it.