Determining the serotype of Actinobacillus pleuropneumoniae (App) is important for control, as different serotypes have different virulence potential (depending on the geographical region), and the information can be used to select the most appropriate vaccine (Gottschalk, 2015). Based on capsule, there are 18 known serotypes of App (Bossé et al., 2018a), with 1, 5, 9 and 11 being the most virulent. Requirement for NAD (nicotinamide adenine dinucleotide) differentiates biotype 1 from NAD-independent biotype 2 isolates.
Classically, serological tests including agglutination, coagglutination, immunodiffusion, indirect hemagglutination and ring precipitation have been used to determine serotype. However, high-titre specific antisera are required, and cross-reactions between serotypes (e.g. 3/6/8, and 1/9/11) are problematic. We found that most UK and Eire isolates serologically assigned as serotype 3 were serotype 8 (O'Neill et al., 2010). Because of such issues we have developed molecular-based tests using the Polymerase Chain Reaction (PCR) to amplify serotype-specific DNA sequences in the capsule biosynthesis genes (Bossé et al., 2014). Targeting these serotype-specific sequences allowed a serotype 16-specific test to be developed (Bossé et al., 2017), and led to the recent discovery of serotypes 17 and 18 (Bossé et al., 2018a). With the discovery of serotypes 16-18 we decided to produce a PCR-based test that can assign all known App serotypes. However, serotypes 9 and 11 cannot be differentiated by PCR, as their capsular loci are almost identical (Bossé et al., 2018b), and they also cannot be separated by serological tests (Gottschalk, 2015). The PCR-based test had to confirm the isolate as App and determine the specific serotype. To confirm App, we used primers amplifying a 418 bp region of the App-specific apxIV gene (Schaller et al., 1999). However, because of the large number of serotypes (n=18), we had to formulate two multiplex PCR (mPCR) tests, each one capable of detecting many serotypes. mPCR1 detects serotypes 1-12, and 15 (Figure 1A), and mPCR2 serotypes 13-14 and 16-18 (Figure 1B). Isolates which amplify only an apxIV band in mPCR1 are further tested in mPCR2.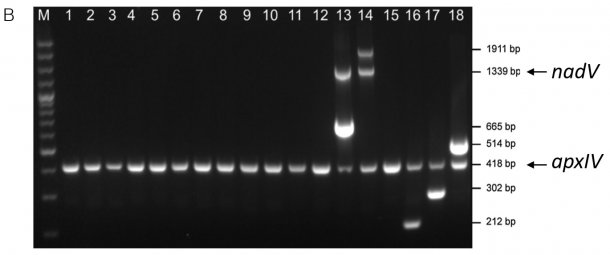 mPCR2 also confirms the biotype through primers designed to amplify a 1339 bp fragment of the nadV gene (which confers NAD-independence). The 1339 bp nadV amplicon is detected only in the biotype 2 reference strains (serotypes 13-14). It should be noted that other serotypes (e.g. 2, 4, 7 and 17) have been described as biotype 2, and some North American serotype 13 isolates as biotype 1 (Gottschalk, 2015).
The DNA template for the PCRs can be purified DNA (either from cultured bacteria or tissue samples) obtained using commercial kits, boiled bacterial whole-cell lysates, or colonies from a plate culture. Purified DNA gives the best results, whereas colony PCRs may give partial/false negative results if colonies are very sticky and difficult to lyse, as shown for three clinical serotype 2 isolates which only amplified the serotype-specific band from colony PCR, but amplified both this and the apxIV-specific band using purified DNA (Figure 2). Rarely, isolates will fail to amplify apxIV, even using purified DNA (Bossé et al., 2014). When this occurs, alternative apxIV primers (oAPXIV-TSP1/2) can be used (Tegetmeyer et al., 2008) to confirm App. The use of mPCR1 and mPCR2 can be used to identify new serotypes, as we did for 17 and 18 (Bossé et al., 2018a). App isolates that produce an apxIV band but no serotype-specific amplicons may potentially be a new serotype, although a lack of serotype-specific band may be due to primer mismatching in divergent isolates, or due to the presence of an insertion element disrupting the capsule locus. Whole genome sequencing of the isolate will confirm which of these possibilities is correct.

In summary, monitoring of the App serotypes in a herd or country is important to control disease. Our serotyping PCRs (mPCR1 and mPCR2) are useful tools to identify virulent serotypes, the correct vaccines to be used (commercial or autogenous), and to prevent pigs with potentially virulent App isolates being introduced into naïve herds. In addition, our approach has the potential to identify new App serotypes and facilitate improved diagnostics.
Acknowledgements
App research in the author's lab is supported by the Biotechnology and Biological Sciences Research Council of the United Kingdom.