In recent years, there has been an increased interest in epidemiological surveillance programs for swine influenza. The interest has arisen as a result of the recognition that influenza is a costly disease for pig producers and the global emphasis to characterize the circulating strains in pigs, together with their phylogenetic origins, in order to identify the strains that may represent a pandemic risk.
Traditionally influenza in swine has been diagnosed in tissue samples, especially lung tissue, from pigs with pneumonia (passive surveillance). However, active surveillance have been promoted in recent years in order to have a more global representation of the circulating strains in pigs. The aim of these programs is to identify broad-spectrum virulence strains that affect pigs of multiple ages and different geographical origins, thus improving the identification of strains for the production of vaccines.
Traditional sampling and alternatives
In order to achieve these objectives, it is necessary to take samples from live animals at a reasonable cost. Traditionally, animals have been individually sampled using mostly nasal swabs. However, individual sampling is expensive, specialized and only represents a limited number of animals in the population. In order to overcome these limitations, population monitoring techniques that allow the representation of a greater number of animals have emerged. These techniques are often more sensitive even to detect infection in low prevalence populations. The most common technique used in North America for this purpose is the use of ropes to collect saliva and other naso-oral fluids.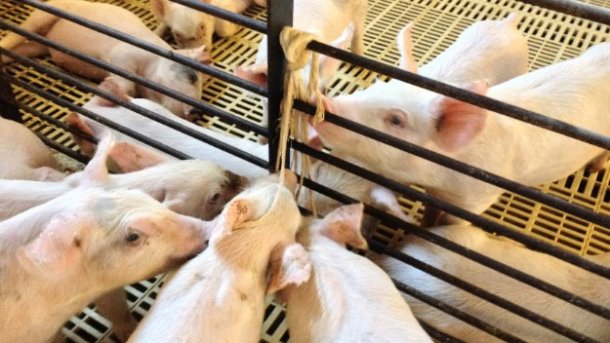 This technique allows many animals to be monitored simultaneously at a low cost and the sample can be used mainly in molecular type diagnostic tests, such as PCR. Its greatest limitation, however, is the difficulty of obtaining a sufficient amount of sample in young animals before weaning. Also, this type of sample is not ideal for viral isolation. Viral isolation is necessary to characterize the strains genetically in order to investigate their epidemiology and decide whether circulating strains can be controlled with the use of available vaccines. Likewise, monitoring of pigs before weaning is of interest in order to assess the effectiveness of control strategies in breeding sow farms. Currently, new monitoring methods are being evaluated in pigs before weaning. These methods include the use of oropharyngeal swabs, the use of udder wipes and the use of aluminium foil for the detection of aerogenic particles.
Oropharyngeal swabs
Oropharyngeal swabs are an alternative to nasal swabs. Although nasal swabs are not difficult to take, farm staff often prefer oropharyngeal swabs and the results are comparable at both PCR and viral isolation levels. Also, the same sample can be used to detect PRRS and influenza at the same time.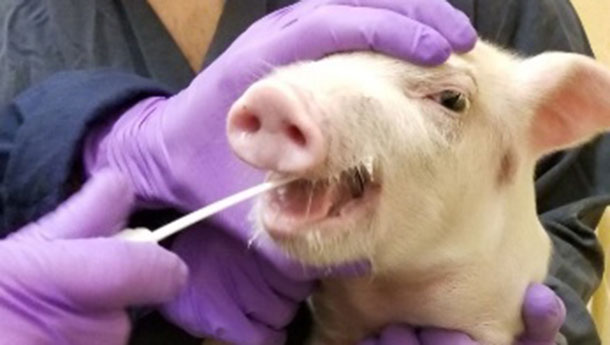 Aluminium foil for the detection of aerogenous particles
Other environmental and population samples are also currently being investigated. Since influenza is transmitted via aerosol, air samples can be useful especially in cases of acute infection. However, the cost of the instruments to take air samples is high and an alternative is to take samples from horizontal surfaces where aerogenic particles have settled by gravity. Disposable aluminium foil can be used for this purpose in environments with low ventilation that allow the particles to settle. This method can work both for molecular diagnostics and for viral isolation, although the sensitivity is lower for the latter.
Udder wipes
Another method recently described to sample piglet litters before weaning, is the use of udder wipes to sample the udder skin of lactating females. When nursing, the piglets deposit saliva and nasal secretions on the udder of the sows, thus contaminating its skin. This type of sample is proving highly sensitive to detect positive litters before weaning and it also allows to obtain viral isolations. Work is currently underway to characterize this type of sample in order to monitor piglets more easily and less expensively before weaning.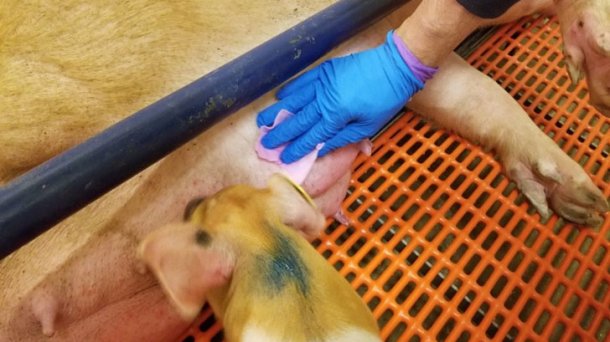 In summary, the validation of new population and environmental monitoring techniques, aims to improve epidemiological surveillance programs for influenza at a lower cost. Its use can help producers and veterinarians to improve on-farm influenza control programs.