Semen dose preservation is not rocket science but some basic principles need to be preserved at all times. Occasionally, breeders end up using semen with a suboptimal fertilizing ability due to inadequate storage conditions.
The goal of this material is to revisit some biological facts about sperm cells and to provide tips on how to carry on the process from semen ordering to doses transfer to the breeding barn, including the requirements for semen storage units and their daily routines and basic maintenance needs.
In a second article we will present some practical case scenarios and their proposed corrective/mitigating actions.
Biological facts about sperm cells
Immediately after the ejaculation, sperm cells motility ranges from 75 to 95 %. The motility only goes down after, which is an indication of more or less sperm cells dying. From collection to breeding, temperature plays a fundamental role in the semen liveability and semen doses fertilizing ability. Thus, when cells are cooled down too fast or get too cold, membranes are potentially damaged and cells lose their fertilizing ability or even die. When the opposite happen, and cells stay too warm over time, they remain motile or even hyper-motile, consuming nutrients too fast and die earlier.
Semen extenders are used to prolong semen doses shelf life up to 2 to 10 days, depending on the extender. Extenders only slow down the sperm cells death rate so its utilization is after providing nutrients for the sperm cells, protect them from cold temperatures that are used to lower its metabolic activity and control bacterial growth.
Semen doses ordering
The first rule is Order what you need when you need it!
The idea is to order semen to arrive on heavy breeding days and to order the number of doses that will be used up to a maximum of 3 days from collection date. In single sire mated farms or when needed for specific matings, pay attention to have available doses from same boar for the 2nd service.
The on-farm trash rate due to semen age, doses older than 3 days from collection date, must be lower than 3% or 7-8 doses a week in a 2,500 sow herd unit.
Semen drop-off and on-farm introduction procedures
A vital procedure to ensure semen doses quality and preservation of the biosecurity of the recipient farm as well. Main considerations around this are to have a defined drop-off place for semen delivery (farm office or drop-off cooler outside the farm); to have an alert system in place for the staff to know that semen doses have arrived, like motion sensor, bell or similar to provide an acoustic signal for the staff to go and transfer the semen doses to the final storage unit; do not exceed 15 minutes between semen doses arrival to transfer to final storage >90% of the deliveries. Last, but not least, have a form to record delivery time and temperature at reception.
Semen dose storage unit requirements
The semen doses must be stored at 61-64 °F (16-18 °C). The doses must be unpacked before putting them into the refrigerators, storing them loosely and horizontally to allow air circulation.
Always use fan-assisted, electronic storage units. Two small storage units are better than one big (spread risk in case of technical defects).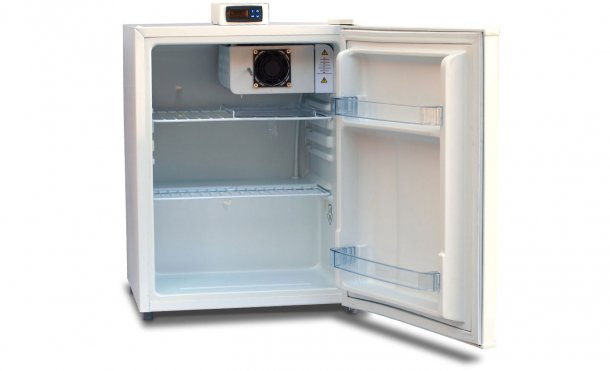 The storage units should be able to cool and heat. It should have an outer temperature-display, with a precision of ± 1,8 °F / ± 1 °C. Also consider that the shelving should be open (wire racks) to allow air circulation.
Space between wall and storage unit in general 1 inch (2.5 cm), unless supplier says otherwise. The storage unit must be placed at room temperature in a clean environment. To improve safety, have surge protectors and battery backups.
Storage units should be sized for weekly delivery capacity. As a rule of thumb: 0.6 l (0.16 gallon) total volume per dose.
Storage unit: proper use and maintenance
Bad functioning of storage units is a recurrent problem on many farms. Some of the key aspects are: minimize the number of times door is opened; clean up inside of storage unit (with disinfectant) and cooling ribs/fan monthly; have the storage unit inspected by a technician once a year, before the summer and do not put warmed up semen doses back into the storage unit.
Daily control routine of storage units
The temperature must be checked daily, keeping a record of the control time and the min/max temperatures. Considering that liquids show a different temperature behavior, to register the "real temperature" of the semen doses, the thermometer must be kept inside a water-filled semen bottle. Each ± 3.6 °F (± 2 °C) fluctuation could reduce shelf life up to one day!!!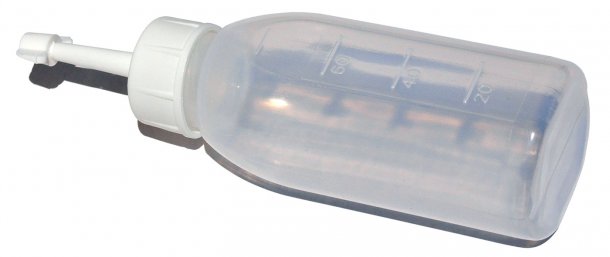 Remove doses which are over shelf life.
Transfer semen doses to the breeding barn
The staff must only take enough doses to the barn as they will use within the next 1 hour. It is important to verify that the doses are within shelf life.
The doses must be taken to the breeding barn in an insulated container, with gel packs to maintain temperature. As a rule of thumb: use a small 6 or 12-pack sized cooler to limit the amount of doses that can be taken to the B-barn at one time.
Once the insemination team has started to work, remove only the doses from the container as they are needed for insemination (after placing the catheter), not before. Close the container immediately after removing the dose.
The objective is that carried-over rate (doses taken to the barn and then taken back to the refrigerator) is equal to zero. Make sure the breeder team know in advance how many doses they will need for sure.