Given the current challenge, i.e., the proliferation of bacteria that are multi resistant to antibiotics and the need to reduce antibiotic consumption in swine production, the Group Térvalis (Teruel, Spain), and one of its production companies (Terraibérica Desarrollo) began a project in June 2015, for the production and marketing of pigs which are given no antibiotics after weaning.
This initiative was initially developed and certified (September 2016) by a private set of requeriments and, in April 2017, assigned to AENOR in order to become an open certification (accessible by any company), It was the first of its kind in Europe.
The development of this project covers different fields:
Livestock production:

Records and traceability of all batches of animals, and implementation of best practices and staff training.

Feed manufacturing:

Traceability of ABF feed and tight limits on cross-contamination.

Companies in the meat sector

: Implementation of records systems for traceability up to the marketed final product.

Research and scientific development centers,

where framework agreements have been reached for cooperation in nutraceutical research (phytobiotics), in order to optimize and enhance the following activities: Antioxidant, antimicrobial (bactericidal and/or antiparasitic), anti-inflammatory and immunoregulatory.
The following guidelines establish the technical bases to achieve and maintain the conditions of an antibiotic free production:
Initial assessment of the health status and biosecurity level in the area and in the farm: farm density, disinfection, downtime policies...
Assessment of layout and dimensions of the farm in order to get an optimal space and access to feeders and drinkers.of the animals.
Staff training, awareness and involvement: Motivation.
Strict implementation of vaccination programs.
Frequent lab tests (3-4 times / year).
Feeding programs specifically formulated to seek digestive stability: suitable profiles of dietary fiber, protein digestibility, minimizing chlorides, etc.
Multiphase feed management program (7 to 8 different feeds from weaning to slaughter), "choice feeding", ...
Use of nutraceuticals formulated based on citrus and alliaceae extracts.
Research development
The Térvalis group has an R+D+i department, supported by agreements with external research centres, for the application of their own plant extracts, based on citrus and alliaceas, to livestock production.
Both citrus and alliaceae extracts, as well as any other candidate active ingredient, are subjected to efficacy tests. Some of the works and techniques carried out by DIGESPORC (Faculty of Veterinary Medicine of León), were:
1.- Minimum inhibitory concentration (MIC) and minimum bactericidal concentration (MBC).
| | | | |
| --- | --- | --- | --- |
| | Strain | MIC | MBC |
| EC58 | Escherichia coli (haemolytic strain) | 128 | 128 |
| EC59 | Escherichia coli (haemolytic strain) | 64 | 64 |
| EC60 | Escherichia coli (haemolytic strain) | 128 | 128 |
| EC61 | Escherichia coli (haemolytic strain) | 64 | 64 |
| EC62 | Escherichia coli (haemolytic strain) | 128 | 128 |
| EC63 | Escherichia coli (haemolytic strain) | 128 | 128 |
| EC64 | Escherichia coli (haemolytic strain) | 128 | 128 |
| EC65 | Escherichia coli (haemolytic strain) | 128 | 128 |
| EC66 | Escherichia coli (haemolytic strain) | 64 | 64 |
| EC67 | Escherichia coli (haemolytic strain) | 128 | 128 |
| 8766 | Campylobacter coli | 32 | 32 |
| 10131 | Campylobacter coli | 32 | 32 |
| 10604 | Campylobacter coli | 32 | 32 |
| 10647 | Campylobacter coli | 32 | 32 |
| DSMZ4688T | Campylobacter jejuni | 32 | 32 |
| 6937 | Campylobacter jejuni | 32 | 32 |
| 7672 | Campylobacter jejuni | 32 | 32 |
| 7674 | Campylobacter jejuni | 32 | 32 |
| 34 | Campylobacter upsaliensis | 32 | 32 |
| 60 | Campylobacter upsaliensis | 32 | 32 |
2.- Biofilm inhibition.
3.- Kinetics of inactivation of the different pathogens studied.

4.- Integrity of the bacterial membrane test by flow cytometry.

5. Fourier transform infrared spectroscopic analysis (FTIR).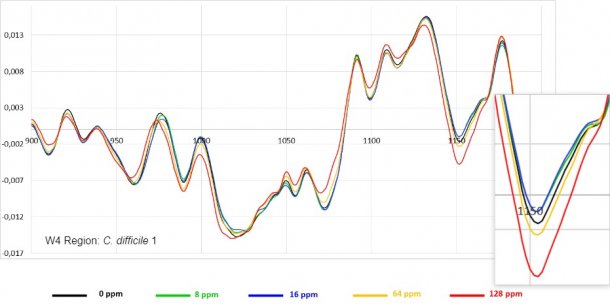 6.- Scanning electron microscopy.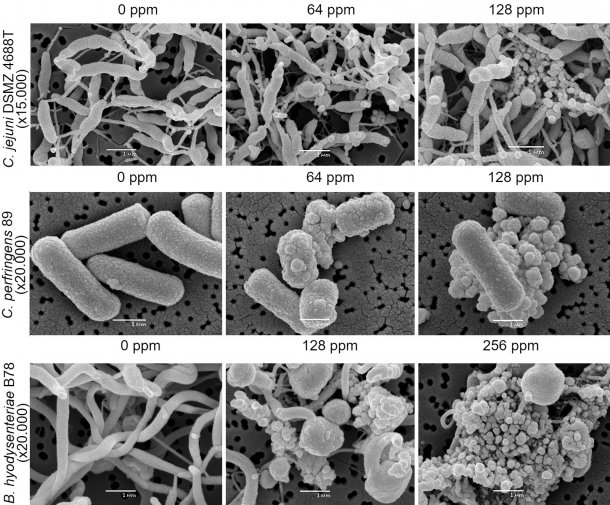 The evaluations of antimicrobial activity are carried out on the main digestive pathogens (E. coli, C. perfringens and C. difficile, various serovars of Salmonella, Campylobacter coli and C. jejuni, and B. hyodysenteriae) as well as in Methicillin resistant Staphylococcus aureus (MRSA).
These studies have been published in various technical journals.
After evaluation, the formula of products developed for application in field conditions were based on the combination of citrus and alliaceous extracts in different proportions, and/or other active ingredients and raw materials, as required by the production stage, the level of challenge and the objectives to achieve which can be classified as follows:
Metabolic objectives

, for the improvement of nutritional efficiency of the feed, and correction of physiological imbalances in sows, piglets and fatteners.

Objectives on intestinal health

, to achieve microbiota stability, acting as beneficial symbiotic bacteria enhancers, and antimicrobial action against digestive pathogens.
Development in field conditions
CONTROL AT THE FARM AND AT THE FEED FACTORY
Absence of prophylactic or metaphylactic treatment with antibiotics is certified, completely excluding the addition of medication to feed and/or water. Animals with initial symptoms of disease are identified and, after pertinent diagnosis, given specific antibiotic treatment (only injectable and/or topical).
During the manufacture of feed for other pig farms not included in the certification, a protocol is applied to minimize the possibility of cross-contamination, establishing a manufacturing order according to a feed classification as follows: never medicated, possibly medicated, and probably medicated.
Compliance with strict limits (ppb) for traces of antibiotics in feed (factory, silos and feeders) and drinking water is periodically audited.
A signed agreement is laid down with antibiotic suppliers to send a monthly list of antibiotic consumption by batch and farm.
A mass balance is carried out periodically on the stock, consumption and application of injectable and/or topical antibiotics.
Permanent recording of all antibiotic treatments (injectable and/or topical) applied, using the data collected in the electronic tag identification system: identification of the animal, production batch, antibiotic used, day of application and treatment length. The treated pigs become conventional production.
CONTROL AT THE SLAUGHTERHOUSE
On arrival to the slaughterhouse, the number of ABF animals and conventionally produced animals (identified with an electronic tag) is identified using delivery notes and independent movement licences according to the type of production.
The maintenance of the chain of custody and traceability is audited periodically in slaughterhouses, cutting rooms and processing industries.
A coordinated management is implemented and, subsequently, the results obtained, compliance with the certification and audit results are reported to all those involved in the production chain.
Results
The final results of the implementation of all the measures described above to the different levels of production are listed below:
Production of a 96.3% of antibiotic-free animals from weaning to slaughter.

Breeding sows:

No antibiotics administered, neither in feed nor in water, in the last 32 months (last treatment in October 2015) Antibiotic treatments in breeding sows were minimized and only given as individual treatments. Given that this group was not included in the certification specifications, they could have been treated.

Antiparasitic treatments:

After the relevant quarterly analyses, it was not necessary to add any in feed treatment at any stage of production (sows, piglets and fattening); the last treatment (preventive treatment and deworming was carried out in June 2015). This type of treatment would be allowed, since it does not fall within the requirements of certification.

Antibiotic consumption in mg per PCU.

This ratio is calculated quarterly, and all the antibiotics used are topical or injected (there has been no consumption via feed and/or water since February 2016). The result obtained consistently from the 2nd quarter of 2016 to the first quarter of 2018, ranges from 2 to 3 mg/PCU. In the last quarter, the result was 2.62 mg/PCU per year.