The European Commission has published the latest figures on EU imports of soya beans, showing that the U.S. has become Europe's main supplier of this commodity, reaching a 52% share compared to 25% in in the same period last year.
To monitor the evolution of trade in soya beans, President Juncker put in place a reporting mechanism according to which imports from the United States increased by 133% compared to the same period in the previous year (July-mid-September 2017).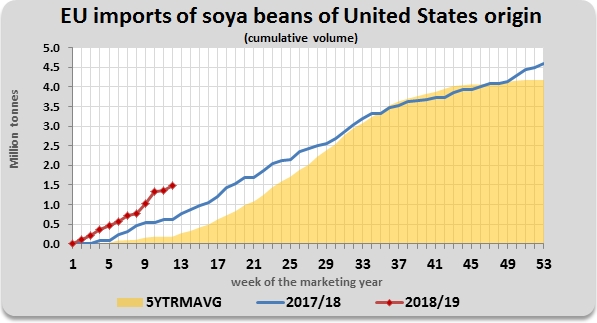 Compared to the first 12 weeks of the 2017 marketing year (July to mid-September), EU imports of soya beans from the United States are up by 133% at 1,473,749 tonnes. At the time of the first reporting issued on 1 August 2018, and covering the first five weeks of the current marketing year, imports amounted to 360,000 tonnes, corresponding to a 280% year-on-year increase;
In terms of the EU's total imports of soya beans the U.S. share is now at 52%, compared to 25% in in the same period last year. This puts the U.S. ahead of Brazil (40%), the EU's second main supplier, followed by Canada (2.3%), Paraguay (2.3%) and Uruguay (1.7%).
Background
The EU currently imports about 14 million tonnes of soya beans per year as a source of protein to feed our animals, including chicken, pigs and cattle, as well as for milk production. Soya beans from the US happen to be a very attractive feed option for European importers and users thanks to their competitive prices.
Thursday September 20, 2018/ EC/ European Union.
http://europa.eu/rapid