The outbreak, that started on June 21st, 2017, has been considered 'resolved' since April 19th, 2018. During this period, the Czech pig population has remained free of the infection.
The Czech authorities have published a document that summarises the actions regarding the wild boar population. During all the event, ASF has been diagnosed in 230 wild boars (in 212 of the 433 wild boars found dead, and in 18 of the 3,526 wild boars shot down by hunters), all of them in Zone II, or the high risk area (with only 89 km2). No positive wild boars have been found in the rest of the surveillance area (Zone I) nor in the rest of the Czech Republic.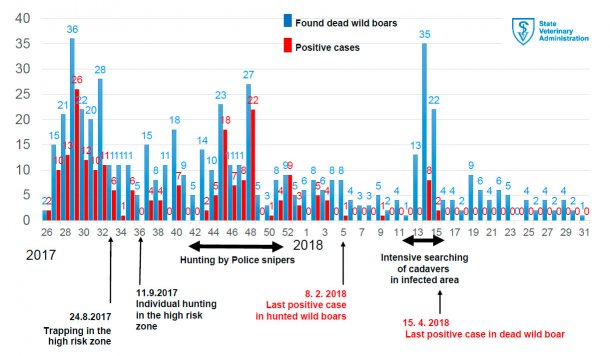 The intensive hunting in the high risk area (that is fenced) has reduced the wild boar population from some 150-200 in July 2017 to some 12-20 in August 2018.
Despite this, the official control in the area still goes on, and it includes the testing of any dead pig or wild boar, the restriction of movements of animals, intensive hunting and the active search for dead wild boars.
Monday, October 8th, 2018/ OIE. http://www.oie.int
Monday, October 15th, 2018/ EAphm. http://www.eaphm.org