The Ministry of Agriculture of Spain has just published the data on the production of feed in 2013. According to the report, the total production of feed in Spain reached 27,842.469 tonnes in 2013. This entails a drop by 4.6% with respect to year 2012.
If we only analyse the production of feed for livestock, the production reached 27,195.238 tonnes (97.7% of the total of the feed produced). The amount of feed produced for livestock in 2013 fell by 4.1% with respect to 2012. The amount of feed produced for other species (pets, fur animals and others) reached 647,231 tonnes (21.8% lower than in 2012).
The distribution of feed regarding the different species is very similar to that of previous years. The swine feed production clearly holds the first place (47.7% of the total feed produced), followed by the feed for cattle (21.2% of the total). Then comes the feed for fowl (its production reached almost 19.4% of the total) and the feed for sheep and goats (5.4% of the total), among the most relevant feeds.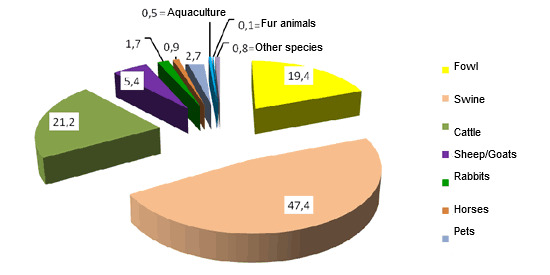 Fig. 1. Percentage of the national feed production per species.
Friday, 24 October 2014/ SILUM-MAGRAMA/ España.