According to the latest forecasts of the United States Department of Agriculture (USDA) Pork exports are forecast 3 percent higher, buoyed by strong demand in Asia and Latin America. Pork prices remain competitive, bolstering shipments to most markets. The European Union will remain the top exporter, followed by the United States

Production
Global production is forecast up 1 percent in 201 9 to 11 4.6 million tons on continued expansion in China and the United States. The global economy continues to grow , boosting demand for pork in most countries. Production is forecast 1 percent higher in China as a larger sow herd and improvements in productivity boost the pig supply. However, the recent discovery of African Swine Fever (ASF) in China has impacted hog movement and prices , resulting in a slower rate of expansion relative to last year . EU production will decline marginally as lower hog prices and higher feed costs will drive a small reduction in the breeding herd.
Global exports
Global exports are forecast almost 3 percent higher in 201 9 driven by strong global demand . The European Union will remain the top exporter, buoyed by higher demand in Asia, especially China . Brazil's exports will rebound as growth to China and Hong Kong offset the loss of previous top market Russia. Import demand will also strengthen in Latin America, as favorable prices and changing preferences boost per- capita pork consumption. Mexico's imports are forecast 5 percent higher and Colombia 29 percent higher on robust demand. South Korea's imports will decline as near- record expected imports during 2018 are expected to le ad to high stocks .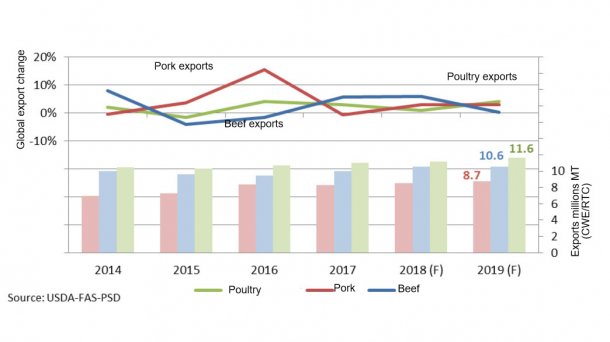 Thursday October 11, 2018/ FAS-USDA/ United States.
https://apps.fas.usda.gov