According to the latest data published by the Association of Pig Producers of Germany (ISN) regarding the ranking of the main German abattoirs in 2018, Tönnies remains in the first place, increasing its share with respect to 2017, going from 28.7% to 29.3%.
Vion holds the second place, with a new drop in its share, reaching 14.1% (14.7% in 2017 and 14.9% in 2016) and reducing its slaughterings by almost half a million pigs. It slaughterd 8 million animals. They are followed by Westfleisch, in the third place, with a share of 13,7%, and Danish Crown, with a share of 6.2%. Both have also suffered a decrease in their shares with respect to 2017, that were 14.3% and 6.3%, respectively in 2018.
They are followed in terms of their market share by Müller Gruppe, Böseler Goldschmaus, Tummel, Wills Gruppe, Simon and Manten.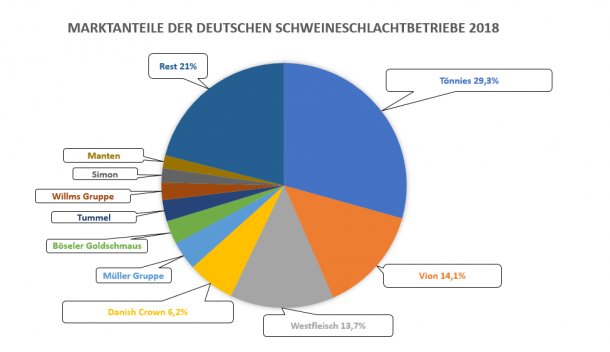 Monday, April 8th, 2019/ Pig333's editorial office from data by the ISN. https://www.schweine.net/