Pigmeat output
According to FAO "Meat Market review - Overview of global meat market developments in 2018", pigmeat world output in 2018 is estimated at 120.5 million tonnes, an increase of 0.6 percent from 2017, registering a marginal growth. While China's decline in output was largely behind the global stagnation, its output was still 46 percent of the world total. Outputs also declined in Brazil, Viet Nam and Ukraine, collectively shedding nearly 293 000 tonnes of pigmeat. However, outputs expanded in the European Union, the Unites States of America and the Russian Federation, sustaining the global production at stable levels.
In China, pigmeat output contraction was not entirely unanticipated, given the onset of the African Swine Fever (ASF), which, by the end of December, involved 105 cases and resulted the culling of over 950 000 pigs. The sector was on the path to recovery until the ASF spread began, although some concerns were ripe on escalating feed costs due to rising soybean prices in view of the increased reliance on animal compound feeds under the industrial production system and the trade dispute that led to higher tariffs on imported soybean from the Unites States of America.
In Brazil, pigmeat production was about 3 percent lower than in 2017. In the earlier part of the year, production suffered due to loss of import demand on account of the 'weak-flesh' food-safety probe. Subsequently, the truck drivers' strike disrupted feed supplies from other parts of Brazil and the transportation of animals and meat to markets. In addition, maize prices increased by over 50 percent while producer prices declined, further undermining producer incentives.
Viet Nam's pigmeat production is estimated to have declined by 2.4 percent in 2018, resulting from some market instability in the last few years. Following several years of production expansion, a situation of over-supply arose, plummeting pigmeat prices in 2017, which led to income losses for pig farmers. In response, farmers scaled down herd stocks. In 2018, however, following the warnings of the ASF outbreak in the European Union, the government suspended imports, pushing market prices up by nearly 200 percent by mid-2018, compared to the same period in 2017.
In Ukraine, pigmeat output declined for a third consecutive year, caused by a number of factors: reduction of saw numbers due to low profitability, the spread of the ASF, reduction in consumer demand in view of low consumer purchasing power, a reduction in government support and loss of foreign markets.
By contrast,
In the European Union, following a contraction in 2017, pigmeat output rebounded by 2.5 percent to 24.3 million tonnes in 2018, underpinned by favourable domestic prices that led to an increase in breeding-pig herd. Since mid-2018, however, prices began weakening amid reduction in import orders.
Pigmeat output in the Unites States of America is estimated to have increased by 2.9 percent to nearly 12 million tonnes in 2018. Increased slaughter numbers on the back of an enlarged inventory, estimated at 75.5 million pigs as of 1 September, the largest inventory recorded since 2009, was mainly behind the higher output.
In the Russian Federation, pigmeat output is estimated at 3.8 million tonnes, up nearly 8 percent in 2018, confirming the steady growth of the sector in recent years. Rising contribution of large-scale farms that are well integrated with other farming activities, including maize production, was a major factor.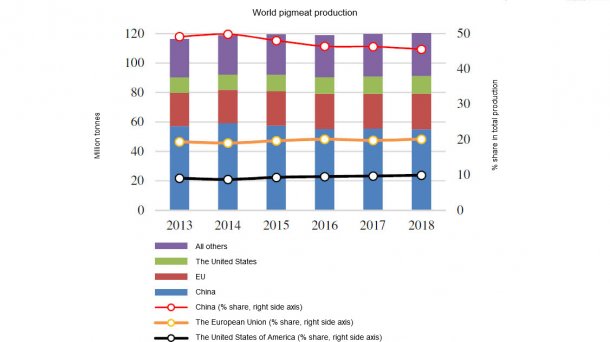 Pigmeat exports
World pigmeat exports are estimated at 8.4 million tonnes in 2018, up by 1.6 percent year-on-year. This was a result of increased exports by the Unites States of America, the European Union, Chile and Mexico, partially offset by export contractions in Brazil, Canada and Viet Nam. Much of the expanded trade was due to increased purchases by the Republic of Korea, Mexico, Colombia and the Philippines.
Expansion of pigmeat exports from the United States of America was a result of abundant export availabilities, competitive prices and continued stability of imports by Mexico and Japan and increased sales to the Republic of Korea and Colombia, compensating for reduced sales to China, among others.
European Union's pigmeat exports increased, partially recovering from a dip in exports in 2017 (-8.4 percent), resulting from the resilience of the sector, as the European Union managed to balance sharp import curtailment from China by expanding exports to alternative destinations, including Japan, the Republic of Korea, the Unites States of America and the Philippines.
Pigmeat exports from Chile and Mexico, although remained under 200 000 tonnes, expanded significantly in 2018, as they received increased market access in China, Japan, the Republic of Korea, the Russian Federation and the Unites States of America.
By contrast,
pigmeat exports from Brazil declined by nearly 6 percent. Following a ban imposed by the Russian Federation, Brazil's exports to that country declined from 325 000 in 2017 to just about 8 600 tonnes in 2018, a drop of 97 percent. This was, however, offset by increased exports to alternative destinations, particularly to China, Singapore, Argentina, Uruguay and Chile.
Canada's pigmeat exports marginally declined, resulting from reduced exports to the Unites States of America and China. The decline in pigmeat sales by Viet Nam resulted from reduced pigmeat production.
Pigmeat imports
Global pigmeat imports in 2018 dominated by China, Japan, Mexico, the Republic of Korea and the Unites States of America, which collectively imported 70 percent of global exports.
While still the largest pigmeat importer in the world, China's imports declined by 8.5 percent, further curtailing its imports from the peak in 2016.
Japan's pigmeat imports remained steady, at the same level as in 2017.
In the Republic Korea, popularity of pigmeat continued to drive increases in imports, mainly from the Unites States of America, the European Union and Canada.
Imports by the Russian Federation decreased by as much as 72 percent, mainly resulting from its restrictions placed on meat imports and rising domestic production.
April 2019/ FAO.
http://www.fao.org