Although Germany kept its role as the main European pork producer, with a total of 5.56 million tonnes, and a slight increase in comparison with 2015 (+1.0%), Spain, the second producer, stood out with a total production of 4.05 million tonnes, that entailed an increase by 204,300 tonnes (+5.3%) with respect to 2015.
Pork production also rose notably in absolute value terms in Italy (+58,300 tonnes), Poland (+56,900 tonnes), Hungary (+22,500 tonnes), United Kingdomo (+20,900 t), France (+20,200 t) and Netherlands (+16,500 t). On the other hand, Belgium and Denmark suffered decreases by 63,800 tonnes and 32,100 tonnes, respectively.
The USA, the third pork world producer after China and the EU, accumulated a total production of 11.3 million tonnes, that entail an important increase in comparison with 2015 (+198,400 tonnes, +1.78%).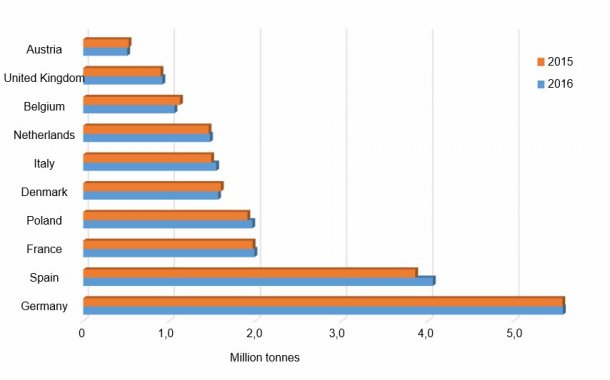 You can view expanded details in our section "Pig production data"
March 2017/ 333's editorial department based on data from Eurostat.