European pork exports reached, last January, 356,533 tonnes (+7.8%), this meaning a record exports figure for a month of January that exceeds the 351,239 tonnes reached in 2017.
In terms of destinations, China stands out, with 140,511 tonnes, this entailing an increase by 14% in comparison with January 2018 (122,738 tonnes). It is the second largest volume exported to China in a month of January. The all-time record was reached in 2017, with 158,717 tonnes exported.
The exports to Japan, the second destination, but quite below China, reached 40,303 tonnes (an increase by 8%).
On the other hand, the volumes exported to Hong Kong and South Korea dropped by 28% and 11%, respectively.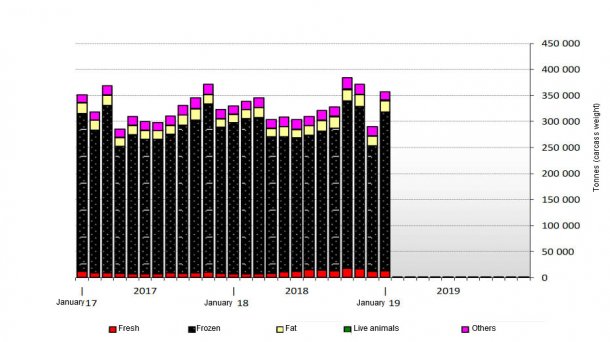 Wednesday, March 27th, 2019/ Pig333's editorial office from data by the European Commission.