The demand for Canadian agri-food and seafood products remains strong worldwide and across sectors. Over the last ten years, exports have increased by approximatively 85%. In 2014, exports were up 12% from 2013, an all-time record that saw $56.5 billion shipped to 203 markets.
Canada's top exports in 2014 were wheat, canola seed, fish and seafood, pork, canola oil, pulses, soybeans and beef. The top markets included the United States (52.3%), China (9.3% / plus 1.6% to Hong Kong), Japan (7.2%), the European Union (6.6%), Mexico (3%) and India (1.6%).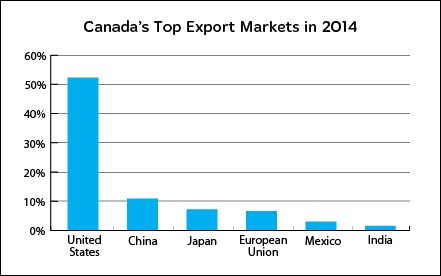 In 2014, Canadian beef exports were up by nearly 46%, reaching 68 markets for a total value of $1.9 billion. Wheat was also up 19.1% ($7.95 billion) and pulses were up 14.3% ($3.16 billion).
Market access issues that hold the most growth potential for the Canadian industry will continue to be prioritized, including the following ones which were key accomplishments in 2013-2014:
Permanent access for British Columbia fresh cherries to China, worth up to $20 million annually. Trial exports of B.C. fresh cherries to China in 2014 reached $10.9 million.
Secured access for timothy hay to China, which industry estimates to be worth $8 million over the next five years.
Expanded access for bone-in beef to Taiwan, worth potentially $10 million annually.
Market access to Ukraine for purebred sheep and goats.
Full market access for beef and pork to Honduras. This restored access is estimated by industry to have a combined market value of approximately $5 million to $7 million annually, with the majority of exports expected to be pork.
Market access for sheep and goat genetics from Canada to Brazil, a market the industry estimates to be worth approximately $1.5 million to $2 million annually.
Full access for beef to Jamaica, estimated to be worth roughly $4.5 million annually.
May 2015/ Agriculture and Agri-Food Canada/ Canada.
http://www.agr.gc.ca