Since the confirmation of African swine fever (ASF) last September 2018, several measures have been implemented to control the spreading of the disease, and for several months, the circulation has been forbidden in the forests of the core area (CA) and the buffer area (BA). Nevertheless, it has been decided to relax these restrictions, and as of last April 6th, the access to several forest areas in the south of Wallonia is now allowed.
The Walloon government's decree allows the walkers to access the paths in more than 16,000 hectares located in the core area (CA) and the buffer area (BA).
Nevertheless, traffic is still forbidden in areas near the zones where the last cases of the disease have been detected (14,000 hectares), affecting:
in the north, the forests of Rulles, Neufchâteau and Chiny;
ain the south, the forests of Ardenne, Meix-devant-Virton and Grand Bois.
The forest code must be strictly obeyed under penalty of fines:
The walkers must remain on the paths and keep their pets on a leash;
The mountain bikers shall only use the marked paths.
The following measures are also applicable:
Do not pick forest products;
Do not utilise the forest (with the exception of the measures implemented for the management of the coleopteran infestations);
Do not enter farms within 3 days of visiting the forest;
Do not litter the forest;
Disinfect shoes and vehicles with bleach after the walk/journey;
Do not touch any carcass or disoriented wild boar, and notify this, in case of seeing it, to the Call Center of Wallonia. Phone no.: 1718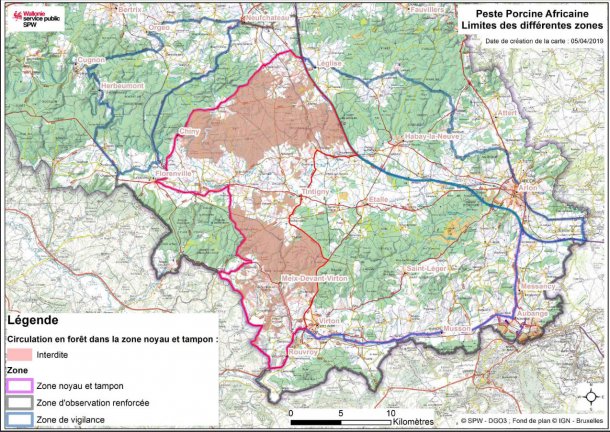 Friday, April 5th, 2019/ Wallonia website/ Belgium.
https://www.wallonie.be