In response to demand, Quality Equipment has added a Frost Protection Cable to its range of pig and livestock equipment. Wound round or fitted under water pipes, it is thermostatically controlled to protect against varying degrees of frost, thus ensuring a continuous supply of fresh water during the winter months.
Supplied in a variety of lengths, it is suitable for both indoor and outdoor pipework. Ideally, it should be fitted under normal pipe insulation to ensure the optimum low running costs. It can be held in place with aluminium tape. One end of the cable is supplied with normal electrical flex to enable the cable to be plugged into the regular electrical supply.
"Frozen pipes cost pig producers both time and money. With another hard winter predicted, we have already had several enquiries from farmers about methods of preventing freeze-ups," commented QE director, Graham Baker. "In many cases thermal insulation alone cannot protect against sub-zero temperatures."
The Frost Protection Cable has a power consumption of just 12W per metre and automatically adjusts the output, in different sections of the cable, depending on the ambient temperature. A 10m cable costs £85.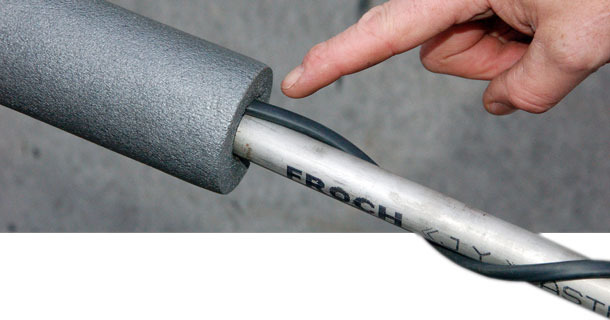 The frost protection cable is easy to fit, inexpensive to run and best used in conjunction with thermal insulation,
says Quality Equipment.
December 19, 2013 - Quality Equipment