This clinical case study tracks the long term pattern and control of Actinobacillus pleuropneumoniae (App) disease in a breeder feeder farm through the 1990's. Whilst an historical case it raises important issues regarding farm layout, dynamics of enzootic infection in a pig farm and immunity to App.
Farm Background
The herd concerned was created in the early 1990's following depopulation of an old herd and expansion and refurbishment of the site to provide facility for 660 sows and progeny to bacon weight operating on a weekly basis of producing 300 weaned pigs.
Because the farm more than doubled in size, the new layout meant that breeding and feeding herd buildings were interspersed with one sow house positioned tightly next to a finishing house. Figure 1 shows the layout of the farm after expansion. The gap between any buildings did not exceed 2 metres.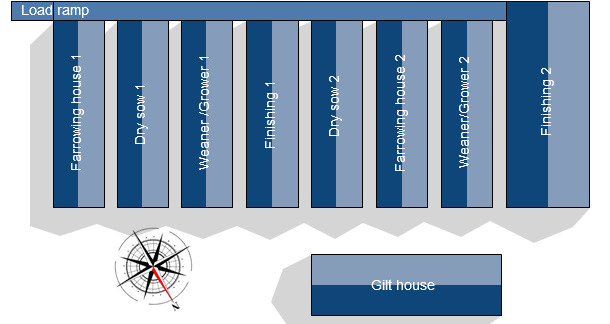 Figure 1. Layout of the farm.
All buildings were fully slatted, positive pressure power ventilated with roof fans and side outlets. The occupancy of the feeding herd buildings was targeted to provide pigs with the minimum legal space provision.
The farrowing and breeding herd buildings all operated on a weekly room basis with washing and disinfection routinely applied between groups with a room turnaround of no more than 24hrs.
The herd was originally stocked with gilts known to be positive for Mycoplasma hyopneumoniae but free of all other major declared diseased at that time (PRRS, Swine Dysentery, PAR, Sarcoptic Mange). Actinobacillus pleuropneumoniae (App) was not recognised clinically or pathologically in the supply herd but aetiological freedom was not claimed.
Piglets received no vaccines at that time.
Disease Breakdown – Phase I
For the first 4 years health and productivity were good and very little health problems were seen, beyond post weaning E coli enteritis for which Zinc Oxide @ 2500ppm Zinc was incorporated into the ration for 2 weeks post weaning.
An acute respiratory disease outbreak occurred in late 1995 affecting the whole farm. Initially coughing was noted in finishing pigs in Finishing House 2 with lethargy and inappetance rapidly followed by similar signs in younger pigs and then adults.
Swine Influenza was suspected and the decision was taken not to mass medicate the herd although some water soluble antibiotic (Oxytetracycline) was used in young weaners as a short term precaution.
Samples collected from 2 pigs sacrificed at the time yielded Swine Influenza H1195852 strain and blood samples taken from growing pigs at the time and 3 weeks later showed rising titres principally to Swine Influenza H1195852 strain but with some cross reaction to both H1N1 and H3N2 strains. (see table 1)
Table 1. Reciprocal HAI antibody titres from sows and in pig gilts*
H1N1
H3N3
H1195852

Sow number

acute

convalescent

acute

convalescent

acute

convalescent

107
0
40
40
40
0
640
153
0
20
20
40
0
1280
162
0
0
0
40
0
640
201
0
10
20
40
0
640
279
0
20
40
80
0
2560
311
0
0
80
160
0
2560
432
0
0
10
40
0
1280
449
20
80
10
0
40
2560
500
0
10
20
20
0
640
561
10
10
0
20
0
320
641*
0
0
0
10
20
640
645*
0
10
0
40
10
1280
652*
10
0
0
0
40
640
Each affected group recovered over a 5-7 day period and appetite was restored but clearly growth rates had suffered. In addition sows that had been served 1 and 2 weeks prior to the outbreak saw a rise in returns to service (regular and irregular) of 10 percentage points. Deaths over the 2-3 week period of the disease had been no higher than usual (annual mortality from weaning to slaughter had been 3.5%).
There was a reluctance to market pigs light and as such, because of the slowed growth, farm stocking rates increased.
Disease Breakdown – Phase II
Approximately 3 weeks after the initial coughing in Finishing House 2, which had quickly settled down, the farm reported 22 pigs dead over 2 weekly rooms on one morning.
21 of the carcasses showed a similar pathological picture. All had variable amounts of frothy blood emerging from the nostrils, mouths were open and hyperaemia was present across the thorax and abdomen ventrally. All were in good condition and were 15 or 16 weeks of age.
Post mortem examination revealed a typical picture of acute App in 21 pigs. (Figures 2-5)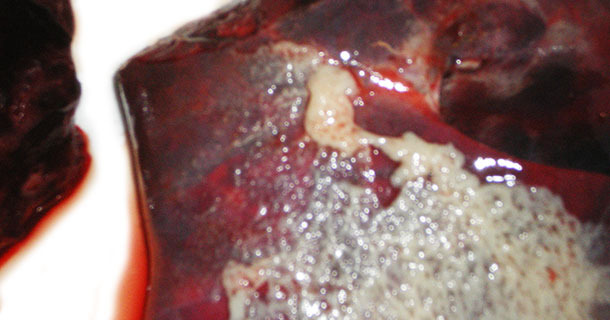 Figure 2. Acute App affected lungs with bread and butter pleurisy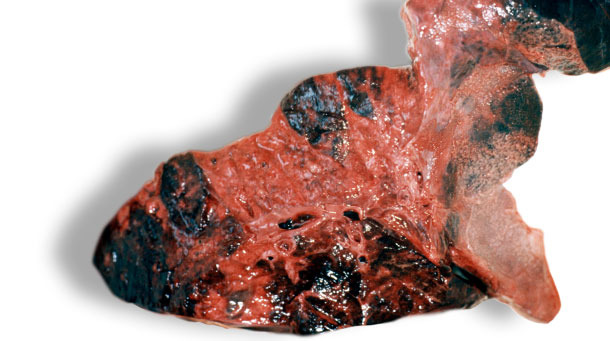 Figure 3. Showing deep haemorrhagic lesions in lung parenchyma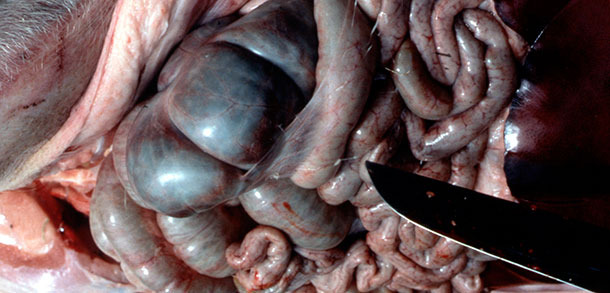 Figure 4. Showing fibrin peritoneal tags typical of acute App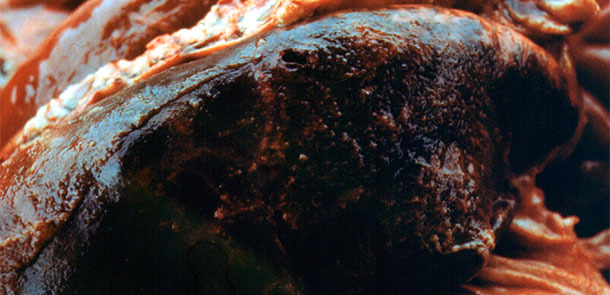 Figure 5. Haemorrhagic pneumonia and overlying acute pleurisy
The remaining pig had an intestinal torsion. The pigs in rooms from which they had been collected were coughing and some had rectal temperatures exceeding 42ºC with severe depression and lethargy (Figure 6). Approximately 20 were recumbent in extreme respiratory distress.

Figure 6. Typical depressed dyspnoeic pig with acute App
Laboratory examination subsequently confirmed App type 8 in pure culture from 8 pigs sampled.
Individual severely compromised pigs were injected with ceftiofur and the water was medicated with amoxycillin for 5 days @20mg/kg/day for the 2 affected rooms with initially a good response.
However, subsequent weekly groups suffered disease breakdown in the same way requiring immediate treatment and chlortetracycline was incorporated into the ration for the finishers, withdrawing it 2 weeks prior to slaughter. Each of the acute episodes of App at this time occurred in pigs of 14-16 weeks of age in both finishing houses.
Subsequent Developments
Within 2 months of the App breakdown slaughter weights had dropped by 5kg/pig and the abattoir was complaining of high pleurisy rates. Inspection at slaughter confirmed pleurisy in 75% of carcasses and 50% with chronic App lesions. (figures 7 & 8)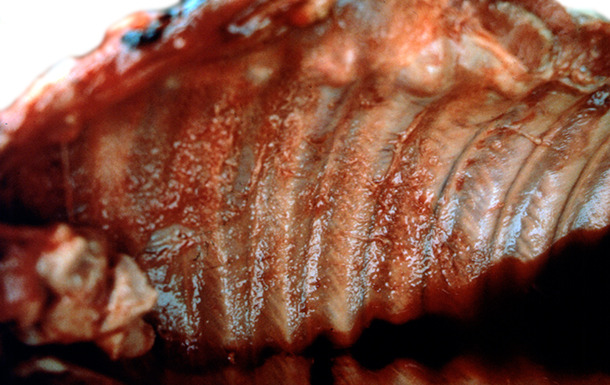 Figure 7. Organising pleurisy causing problems in the abattoir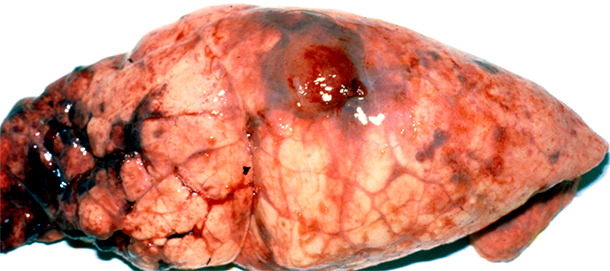 Figure 8. Chronic App lesion in the diaphragmatic lobe with pleuritic tags
For several months acute disease abated although occasional deaths associated with chronic App lesions did occur. Pigs were taking 10-14 days longer to reach slaughter weight with overstocking inevitable. Additional straw yard accommodation was rented to relieve the pressure.
Maiden gilts which had continued to enter the farm every 8 weeks suffered respiratory disease soon after arrival with occasional deaths and 15% failing to cycle. Medication via feed on arrival for 4 weeks reduced but did not fully resolve the problem.
By early 1996 chronic App was enzootic in the growing pigs with periodic flare ups of acute disease and ongoing pathology evident at slaughter (pleurisy rates remained at 50%+). Weaning to slaughter mortality was 6% of all pigs weaned.
No commercial App vaccine was available in the UK at that time, and the decision was made to acquire an autogenous vaccine based on an aluminium hydroxide adjuvant using both the original isolates of App from the farm and further cultures derived from more recent chronic lesions – all of which had been identified as serotype 8.
Given the age affected, vaccine was applied parenterally to pigs in 2 doses at 9 and 12 weeks of age and to maiden gilts prior to arrival on farm.
Vaccine Response
The initial response to vaccination was good with disease levels clinically dropping, mortality reducing and within 6 months pleurisy rates at slaughter had dropped to 15% with rare signs of chronic App lesions. In feed medication was removed. Gilt health and breeding had improved back to acceptable levels.
However, within 12 months of starting vaccination, disease once again appeared but in younger pigs 10-12 weeks of age and so the vaccination protocol was altered to injecting pigs at 5 and 8 weeks of age. Once again disease abated, in feed medication was withdrawn and health improved. Slaughter weights had fully recovered and the temporary straw yards had long been vacated. Within 12 months however the disease reappeared but now in even younger pigs of 8-9 weeks of age. Rather than vaccinating pigs younger and younger it was then decided to change vaccine use to apply to the sows (following some test dosing to ensure no problems in pregnant animals). Sows were vaccinated 5 and 2 weeks prior to farrowing and once the progeny from these sows came through disease was not seen.
However within a few months cases of App were once again being seen in growers of 12-14 weeks of age.
Discussion took place over the need to vaccinate both the sows pre-farrowing and the pigs at 9 and 12 weeks of age to which the farm reluctantly agreed. However before the response to this extended vaccination regime could be assessed the farm suffered a devastating fire which started in Farrowing House 2 and ultimately destroyed Dry Sow House 2 and Finishing House 1, with all pigs in these buildings perishing. The herd was depopulated and the site sold.
Discussion
Whilst no claim was originally made for freedom from App, the herd performed for 4 years without clinical evidence of the infection. A severe acute Swine Influenza outbreak appeared to act as a trigger for App disease which became a long-term problem.
The initial disease only occurred at 14-16 weeks of age suggesting some degree of resistance in younger pigs. It was postulated that sows were immune and colostral antibodies had protected the younger pigs. Following disease breakdown, once the disease was controlled in the growing pigs, infection was no longer spreading to the dry sows and their immunity declined. This resulted in reduced colostral protection for piglets leading to disease breakdown in younger animals. Vaccination introduced to the sows restored/boosted sow immunity and colostral transfer of antibodies thus protecting young piglets and "pushing" the disease back into the older growing pigs.
On the farm the intermixing of buildings of different stock groups, the close proximity of the buildings, ventilation design and high stocking density were all believed to contribute to the dynamic spread of enzootic infection in the herd which was distorted initially by a primary disease outbreak and latterly by altering the immune balance of the pigs with autogenous vaccine requiring continued adjustment to timing and application of the vaccine.