This case of blastocystosis in pigs, in which the University Clinic for Swine was involved to give consultation, occurred in March 2015 in a piglet producing farm in Austria. On this farm piglets are produced with 60 sows in a 3-week batch farrowing interval with a suckling period of 28 days in a closed production system. Sows are routinely vaccinated against parvovirosis and erysipelas, piglets against PCV-2 and Mycoplasma hyopneumoniae. No information regarding other swine diseases was available.
Symptoms
The responsible veterinarian reported of piglets suffering from diarrhea after weaning with subsequent reduced weight gain. Other clinical symptoms could not be observed. Mortality was low with a rate of <5%. Several therapeutic measures, such as antimicrobial therapy and adaptation of the feed (reduction of crude protein from 18% to 15% and increase of crude fiber from 3% to 4%) did not result in recovery of piglets. At this point we were consulted to perform any further diagnostics to find the cause of diarrhea.
Clinical examination and further diagnostic steps
One piglet, which was treated with colistin (5 mg/kg body weight/day for 7 days), with typical profuse diarrhea was sent to the University Clinic for Swine. The results of clinical examination showed a moderately reduced nutritional status and diarrhea only. After clinical examination the piglet was euthanized to perform necropsy and pathohistological examination. For bacteriological investigations a piece of jejunum was separately processed. Diarrheic feces were sampled in a tube (completely filled to ensure anaerobic condition) and transferred immediately to the Institute of Bacteriology for cultivation of Brachyspira spp. To exclude PCV-2 associated enteritis, samples of formalin fixed gut tissue were in-situ hybridized to detect PCV-2 directly in the gut. A mucosa scraping of ileum and colon was investigated for the presence of Lawsonia intracellularis, Brachyspira hyodysenteriae and Brachyspira pilosicoli using a triplex PCR. Fluorescence microscopy and conventional light microscopy of feces were performed for detection of coccidian oocysts and protozoa.
Pathological findings
No appreciable pathomorphological alterations were detected in the organs. The digesta in the colon was light green and liquid. In the mucosa of small intestine several eosinophilic granulocytes were observed by pathohistological examination (Fig. 1). PCV-2 in-situ hybridization as well as triplex PCR for detection of L. intracellularis, B. hyodysenteriae and B. pilosicoli led to negative results.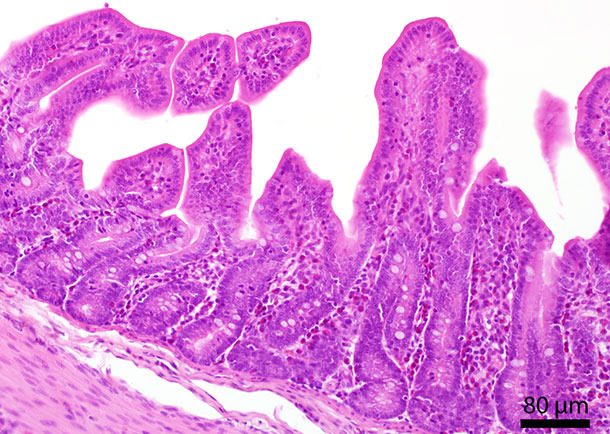 Fig. 1: Histological section of the small intestine. In the mucosa several eosinophilic granulocytes are located.
Bacteriological findings
In the jejunum just sparsely yeast-like fungi and Escherichia coli were found. Due to the low detection rate of E. coli in the jejunum, clinical relevance was interpreted to be low and therefore virulence factors were not determined. Furthermore no Brachyspira spp. were detectable in a specific culture system.
Parasitological findings
No coccidian oocysts were detected by fluorescence microscopy. Neobalantidium coli-cysts in an amount considered to be physiological in colon of swine were detected.
In conventional light microscopy myriads of round structures in a size of 10-20 µm were found in the feces of this piglet. These structures appeared transparent with no or almost no "intracellular" compounds (Fig. 2).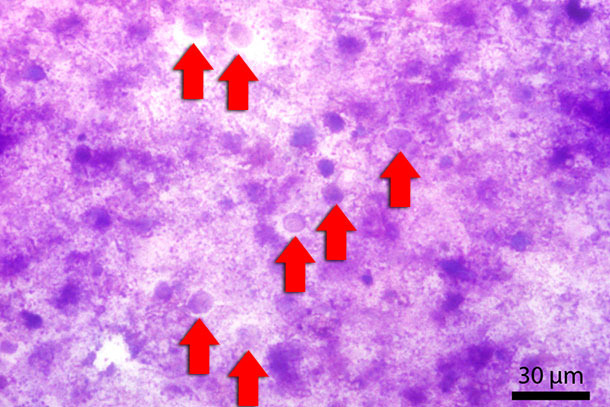 Fig. 2: Fecal smear stained with Diff-Quick. Red arrows indicate Blastocystis-stages.
To further address these structures, a fecal smear was prepared and stained using a conventional Diff-Quick staining kit. In a 1000-fold magnification using light microscopy with immersion oil, the structures appeared as unicellular, mainly basophilic structures. Due to the fact, that to our knowledge such structures are usually not found in that amount in swine feces, it was thought to be something "new". After consultation with pathologists, bacteriologists and parasitologists we got the final diagnosis from a protistologist, working on veterinary as well as human protozoans. He addressed these structures as Blastocystis sp.
Interpretation of the findings
Due to the fact that no known enteropathogen was found in clinically relevant amounts, importance of massive Blastocystis sp. infestation was counted as significant in this case.
Blastocystis sp. is a protozoon which is frequently found in humans and animals, such as pigs and cattle. The cell is surrounded by a cell membrane and mainly consists of a big central vacuole. The nucleus is located marginally (Fig. 3). Its first description was in 1911, but pathogenesis and pathogenicity of Blastocystis is not fully understood yet. Physiologically Blastocystis can be found in moderate amounts in the colon of pigs. Studies investigating blastocystosis in swine under immunosuppression suggested a more likely colonization not only of the colon (Fig. 4) but also of the small intestine. Lesions and epithelial colonization of the gut tissue are rarely observed neither in humans nor in pigs.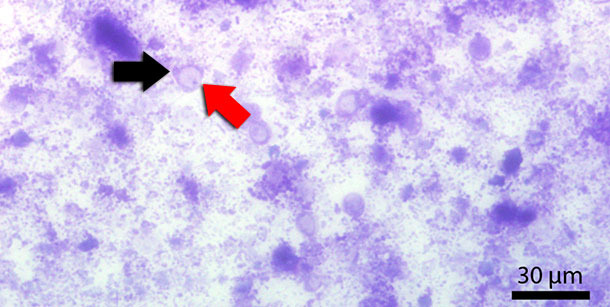 Fig. 3: Fecal smear stained with Diff-Quick. Red arrow indicates the central vacuole. Black arrow indicates the nucleus.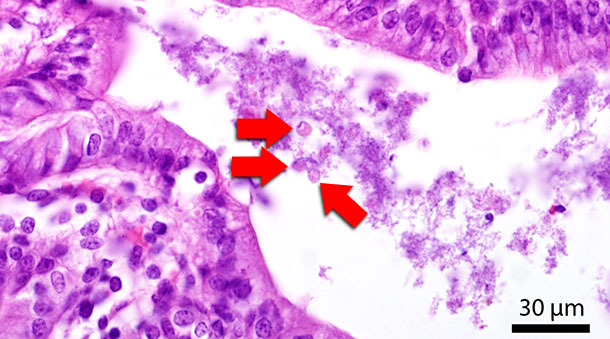 Fig. 4: Histological section of the colon. Red arrows indicate Blastocystis-stages in the gut lumen.
In the present case immunosuppression due to mycotoxin contamination is supposed to be the reason for massive colonization of piglets' intestines. In the year 2014 corn was substantially contaminated with mycotoxins, especially toxins of the A and B trichothecenes all over middle Europe. Deoxynivalenol (DON), belonging to the group of B trichothecenes, and T2-toxin, belonging to the group A trichothecenes, are mycotoxins known for their immunosuppressive effect. Due to the high mycotoxin contamination of corn generally, it was decided to ban corn completely from feed. However we think that mycotoxins (especially T2 and DON) were the responsible immunosuppressive compounds which enhanced and supported colonization of the gut with Blastocystis of previous batches. This fact together with a lack of proper hygiene and disinfection procedures, could have led to an extraordinary contamination of the barns with infectious Blastocystis stages, which affected consecutive batches in a row.
Prophylaxis and treatment
Treatment of blastocystosis is difficult due to a limited number of available efficacious substances to fight them. Metronidazole would be number one product of choice, but its use in food producing animals is no longer licensed nor authorized in the EU. Other imidazoles such as tinidazol and ketoconazole are also not licensed nor authorised.
The only legal way to treat blastocystosis is to use trimethoprim-sulfonamide (TMP/STX) orally or paromomycin, also via drinking water application. Paromomycin is an antimicrobial substance of the aminoglycoside group, which is poorly absorbed systemically. Once consumed, the substance remains in the gut lumen and is excreted together with the feces. In human medicine paromomycin is used to treat blastocystosis, cryptosporidiosis, amoebiasis and cutaneous leishmaniasis.
In the present case study TMP/STX was applied via feed to treat diarrhea, but did not lead to any improvement of the symptoms. Therefore the responsible veterinarian decided to use paromomycin in a dosage of 40 mg/kg bodyweight for 10 days for antimicrobial treatment as there is a licensed and registered product available. Actually this product is also registered for the treatment of enteritis caused by E. coli.
Antibiotic treatment of Blastocystis will not lead to success as a single measure. It always has to be combined with management measures such as adequate cleaning and disinfection procedures. Since there is no information available, disinfectants based on cresols or quarternary ammonium compounds/glutaraldehyde were supposed to be efficacious. Any other immunosuppressive infectious agent has to be considered and addressed if necessary. If mycotoxins are suspected to trigger disease, application of effective feed additives can be implemented.
Follow up
After several months, the clinical situation in the farm improved considerably. Paromomycin was successfully used in three batches. Diarrhea could not be observed anymore in the paromomycin-treated batches and mortality rate decreased to <1%. However, since the treatment of weaning piglets with paromomycin has a high cost, the veterinarian responsible stopped antimicrobial metaphylaxis against Blastocystis and supplemented the feed with zinc oxide (2500 ppm) and charcoal to support affected animals. For the time being this supplementation is enough to prevent diarrhea in weaned piglets since now.
Summary and Outlook
To sum it up, Blastocystis sp. has to be added to the list of differential diagnosis in cases of diarrhea in pigs, especially in years when corn and crop are highly contaminated with mycotoxins known for their immunosuppressive effect. In the future laboratories should broaden their diagnostic field and look for Blastocystis sp. in feces of pigs with profuse diarrhea.