Strep suis infection is well recognised as a cause of disease in young pigs, producing clinical problems ranging from joint ill to meningitis and septicaemia. Pathologically it is also believed to contribute to polyserositis in young pigs, causing damage evident at slaughter as pleurisy, pericarditis etc..
Many strains and serotypes are recognised, which range in pathogenicity from severe to opportunistic and some purely commensal.
Strep suis type 14 has been associated with young piglet polyarthritis (joint ill) for the last 25 years in the U.K. often producing dramatic outbreaks of lameness in piglets 2-4 weeks old. This case study describes one such outbreak which led on to rather serious consequences for the pigs.
Farm Background
The herd concerned was a 320 sow breeder weaner setup based on outdoor production. The sows farrowed nominally in 3 week batches aimed at producing 450 piglets per batch at weaning although a less than rigorous approach to serving meant that farrowing in each batch stretched over more than 14 days with the result that, when weaned, piglets ranged in age from 18 to 35 days old with a target average of 26 days old.

Fig 1. Typical Outdoor farrowing system.
Sows were group served by AI in outdoor paddocks with each batch separated into a large and small group. Gilts were also served outdoors by AI, being introduced into the farrowing groups in a dynamic way (every 3 weeks). No oestrus synchronization was practised in gilts.
The health status of the herd was basic with M. hyopneumoniae, PRRS and PCVAD all known to be present, and routine vaccination administered for M. hyo and PCV­2 at weaning. Productivity of the herd was modest with a farrowing rate consistently below 80%, farrowing index 2.2 at best and numbers weaned per litter averaging 9.5 for 12 months. As such batch sizes rarely exceeded 400 pigs at weaning.
Farrowing occurred outdoors in insulated arcs in paddocks of 12, although the gilts farrowed in individual pens.
The herd had been set up 4 years previously as a contracted arrangement on a previously dedicated arable farm. The pigs were cared for by a single full-time experienced stockman with part-time help available from the owner and arable worker, neither of whom had previous experience of pig keeping. Gilt replacements were provided every 2 months from the same source as originally supplied the herd.
At weaning sows returned to the service/dry paddocks and piglets were divided into 4 "Cosikennels" in groups of 100+ where they stayed for 38 days. They were then moved into a large straw based barn as one group where they remained for a further 20 days whereupon they left the site to a separate finishing farm. The starter diet for weaned pigs contained 3.1kg /Zinc Oxide per Tonne but no other antimicrobials were offered.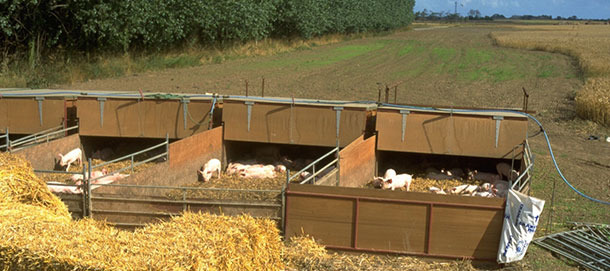 Fig 2. Outdoor Cosikennels holding pigs from weaning to 9 weeks old.
Initial Problems
Discussions with the stockmen and examination of treatment records suggested that the first problem relating to this case occurred in batch 66 in which piglet mortality had risen from the average of 14% of pigs born alive to 18% with evidence to show that approximately 20 pigs across many litters in the batch had been treated with Penecillin/ Streptomycin injections for "joint ill". Response to treatment was reported to have been poor. Consultation with the local Veterinary Surgeon when batch 67 farrowed led to a change of treatment to Ampicillin by injection of affected pigs, all of which were reported to be lame beyond 2 weeks of age. Numbers affected in batch 67 were similar to batch 66 but when batch 68 reached at least 2 weeks old the number affected dramatically rose and the Veterinary Surgeon attended.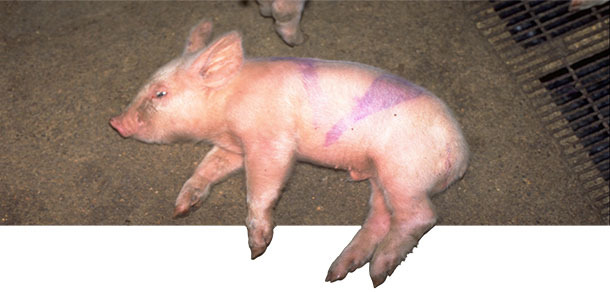 Fig 3. Acute case of Strep suis type 14 in a 2 week old piglet.
At least 25% of the pigs from 2 to 3 weeks old were reported to be lame, some so severe that they lay in the arcs shaking and unable to stand. Response to Ampicillin injections in the previous batch was reported to have been better and so blanket injection of all the piglets in batch 68 was advised. Subsequent records indicated mortality pre-weaning in batch 68 exceeded 20% but in the pigs that did not die recovery was reported to be good. Samples collected from joints of affected pigs at post mortem from this batch yielded Strep suis type 14 from 4 of 9 samples. It was not clear how many of the samples came from treated pigs.
Similar disease levels occurred in subsequent batches with the same treatment regime offered. However, when batch 68 was transferred from the Cosikennels to the straw yard, dramatic complications occurred and a second opinion was sought immediately.

Fig 4. Weaners transferred into large straw yard for 2 weeks before dispatch.
Disease Complications
The movement of pigs into the straw yard occurred via a stock trailer in four groups. The first two groups of pigs were reported to have been loaded from the kennels without problem. However, when the second group was unloaded approximately six pigs from the first group were noticed to be 100% lame on one back leg within the yard. As the second group was unloaded they ran into the straw and chased each other around as normal. The stockman was adamant that all pigs had been sound as they came off the trailer but within minutes at least 10 further pigs were severely lame mostly on a single leg.
It was immediately advised to stop moving pigs and attendance occurred at the farm within three hours.
On arrival, 19 affected piglets of approximately 20 to 25 kg had been separated out from the main group. Clinical examination revealed all bar two animals were 100% lame on a single hind leg; one was dog sitting and the final pig was 100% lame on its right fore limb. Manipulation of the hip and stifle joints revealed that each pig had a non-stable fracture in one of the joints. The dog sitting pig had bilateral upper femoral fractures.
All the pigs were immediately euthanased.

Fig 5. Fractured head of the femur from affected pig (left) (normal femur R)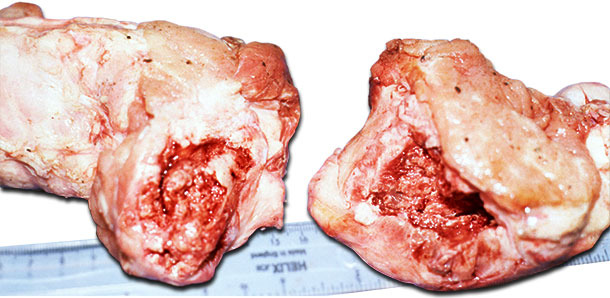 Fig 6. Entire head of the femur fractured at or below the epiphysis showing swelling around fracture site due to periostitis.
Inspection of the two groups of pigs still in the Cosikennels in the field revealed no obvious lameness and the third batch were carefully loaded and moved to the yard. As they were unloaded and ran down the ramp into the straw a number were seen to collapse on their back legs before standing but holding one leg up. Four pigs of this group were euthanased with fractures. The fourth group was not permitted to run straight out into the yard with unloading more controlled. They were held in a restrained small pen and none were seen lame.
Post mortem examination
Fifteen of the euthanased pigs were subjected to post mortem examination. All body cavities were unremarkable.
In all cases there was extensive haemorrhage around the long bones in affected legs. The surfaces of the femur close to fractured areas (either proximal or distal) was roughened and swollen generally below the epiphyseal plates which appeared to be associated with spontaneous fractures.
Subsequent laboratory examination revealed no active infection but extensive organising and ossifying periostitis.
Action Advised
The remaining group of pigs from the batch was released into the main yard after two hours and a single pig suffered a spontaneous fracture. In all, losses in the batch due to fractures was reported to reach 26 before they were sold three weeks later following a course of water soluble aspirin.
The following batch (69) which had been weaned three weeks and the batch due to be weaned (70) received feed medicated with Penicillin V for approximately 14 and 38 days respectively and aspirin in the water system for 7 days. Farrowing sows were also medicated with Trimethoprim/Sulphadiazine via the feed.
Questioning of the stockmen revealed that most piglets in the farrowing paddocks that had required treatment only received a single dose of short acting Ampicillin due to pressure of work/ shortage of time/difficulties catching or handling.
Treatment was changed to LA Amoxycillin with a minimum of two doses 48 hours apart required.
No problems were reported in batches 69 and 70 after treatment started nor in any subsequent batches after weaning. The litters born to sows that received medicated feed from farrowing saw a dramatic drop in clinical joint ill (batch 72 onwards). Three months later the antibiotic medication was removed from the diets with no recrudescence of disease. Aspirin treatment also ceased and advice given to tighten the service programme to reduce piglet age variation at weaning.
Discussion
The unusual and dramatic outbreaks of spontaneous longbone fractures in young growing pigs could not be definitively explained. However, it is postulated that it was associated with previous infection with Strep suis type 14 polyarthritis in the pigs, which had been inadequately treated. It seems likely that a single short-acting dose of Ampicillin whilst sufficient to relieve the acute lameness at 14 to 21 days of age was insufficient to completely clear the infection which appears to have penetrated out from the synovial membranes and into the periosteal tissues causing a weakening below the epiphysis that led to fracture when pig activity increased following transfer.
Most fractures affected either the proximal or distal femur but it is not possible to explain why other bones were unaffected.