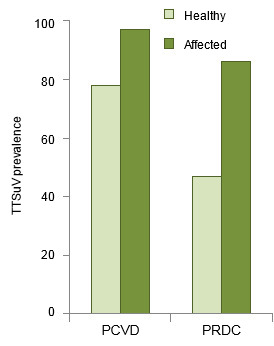 Figure 1. Prevalence of TTSuVs in healthy
(light green) pigs and animals affected (dark green)
with porcine circovirus diseases (PCVD) and
porcine respiratory disease complex.
Torque teno sus viruses (TTSuV) have been known for almost two decades and although much is nowadays known about their epidemiology, it is a virus still in search of a disease. TTSuVs are similar viruses to economically important viruses like porcine circovirus 2 (PCV2) and chicken anemia virus. Currently, it is believed that TTSuVs themselves donot directly cause any disease but they could potentiate coinfecting pathogens and participate as triggering factors for diseases like PCV2 associated diseases (PCVDs) and porcine respiratory disease complex (PRDC). Indeed, higher TTSuV prevalences and viral loads have been reported in PCVD and co-infection of PCV2 and TTSuV has been shown to result clinical signs. Also, TTSuVs are frequently found in lung lesions and they are especially associated with clinical PRDC. It seems that TTSuVs are not associated to any single etiological agent but rather to an entire disease complex (Figure 1). The mechanisms of such associations are currently under study in several laboratories in Europe and USA.
Two genetically distinct species of TTSuVs (species 1 and 2) are grouped in viral family called Anelloviruses. These viruses are known to infect more than 10 vertebrate species, including human. The debate in human disease association is very similar to the once described for TTSuVs. Human TTVs have been linked to autoimmune diseases, liver pathologies and respiratory conditions. TTSuVs are ubiquitous viruses found world-wide. The predominantly circulating strains are varying between continents and geographic regions (Figure 2). Most if not all farms are infected by TTSuVs. The world-wide distribution of these viruses is believed to be due to the live animal trade and efficient infection routes. Indeed, TTSuVs can be transmitted both vertical- and horizontal routes causing a persistent infection lasting during the whole production time of the animal. Virus can be detected in various sample types including serum, feces, saliva, semen, colostrums and a variety of tissue samples. Some animals get infected during gestation and the prevalence reaches even up to 100% by the age of 3 to 4 months when the viral loads are also peaking (Figure 3). If infection establishes during gestation before the immune system has matured, TTSuV infection can become tolerant and not recognize later on by pigs immune system. This kind of animals can serve as potent secretors of the virus.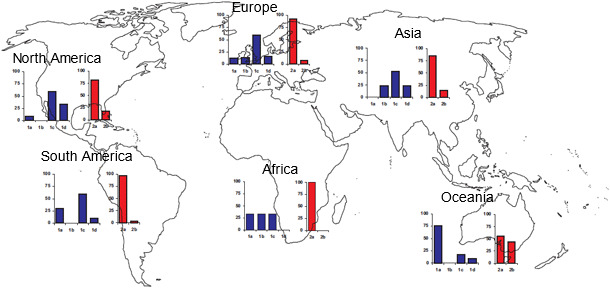 Figure 2. The geographic prevalences of different TTSuV strains as determined by Cortey et al., 2012. Blue bars are strains of TTSuV1 species and red bars are strains of TTSuV2 species.

Figure 3. Viral loads (bars) and prevalence (lines) in longitudinally sampled pigs from one week of age until 15 weeks of age.
Pigs can be infected with one or several of the four known TTSuV species. The species differ genetically greatly from each other and two of them have been linked to PCVD while other TTSuV has been linked to PRDC. Antibodies against TTSuVs are produced but only in limited number of animals the viremia can be cleared out. This may be due to several reasons: in some animals the virus may not be recognized because infection occurred during gestation, the virus is escaping the immune system by mutating fast, lack of sufficient amounts of viral neutralizing antibodies are produced or the virus is hiding inside the cells. Due to the facts above, TTSuV infections are difficult to study. Additional challenges are caused by frequent co-infections with genetically different TTSuV species and lack of efficient cross-protection which is limited to only closely related TTSuVs. Also, it is very difficult to get TTSuV free animals to be studied in experimental infection models.