Water is the most essential nutrient to livestock nutrition and must be considered as much as possible. It should be drinkable, it should not contain harmful substances and should be readily available for the animals concerned.

Absolutely pure water is not found in nature and it normally contains also many different compounds: ground water is affected by rock, soil type and amount of time it spends in an aquifer, while surface water is mainly affected by airborne and soil pollutants, decaying organic matter and the removal of minerals by vegetative growth.





Therefore the quality of ground and surface water (i.e. the degree of chemical, microbiological and other impurities) is highly variable, depending on many factors including aquifer depth, soil/rock formation, and climate. Human influence has become of a high concern, as the changing nature of water quality and quantity can often be directly attributed to human intervention.



Water quality


Water quality influence feed consumption and animal health, and is usually evaluated by microbiological, physical and chemical criteria.

Water may contain a variety of micro-organisms, including bacteria, viruses, algae, protozoa as well as eggs or cysts of intestinal worms. Not all micro-organisms are harmful, however a highly contaminated water is always an index of poor quality water, and represents a potential health risk, especially to young pigs. Salmonella spp, Vibrio Cholerae, Leptospira spp. and E. Coli can be found in low-quality water. Generally Coliforms and Staphilococcus spp must not be present in 100 ml of water, Salmonella must not be present in 5 l, Enterovirus in 10 l, while regarding Chlostridia not more than 1 spora must be admitted in 20 mL.

It must be acknowledged, however, that the microbiological water quality control at source is not sufficient, but it should also be done at different points of the drinking water circuit. Water can be of high quality at the source, but not along the pipeline due to microbial contamination of nipple drinkers from animals.

Moreover good hygiene of water is found to be a vital aspect of the liquid feeding system which is widespread in Europe. Pipelines have to be kept clean, otherwise they will harbor moulds and bacterial contaminants that then reach the pigs along the feed. A cleaning method which has given good results in wet-feed layouts uses a combination of hydrogen peroxide and organic acids.

Chlorine dioxide may also represent a valuable tool to produce high quality water and could be a strong alternative to chlorine for certain distribution system: it can inactivate a lot of bacteria, viruses and pathogenic protozoa without forming halogenated by-products.

Also some chemical compounds in water are important and may be toxic for animals: the short-term or long-term intake, animals, age, health are to be considered for evaluating possible reactions. Moreover, the intake of harmful substances may not cause any measurable effect on growth, production or reproduction but may cause sub-cellular damage that can be expressed as increased susceptibility to disease or to parasitic invasion. The limits of these compounds are reported in table below:



pH: the acidity of water is normally between 6.5 and 8.0, but due to the use of cleaning substances, it can change frequently. It can even change with the use of a filtration system, which is most probably due to bicarbonate exchange.
Total Dissolved Solids (TDS): measures the sum of inorganic matter dissolved in a sample of water. Water is considered safe if the TDS is less than 1000 ppm, and unfit at levels of TDS greater than 7000 ppm. Water with high level of TDS can impair pig performance. The capacity of the water to conduct an electrical current (conductivity) can be used to estimate TDS.
Nitrates and Nitrites: water may become contaminated by fertilizer, animal wastes or decaying organic matter. Degradation of nitrogen compounds may result in ammonium, but under the influence of oxygen or aerobic bacteria the process can be reversed forming intermediates (nitrosamines) which can be toxic. Nitrites are very harmful component in water. When absorbed, they will enter the blood stream and bind themselves with haemoglobin which is transformed into methaemoglobin, making it unable to transport oxygen.
Sulphates: a higher concentration of sulphate in water gives rise to a high fluid content in the faeces. As a consequence of magnesium sulphate, there is an increase water retention resulting in soft faeces and poor growth, particularly in the newly weaned piglets.
Chloride: it is generally a less common anion in groundwater than sulphate. At concentration above 250-500 ppm a brackish taste may develop.
Iron: it is not itself a safety problem, but it can encourage the growth of iron bacteria, and may have a reduced water intake due the bad taste.
Hardness: it is generally calculated as the sum of calcium and magnesium. Although it has not effect on safety, it can cause pipes to become blocked and is unsuitable for cleaning. At high level of hardness (> 250 ppm), the animals can get their total Mg requirement, therefore it is important to check the Ca:Mg ratio of the diet.



pH
< 4,0
4,0 - 6,5
6,5 - 8,0
8,0 - 9,0
> 9,0
Unsuitable
Acceptable
Safe
Poor
Unsuitable
TDS (ppm)
< 1000
1000 - 3000
3000 - 5000
5000 - 7000
> 7000
Safe
Acceptable (but may cause mild diarrhea)
May cause refusal of water)
Poor
Unsuitable
Nitrate (ppm)
< 100
100 - 300
> 300
Safe
Poor
Unsuitable
Nitrite (ppm)
10
Maximum level
Sulphate (ppm)
< 500
500 - 1000
1000 - 2500
> 2500
Safe
Acceptable (but may cause diarrhea)
Poor
Unsuitable
Chloride (ppm)
< 500
> 500
Acceptable
Poor (may cause reduced feed intake)
Iron (ppm)
< 0.3
> 0.3
Acceptable
Poor (bad taste)
Hardness (ppm)
< 50
> 300
Soft
Hard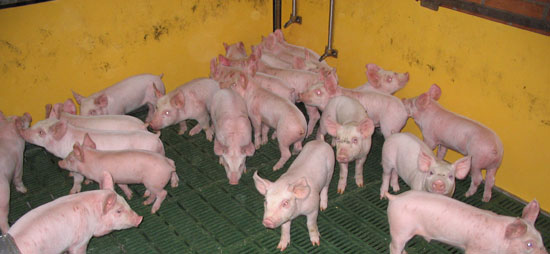 Conclusions


In conclusion it is of utmost important to regularly control the quality of water. The control should be accurate and, if it is possible, by considering the water potable parameters for human consumption. It had to be acknowledged that contaminated water can represent a potential health risk especially to young pigs or otherwise susceptible pigs. Moreover water is a mean to prepare liquid feed and vehicle additives and drugs, therefore it is important that chemical and physical characteristics are maintained constant.