High-production feed mills use NIRS (near-infra-red spectrophotometry) technology, both for quality control of raw materials and for daily or weekly formulation updates. On the other hand, average and low-production mills —a majority in Spain—, some of which have NIRS technology, tend to review formulations on a monthly or quarterly basis. A mismatch between the values of energy and nutrients used in formulation matrices and the actual values ​​of the ingredients that ultimately constitute the feed, can cause systematic errors in manufacturing that affect production and/or manufacturing costs (whether caused by a deficit or a surplus).
Theoretical study of the effect of variability of raw materials
Objective
Our group recently studied the variability of ingredients in order to describe this variability, and to evaluate the possible effect on productivity performance of growing and fattening pigs. Specifically, through the study of variability in the content of metabolizable energy (ME) and its relation to feed consumption; and variability in the content of lysine and its relationship to lean tissue growth.
Material and methods
A case was raised in a 700-pig fattening herd, where the the animals' performance was simulated based on the previously studied growth modeling, in vivo, in two situations:
The feed composition is correct and conforms to the specification of the formula (Adjusted-Feed.)
Manufactured feeds are sensitive to changes in composition due to variable ingredients without monitorization (Non-adjusted-Feed.)
In order to establish these approaches, a single diet was formulated for 30-105 kg fattening pigs (30% wheat, 22.3% corn, 20.8% barley, 10% wheat bran, 6.6% soybean meal (GW 47%), 6% rapeseed (-00-) and micro-ingredients; 3175 kcal/kg, GW 15% and 0.9% lysine.) Samples of all the ingredients of various batches were collected at factory level for 5 months, and the chemical composition of the samples was predicted via NIRS to calculate the ME and the lysine. Finally, variability was calculated using the coefficient of variation (CV.)
It was estimated that 15 batches of feed were consumed during the 30-105 kg period, considering the number of pigs, silo size, energy requirements (NRC, 2012) and the energy content of the diet. To generate the 15 batches of Non-adjusted-Feed, 15 samples of all ingredients —40% of which because of their minimum ME and lysine contents— were selected.
Finally, the simulation was performed on the two previously described situations, taking into account the animals' nutritional needs (energy and lysine) during the study period, based on body weight and using protein deposition prediction equations from the literature.
Results
Table 1 shows the variability of the chemical composition of the ingredients used, that was maximal for crude protein and crude fibre.
Table 1. Descriptive analysis of the chemical composition of the ingredients.
| | | | | | |
| --- | --- | --- | --- | --- | --- |
| Nutrient | | Cereals | Soya meal | Rapeseed cake | Wheat bran |
| Crude protein | Mean | 7.5 - 11.3 | 46.2 | 34.5 | 14.6 |
| % | CV % | 2.7 - 8.2 | 2.5 | 2.5 | 4.6 |
| Crude fibre | Mean | 2.0 - 3.7 | 4.7 | 12.4 | 8.9 |
| % | CV % | 3.4 - 10.8 | 13.0 | 3.7 | 8.7 |
| Met. Energy | Mean | 3070 - 3370 | 3160 | 2600 | 2510 |
| kcal | CV % | 0.9 - 1.3 | 1.3 | 2.1 | 6.0 |
| Lysine | Mean | 0.22 - 0.37 | 2.83 | 1.92 | 0.59 |
| % | CV % | 2.7 - 3.8 | 2.14 | 2.45 | 4.26 |
The Non-adjusted-Feed situation showed a difference of 2.5 additional kg of feed consumption per pig compared to the Adjusted-Feed situation, which, at a price of € 270 per tonne, would represent a difference of € 0.67 per pig.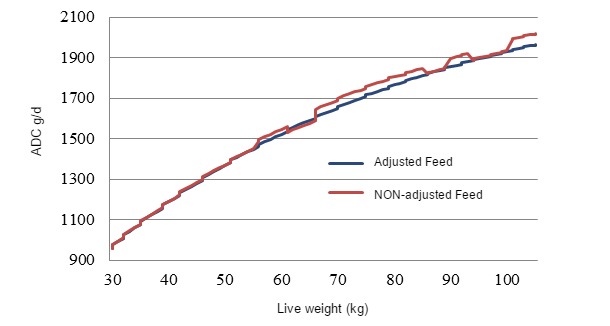 Figure 1. Average daily consumption (ADC) of feed in two different situations: feed composition that conforms to specifications (Adjusted-Feed) and feed composition sensitive to changes due to variable ingredients without monitorization (Non-adjusted-Feed).
Along this line, a fixed continued error, such as a wrong dosage or a severe mismatch between formulation matrices and energy content of the main ingredients, would increase the risk of drastic changes in consumption. For example, an average error of only 2.2 % (70 kcal / kg) during the fattening period studied, would mean an increase in consumption of up to 5 kg extra per pig.
The study of the possible effect on lean tissue production considering the variability of the consumed lysine (lys SID / d) and generating the same comparative system between Adjusted-Feed and Non-adjusted-Feed based on protein deposition (g PD / d), shows that deposition matches the expected when the lysine content of the diet corresponds to the content determined theoretically in the formulation (0.9 % lysine), and that it greatly decreases in the sub-optimal batches (Figure 2.) The pigs fed the Non-adjusted-Feed would end up with 557 g of protein deposition below the pigs fed the Adjusted-Feed for the same fattening period (30 to 105 kg), this would equal a net lean tissue growth between 1,500 and 2,060 g (depending on sex and genetics). In addition, the impact on weight gain, although difficult to predict, would be higher due to the mismatch in the ideal essential amino acids / lysine ratio and the lysine / energy ratio, which would affect total weight gain and not just lean tissue gain.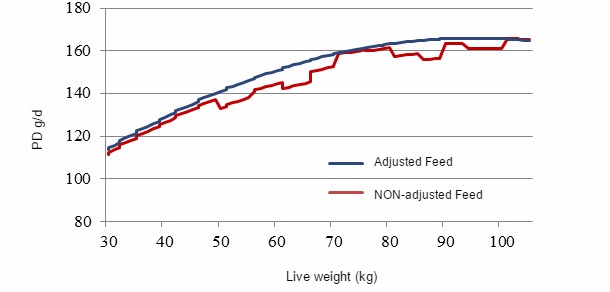 Figure 2. Protein deposition (PD) in two different situations: feed composition that conforms to specifications (Adjusted-Feed) and feed composition sensitive to changes due to variable ingredients without monitorization (Non-adjusted-Feed).
Another different situation, also generated by the variability of raw materials, would be an excess of nutrients, which would involve a cost due to the waste of lysine, in addition to the energy cost involved in the removal of excess ammonia in the form of urine urea. Something similar could happen with crude protein, since it proved to be very variable (especially for cereals). Therefore, it would be interesting to know the odds of producing feed above or under different critical levels of energy and nutrients in order to assess the overall impact of nutritional variability generated by raw materials on the production costs of feed and on the animals' performance.
Strategies that integrate the NIRS technology are of great value for improving the efficiency of feed production and, in turn, they have a positive impact on animal production, since variability of ingredients is not sufficiently considered in a majority proportion of the sector and the feed produced. The integration of NIRS technology in a tree-based decision system that allows to discriminate how the ingredients with critical levels of energy and/or certain nutrients combine with one another in the diet, will help minimize the negative or sub-optimal effects of feed composition at farm level in real time.