There are several different techniques for artificial insemination: cervical or conventional, post cervical and deep intrauterine. This article centers on stimulation for mating from the perspective of Danish management, where cervical insemination is practically the only technique in use. We will therefore be focusing on stimulation for cervical insemination.
In practice we find that stimulation previous to and during insemination is carried out in very different ways. It's possible to find some farms that don't stimulate the sows with the boar at the moment of insemination, stating that the sows are very calm and there is less seminal reflux. We can also find farms where stimulation is carried out with a boar and the inseminator helps a bit by putting his hand on the sow. Another common option is to stimulate with the boar while the inseminator carries out a more elaborate stimulation pattern.
In Denmark the most common practice is to always stimulate with the boar together with a complete 5 point pattern of stimulation carried out by the inseminator.
In the year 2000, "Danish Pig Production" in its annual report, published the results of oxytocin production of sows when stimulation was carried out with a boar, or, with a high or low level of stimulation on the part of the inseminator. The results (graph 1) show that high stimulation, following the 5 point pattern, came the closest to achieving levels of oxytocin such as those produced with natural stimulation.
Graph 1. Oxytocin production according to the form of stimulation at the time of insemination. Danish Pig Production Annual Report, 2000.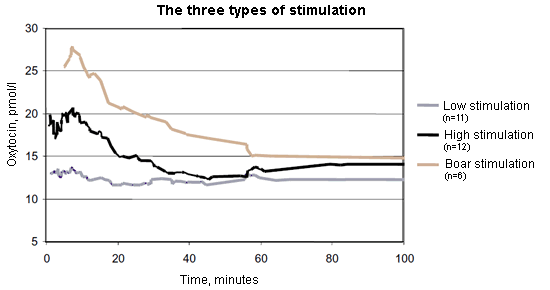 Between 2000 and 2003 studies were carried out that noted a 6% higher birth rate when sows were stimulated by placing a hand on them, or with certain pushes during insemination.
Personally I have observed increases between 0,5 and 1 piglets born per farrowing after implementing the 5 point pattern together with the practice of assuring the personnel needed in order to inseminate all of the sows before 20 minutes has passed since their initial exposure to the boar.
The 5 point pattern consists of:
1. Apply pressure to the flanks with a fist. It is also common to do this with knees.

2. Grab and lift the inguinal fold.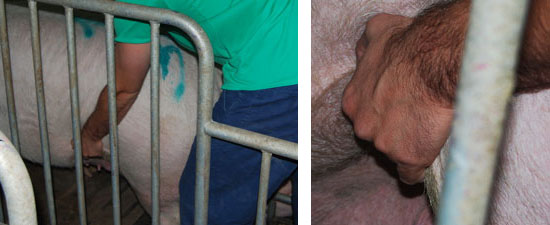 3. Apply pressure with a fist below the vulva, it is also common to do this with knees.

4. Massage the sow's hips.

5. Sit on top of the sow.
After these 5 steps the inseminator inseminates the sow, continuing the stimulation and controlling the entrance of semen and possible seminal refluxes.
In 2010 the results of a study that compared the complete 5 point pattern with the 5 point pattern variation during insemination were published. The results (table 1) show that the differences are not significant. In this study, stimulation previous to insemination lasted approximately 1 minute, so that a possible time savings of 3 to 5 minutes per insemination was seen upon leaving the dose suspended in the catheter with a clip.

Table 1. Reproductive results based on different systems of stimulation during insemination.
Group 1

Group

2

Group

2a

Farm 1

Nº of sows

247
291
21

Farrowing rate

87.6
89.5
95.5

Total born

16.7
16.6
17.1

Farm

2

Nº of sows

724
562
103

Farrowing rate

88.4
90.9
92.0

Total born

17.8
18.1
18.2

Farm

3

Nº of sows

357
338
10

Farrowing rate

93.9
94.2
100

Total born

17.5
17.4
18

Farm

4

Nº of sows

133
102
24

Farrowing rate

90.5
82.3
88.9

Total born

18.2
17.5
17.5
C Hansen, G Sorensen, F Thorup, A K Olesen, N J Kjeldsen, 2010.
Group 1: Complete 5 point stimulation (the inseminator remains seated on the sow during insemination).
Group2: 5 point stimulation variation (the inseminator does not sit on the sow during insemination).
Group 2ª: sows from group 2 that didn't take the semen and were stimulated by application of pressure on the back.
It is worth noting that farm 4 had a leptospirosis problem, and the effects on the results of the test are unknown.
We think it is relevant to comment that the semen production company used for over 70% of Danish production uses 2.100 million spermatozoids for insemination if they are Landrace or Large White and 1.750 million if they are other races.

Comparative table of different stimulation systems for cervical insemination:
System

Productivity

Time

Pen requisites

Recommendable

Without boar

+
Average
None
No

Boar + hand and some pushing

+++
Average
None
+++

Traditional 5 point pattern

(seated on the sow upon insemination, continuing stimulation)

+++++
Alto
The inseminator has to be able to enter the pen and has to be able to sit on the sow
+++++

5 point pattern variation (1 minute just before insemination)

++++

Minimal if clips are used

The inseminator has to be able to enter the pen
+++++

Conclusions
It is recommendable to adequately stimulate the sows, investing time and energy at the moment of cervical insemination. Although it is true that some farms obtain optimal results without doing so, this is not the norm for all farms and these are more dependent on the talent of the inseminator. If he is sick or on vacation, productivity is affected more so than with a system that, in and of itself, assures positive results, such as with the 5 point system or any other similar system. The traditional version is the most consolidated and probably, the most used, in Denmark.