Control of Mycoplasma hyopneumoniae (M. hyo), is based on achieving infection stabilization in the sows farm following an effective program for replacements adaptation, the administration of strategic medications, and vaccination. The goals are to minimize excretion of M. hyo by the sows, to reduce the number of pigs colonized at weaning, and to reduce clinical disease in fattening pigs.
Why is the role of replacements adaptation so important for M. hyo control?
The number of pigs infected with M. hyo at weaning determines the level of disease during fattening (Fano et al, 2007).

The number of infected piglets at weaning is directly related to the number of sows excreting M. hyo in the farrowing room (Fano et al, 2005).

Sows infected within 210-240 days before farrowing are more likely to transmit M. hyo to their offspring during lactation (Pieters et al, 2009).

Gilts are the population most likely to excrete M. hyo during lactation because they will probably have become infected within 200 days prior to their first farrowing (Boonsoongnern et al. 2012.)

Vaccination against M. hyo is not 100% effective when used as the sole method of control. It reduces the clinical symptoms, but does not alter the transmission ratio nor prevents colonization (Meyns et al. 2006, Sibila et al. 2007, Pieters et al. 2010.)

Reinfection by M. hyo has not been fully investigated, but it is speculated that once a pig is infected, it is highly unlikely to become reinfected and to subsequently excrete the microorganism.
What are the objectives of replacements adaptation to M. hyo?
Controlled exposure.

Development of infection with minimal clinical symptoms (vaccination).

Prevention of vertical transmission in the farrowing pens.

Reduction of the prevalence of colonization of piglets at weaning.
What are the biggest obstacles to a good adaptation of replacements to M. hyo?
M. hyo produces a chronic infection that can last up to 214 to 240 days.

Slow transmission and a long incubation period (infection and excretion in vaccinated animals starts from 4-6 weeks after the first effective exposure). In addition, transmission takes place by direct contact, nasally.

Replacement rates are high on farms.

Negative replacements in positive farms.

Failures in the replacements acclimation to the farm pathogens.
What basic points do we need to know to carry out an appropriate adaptation of replacements to M. hyo?
Status of my farm: unstable positive, stable positive, and negative.

Unstable positive: clinical symptoms (cough) related to M. hyo, pulmonary lesions in necropsies that may be related to M. hyo, PCR+ve lung samples, positive serology (not in all cases).

Stable positive: No clinical symptoms, PCR+ve in less than 10% of the lungs in weaned pigs, positive serology.

Negative: No clinical symptoms, PCR–ve lung samples, negative serology.


Effectiveness of adaptation so far. It is therefore important to know the M. hyo status of replacements on arrival (we'll take serum samples for ELISA if the replacements source is negative, and also laryngeal swabs if the replacements source is positive) and to check the animals at first farrowing (F0) by means of serum samples and laryngeal swabs. The percentage of excretion at first farrowing will determine whether we need to modify our adaptation protocol.
Picture 1: Laryngeal swab.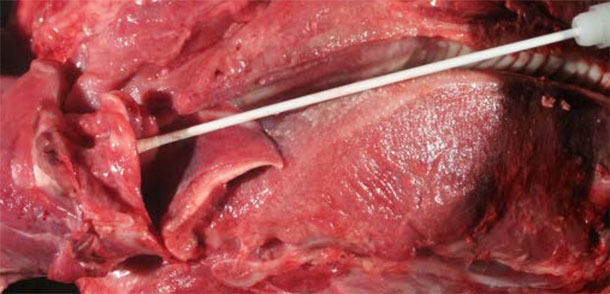 Picture 2: Area to sample for a laryngeal swab. Picture: University of Minnesota. Veterinary diagnostic Lab.
In what situations do I need to carry out a replacements adaptation to M. hyo?
M. hyo-negative replacements coming into an M. hyo-positive farm. This case is increasingly frequent because of the increase in the number of genetic companies that sell negative replacements. In this case, exposure of replacements not later than 210-240 days before farrowing (i.e. 100 days before service) is critical. However, it must be borne in mind that the exposure period should be at least 4 weeks to ensure that the entire population has been exposed effectively. Therefore, lowering the replacements age will ensure a more consistent exposure. What is the best population to be used as seeders (infected animals that are still excreting the microorganism) for natural exposure to M. hyo? At this point, it is necessary to understand the dynamics of infection in the farm, which can be highly variable depending on various factors such as the production system, infection pressure, handling conditions and time of year (Segalés et al., 2012). On farrow-to-finish farms, infection occurs normally at 8-10 weeks, with a second peak at 20 weeks of age. In multiple-phase farms, infection is delayed up to 12 weeks, with a sometimes abrupt increase at the end of fattening. Therefore, the target animals to choose as seeders in natural exposure systems will be either animals at the end of the fattening period, or replacement gilts discarded from the last batch introduced, depending on the production system used in the farm. Piglets at weaning are not the most suitable for M. hyo, since prevalence of the infection at this stage can be very low (5% -15%) and varies between batches.

What would the ideal ratio of seeders to naïve animals be? Pieters et al., proved that the ideal ratio to infect a group of 4 naïve animals in 4 weeks was 6 animals actively excreting M. hyo, which confirms the slow transmission of this agent. This study also showed that a pig excreting M. hyo was able to infect 3 naïve pigs in 4 weeks. In the field, it is almost impossible to use this number of animals for logistics and availability reasons. Therefore, increasing exposure time could help reduce this ratio.

M. hyo-positive replacements coming into an M. hyo-positive farm. Even though this scenario might seem the simplest one (replacements have the same health status as the farm), the strains of M. hyo may be different, and infection levels of each arrival can vary because exposure levels during the fattening phase are not the same between batches. For this reason, the same protocol as in the first case will be used: exposure of replacements not later than 210-240 days before farrowing (i.e. 100 days before service).

Examples of different protocols that can be used depending on factors such as capacity, logistics, and infection pressure. We must always bear in mind that the adaptation period must be modified to suit all the other pathogens that can cause production losses in the farm, and that reducing the replacements age allows for a more consistent adaptation to M. hyo:
Quarantine at 50 days of age, exposure for 4 weeks, revaccination at 90 days of age, injectable treatment at 150 days of age.

Arrival at 100 days of age: vaccination, exposure for 4 weeks, revaccination, preventive antibiotic treatment two weeks before entry into the farm.

First vaccination before going into quarantine (farm of origin) at 90 days of age, entry at 150 days of age, injectable treatment upon entry, exposure for 4 weeks, revaccination