Air filtration of sow herds is a biosecurity step available to producers that decreases the risk of introducing Porcine Respiratory and Reproductive Syndrome virus (PRRSV) into their production facilities. This technology prevents the airborne transmission of new PRRSV strains between farms and is generally utilized in highly dense swine regions. The success of the system has been demonstrated scientifically in both sow farm and boar stud studies that have illustrated a reduction in the frequency of new PRRSV strain introductions and longer periods of PRRSV negative piglet production.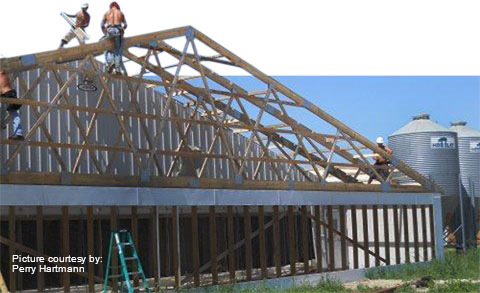 Construction work on a sow facility. Retrofitting an existing structure with a bank of air filter panels for a tunnel ventilated system.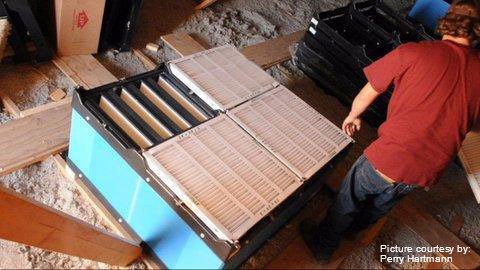 Installation of air filters and pre-filters over the inlets of an attic ventilated sow farm.
In a previous article (i.e. "Observational study of filtered farms against PRRSV in North America"), the performance of this system was analyzed in large sow farms. Under the conditions of this study, non-filtered farms experienced a PRRSV outbreak every 1.4 years when compared with filtered farms that had an outbreak every 7.9 years.
Under the assumption that there was a different frequency of outbreaks between these two groups, several key production record variables were analyzed for a sub-group of these farms (8 non-filtered farms and 13 filtered farms) for a 7 years of study period.
The production analysis demonstrated differences between both groups of farms. These differences were subsequently used to calculate the financial impact using the payback period variable. The payback period indicates the number of years that are needed to pay for this investment. All parameters, based on the production analysis, were calculated using a partial budget. This methodology only takes into account the cost difference between these farm groups. In other words, this analysis only considers the changes in production, the investment (cost of filters, pre-filters and installation work on farm), and different parameters that would vary from one group of farms when compared to the other. Figures 1 and 2 show an example of the production analysis of two important variables: farrowing rate and pigs weaned per sow per year for both types of farms.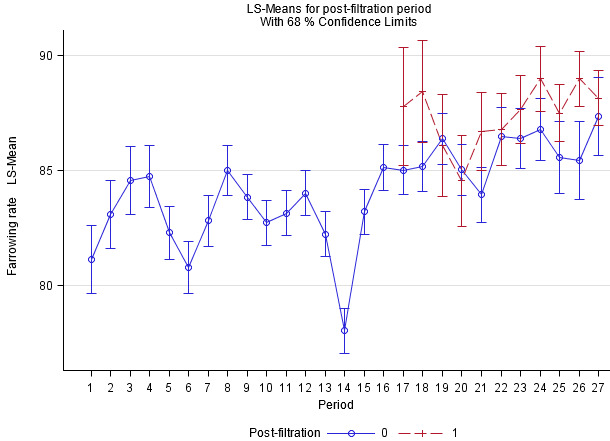 Figure 1: Farrowing rate adjusted by the variable "period" (3 month data per period). Non-filtered periods are represented in blue color and filtered period in red.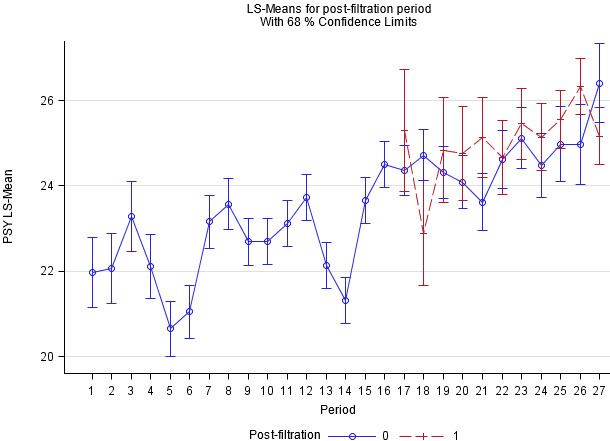 Figure 2: Pigs weaned per sow per year adjusted by "period" (3 month data per period). Non-filtered periods are represented in blue color and filtered period in red.
Production data of both groups of farms was statistically modeled and adjusted for different variables. The results of this analysis demonstrated a 4% and 1.9% increase in farrowing rate and pigs weaned per sow per year respectively and a decrease of 1.3% in sow mortality in filtered farms when compared with non-filtered farms.
These differences in the production model were utilized in the partial budget and costs of production for a weaned pig were calculated for both types of farms. The cost analysis of a weaned pig was calculated for a typical 3,000 sow farm with an annual feed cost of $278/sow/year.
Two scenarios were studied: Scenario 1 (a non-filtered sow farm without any investment cost) and Scenario 2 (a filtered farm with a $150/sow investment in air filtration). It was assumed that the air filtration system would improve the piglets weaned per sow per year, the farrowing rate, the replacement rate, the mortality in sows and the veterinary cost (variable cost). As well, filters and pre-filters were assumed to be replaced every 3 years and 6 months respectively. Another important assumption to consider was the selling price per weaned pig: $39.32/weaned pig with a $5.00/weaned pig premium for PRRSV negative pigs. This premium was considered to be a conservative estimate for this type of weaned pig source.
Considering these assumptions and the productivity changes between the two farm groups, our statistical model calculated a total production improvement of almost 6,000 weaned pigs per year in filtered farms when compared with non-filtered farms. With the frequency of new PRRSV event information from our previous study and assuming 220 days of weaned positive pig's production after every disease outbreak, the payback period for the air filtration investment was estimated to be 2.1 years.
In conclusion, this study demonstrates the added profitability that this investment in biosecurity can give to sow farms located in highly dense swine regions. However, it is important to point out that these figures are long term averages and not necessarily predictors for individual herds. Also, they would not apply to herds at low risk of PRRSV (i.e. longer payback period due to less expected improvement) or herds with less comprehensive biosecurity programs. Without question, biosecurity needs to be first rate before significant investment in filtration can be considered.