The Philippine Bureau of Agricultural Statistics reported an increased of nearly 2.4% in the country's hog production during the first half of 2013.
The total hog output for the first six months of 2013 was 956,250 tons live weight from 934,190 tons the previous year.
The total supply of swine in the country for the period of January to June 2013, grew by 0.62%. From 24.40 million heads in 2012, supply went up to 24.55 million heads in 2013.
The Philippines ranks third to China and Vietnam in terms of pig production in Asia.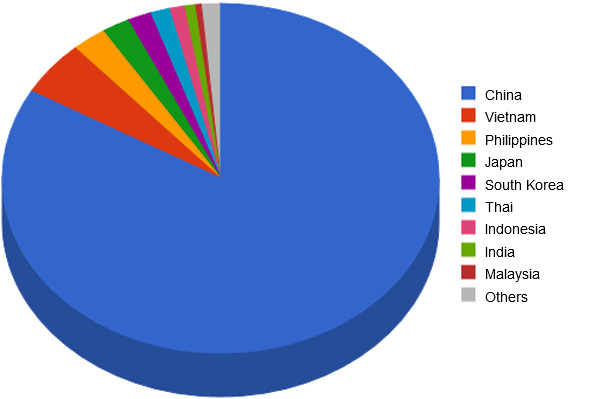 Country

Production/year

Percentage (%)

Million Tones

Number of Pigs (Million)

China
52.4
749
83,5
Vietnam
3.2
46
5,1
Philippines
1.6
23
2,6
Japan
1.3
18
2
South Korea
1.1
16
1,8
Thai
0.9
12
1,3
Indonesia
0.7
10
1,1
India
0.5
7
0,8
Malaysia
0.3
4
0,4
Others
0.9
13
1,4

Total

62.8

897

100
Source: Food Outlook 2012
The Philippine swine industry is seen to undergo tough production challenges in 2014 due to higher power, fuel and feed costs which could discourage some commercial and backyard raisers from increasing their herd size.
But demand for pork is seen to remain mild to moderate in the medium term. Thus, live weight and pork retail prices are expected to stay firm at least until May, allowing producers to enjoy modest profit from their farms while viajeros (traders) are likely to continue to benefit from good trading margins.
The Philippine pork industry had a heyday in the first ten months of 2013 compared to dismal performance in the two preceding years. This was largely because sustained economic growth of the country (doing at 7% in the first three quarters of 2013) and the run-up to the mid-term and local elections held in May 2013, generated strong demand for meat products, notably pork, and consequently good live weight prices of swine that benefited producers.
But at the start of 2014, the hog industry, along with the entire poultry and livestock sector, had been confronted with an impending increase in power rates, coupled with hike in fuel and oil prices. As a result, these adverse development s are seen to put pressure on production cost, and many hog raisers who lack capital, may be forced to limit their farm size as they could no longer afford to maintain a huge herd.
Of late, prices of vital feed ingredients, notably US and Argentine soybean meal and Peruvian fishmeal, have also gone up due to foreign currency fluctuation. With value of the Philippine peso dropping against the US dollar, importing these feed raw mats have become more expensive, thus price of finished feed products will likely go up, discouraging farmers to grow more pigs.
A number of farmers also expect a possible slight drop in pork demand in the early months of 2014, partly because of the post-Christmas holiday decline in consumer spending, and a drop in purchasing power of Filipinos especially those in central Philippines in the wake of Super Typhoon Yolanda.
But from mid- March toward the end of the first semester, pork demand would likely pick up, albeit not as strong as during the same period of 2013, due to the season of graduation parties, town fiestas and other social events that normally increase food and pork consumption. With this expectation, hog raisers may yet be encouraged to grow more animals despite apprehensions of looming power and oil price hikes, confident that they could still make money.
The rise of the US dollar against the Philippine peso, if sustained for a longer period, could also dampen interest among meat importers to bring higher volume of pork products. This may force them to look into the local market for their pork needs.
Should this happen, it could auger well for local pork producers because it allows live weight/farm gate price of pigs and retail price of pork to remain strong to their own advantage and benefit.
Animal Health
In June 2011, the Philippines was declared free od Foot and Mouth Disease without vaccination. It signaled the hope that we could start the export of pig meat and breeder animals to other countries. However, we are still held back by a complete clearance on Ebola virus, even if the latter was proven non-pathogenic and not similar to the African epidemic.
As in the past years, we will continue to battle PRRS, Hog Cholera, PCV2 an associated diseases, Porcine Epidemic Diarrhea, Porcine Respiratory Disease Complex and other viral, bacteria, and parasitic problems.
Breeders
The breeder market will continue to be lucrative as the commercial sector is projected to increase while the backyard raisers slowly diminish. Filipino backyard raisers, however, will continue to thrive for cultural reasons. There will be greater demand for pig semen due to higher landed costs of live breeders.
Meat Imports/Exports
BAI (Bureau of Animal Industry) data show pork the biggest meat import commodity. The global trend of increasing free trade has sent fears that imported frozen pork poses a big threat to the local pig industry. This also becomes a sensitive issue to local producers due to the problem of pork smuggling. On the other hand this globalization may present opportunities to local pig producers. With a higher landed price due to the weakening of the peso, a marked decline in importation of deboned pork, pork cuts, pork offal, pork rind and skin is projected in the first half of the year. Meat processors could be forced to look for low cost substitutes for these pig parts. The large number of overseas Filipino workers is also a big potential for common Philippine dishes as canned pork products. Importation of pork bellies, however, could remain strong due to the strong urbanized demand for bacon and pork barbeque.
Canada, USA, France, Germany and Spain will continue to get the biggest chunk of the country's pig meat importation.